Subway security officer suspended for ordering woman to remove makeup
By ZHENG CAIXIONG | China Daily | Updated: 2019-03-18 08:01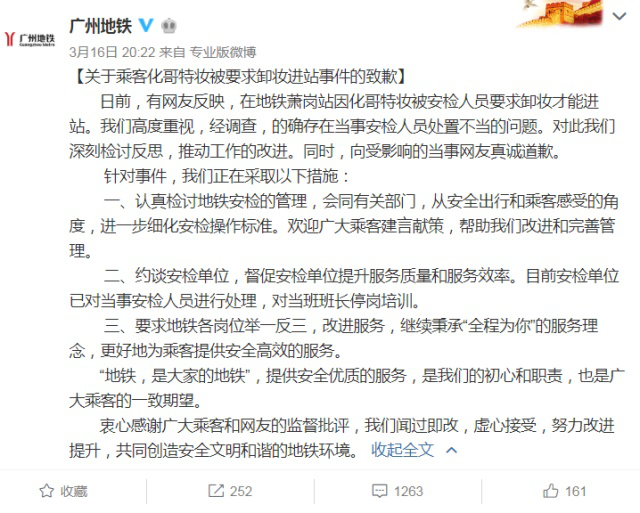 A female supervisor in charge of security checks at a subway station in Guangzhou, Guangdong province, has been suspended and will receive remedial training after asking a woman to remove her makeup before being allowed to enter the station.
In a statement released on its WeChat account on Saturday night, Guangzhou Metro said a thorough investigation had found that the supervisor had handled the situation inappropriately.
"Guangzhou Metro apologizes publicly to the victimized passenger and to netizens, and will try to further improve its work and management to provide even better service," it said.
The subway operator said it welcomed suggestions and oversight by passengers and netizens and will join hands with public security bodies and other departments to create a civilized, harmonious and safe climate for the city's underground railway service.
The incident occurred on March 10, when a woman was stopped by security guards at Xiaogang station on Guangzhou's subway Line 2. The passenger, who was not carrying any prohibited items, was asked by the supervisor to remove her "heavy" makeup before entering.
"Your makeup has problems; it's terrible," she told the passenger, who was wearing a long black dress and Goth-style makeup.
"Why did they ask me to remove my makeup when I did not violate any law or regulation for taking the train?" the passenger asked later in a social media post.
The post sparked public attention and concern, with most netizens criticizing the security staff.
Guangzhou's Line 2 runs between Jiahewanggang, in Baiyun district and Guangzhou South Rail Station in Panyu district. It is one of the busiest subway lines in the provincial capital.