Concert tour planned to remember Hong Kong novelist
By Chen Nan | China Daily | Updated: 2019-03-18 07:05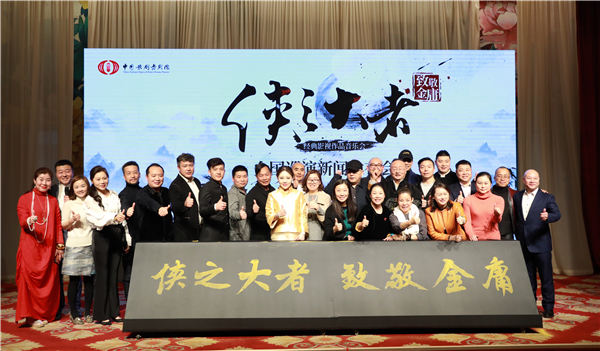 The China National Opera & Dance Drama Theater is preparing to launch a concert tour as a tribute to Hong Kong martial arts novelist Louis Cha Leung-yung.
The novelist, better known by his pen name Jin Yong, passed away on Oct 30 in Hong Kong, at the age of 94.
Jin Yong, who was born in Hangzhou and moved to Hong Kong in 1948 to work for the newspaper Ta Kung Pao, is most famous for his Chinese wuxia (martial arts) novels, which have been repeatedly adapted into television dramas and films over the decades.
He wrote a total of 15 popular martial arts novels. And he was also the founder of Hong Kong's Chinese-language newspaper Ming Pao.
Directors, songwriters, singers and the symphony orchestra of the China National Opera & Dance Drama Theater are scheduled to participate in the tour, which kicks off on April 12 at Beijing's Exhibition Hall Theater and will visit Guangzhou and Shenzhen in Guangdong province, before moving to Shanghai and Hangzhou in Zhejiang province, in late May.
Popular songs from TV dramas and movie soundtracks based on Jin Yong's works will be performed during the tour, including Iron Blood and Loyal Heart, the theme song of The Legend of the Condor Heroes, a Hong Kong television series from 1983 adapted from Jin Yong's novel of the same title, which was originally performed in Cantonese by Roman Tam and Jenny Tseng; and A Sound of Laughter in the Vast Sea, the theme song of The Swordsman, written by the late Hong Kong musician James Wong Jim for a 1990 Hong Kong martial arts film directed by Tsui Hark and based on Jin Yong's novel.
The tour was announced by Wu Xuhai, who is in charge of the event, on March 10 on Jin Yong's 95th birthday.
"I've learned that many events will be held to mark the late writer's 95th birthday since he was influential and his works live on through different art forms," said Wu in Beijing.
"And while preparing for the tour, it took me back to my youth when I read his immensely popular martial arts novels and watched the TV dramas every day after school. Then, I was impressed by his portrayals of heroes, romance and justice. And the music from those TV dramas and movies is definitely one of the most important elements, which lives on in our memories today."
Wu says that the tour was planned last October when the writer died.
Chinese lyric writer Peng Liang has written a song, titled Return of the Young Man, for the tour, which will be performed by pop singer Huo Zun.
Like Wu, Peng is also a big fan of Jin Yong and his novels.
"The masterpieces written by Jin Yong offer fantasy about heroes, who show generosity, compassion and kindness towards those who need help," says Peng.
"These also reflect Chinese traditional values like loyalty and morality. The man and his works will always be remembered."