Steinway & Sons upbeat on hitting the right notes
By Ren Xiaojin | China Daily | Updated: 2019-03-19 09:20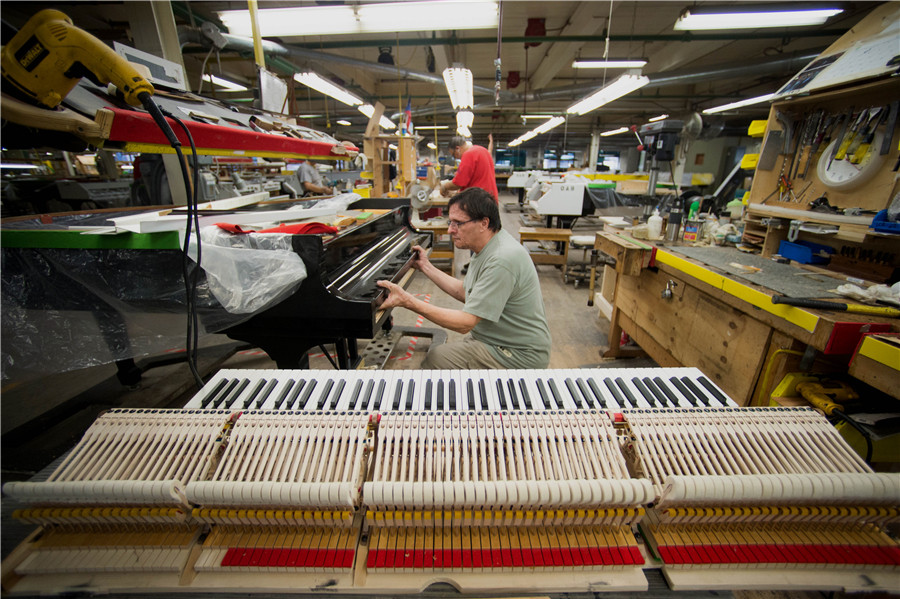 Steinway & Sons, the prestigious piano maker, expects its business in China to grow massively in the years to come as the Chinese market accounted for a fifth of its global sales last year, said the company's chief financial officer.
Musical education is gaining growing importance among Chinese families. According to the China Art Association, by 2018 there were about 50 million Chinese children learning a musical instrument, and the piano was among the most popular options for parents.
Benjamin Steiner, CFO of the 165-year-old company, said the Chinese piano industry is a huge and rapidly growing business.
"There are 30 million to 40 million children in China taking piano lessons, compared to less than 10 million in the rest of the world," said Steiner. "So, 60 percent to 80 percent of kids playing the piano are in China.
"400,000 pianos a year were sold in China, compared to 30,000 in the United States, so the Chinese piano industry is enormous," he said.
He said over the years Steinway & Sons' business in China remained strong, with the Chinese market accounting for a fifth of the company's global sales last year, and Steiner anticipated 10 years from now, the ratio will grow to 50 percent.
"The China market is enormous and is important to Steinway & Sons," Steiner said, adding that although most of the pianos sold in China were lower-priced ones, over time as the industry develops, more people will invest in prestige pianos to become pianists.
Luxury products such as Steinway & Sons pianos are very economically sensitive, he said. Asked if the company would worry that the uncertain global business environment may depress consumption power, Steiner said he has not seen any decrease yet.
"Like other luxury products, our business can be impacted (by the changes in the economy), but we have not seen any decrease and our business remained strong in the fourth quarter of 2018," he said.
Speaking of the business environment, Steiner said China has always been very hospitable for Steinway & Sons, and the company has benefited from the Waigaoqiao bonded area of the China (Shanghai) Pilot Free Trade Zone, where the company opened its biggest logistics center last year.
"In the future more foreign companies will be passionate about investing in the Shanghai FTZ," said Chen Bo, a professor at Huazhong University of Science and Technology, as the FTZ has been continuing to open up and optimizing its business environment for foreign investors.