UK wind energy firms develop China exports
By ANGUS McNEICE | China Daily Global | Updated: 2019-03-22 09:05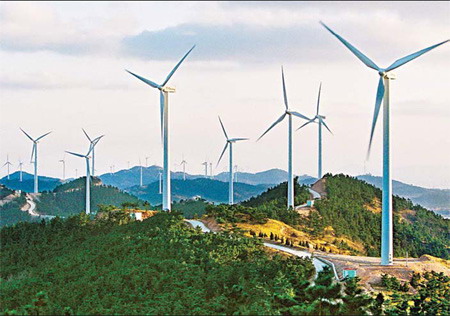 New Shandong research center aims to build supply chain to growing market
The United Kingdom and China have opened a new research center in Yantai, Shandong province, that will help British wind energy companies' export to China, one of the fastest growing offshore wind markets in the world.
The center will also provide commercial support for Chinese off shore wind developers and test new technologies on a 300-megawatt wind farm in the Yellow Sea.
The 2-million-pound ($2.6 million) TUS-ORE Catapult Research Centre, otherwise known as TORC, was established by: Beijing-based energy company Tus Clean Energy; the UK government's innovation agency Innovate UK; and the Offshore Renewable Energy Catapult, which is a Glasgow-based research institute that supports UK wind companies.
"Our new research center, in partnership with TUS, will support UK businesses as they take advantage of a new wave of opportunities to engage with one of the fastest-growing off shore wind markets in the world-and present a fantastic opportunity to develop a supply chain that can compete on a global scale," said Andrew Jamieson, chief executive of the Off shore Renewable Energy Catapult.
The UK is the world leader in offshore wind, with a total of 7.9 gigawatts of installed off shore wind capacity, according to Renewable UK. This compares with a global total of 18.8 gigawatts.
UK companies are looking to export their wind technology abroad, while China is keen to exploit British know-how in its bid to become a global force in off shore energy generation.
"Global exports are expected to be worth 2.6 billion pounds a year by 2030 for UK companies," said Jamieson. "Now is the time for innovative companies to act and establish themselves at the heart of the Chinese market."
China currently has 3 GW of installed off shore capacity, and the country plans to invest $100 billion in offshore wind energy projects over the next few years.
FTI Consulting forecasts that China will reach 10.9 GW of installed capacity by 2021, when it will surpass the UK as the world leader in offshore wind. That year the UK is projected to reach 10.4 GW of installed capacity.
Charlie Du, senior vice-president of Tus Clean Energy, said that the center will help remove market access barriers for British energy companies.
"Following the development of TORC, I believe the government will provide more favorable policies to UK companies seeking to enter China to create real benefit to both sides, furthering the technological cooperation between China and the UK and creating significant opportunities and reliable incubation services for UK companies," said Du.
Du said TORC was established in support of the Belt and Road Initiative, which is an international economic and infrastructure development program proposed by China.
China's ocean economy is increasing by 7.2 percent per year, according to Du. The sea off the coast of Shandong has abundant wind resources and is used by energy companies as a test area for turbine technology.
For its part, the UK off shore wind industry had a record-breaking 2018. More than 2 GW of off shore turbines went operational in British waters last year-more than double the previous annual record and enough to power 2,300,000 UK homes all year round.
Related Stories