China, Italy jointly promoting Belt and Road Initiative
By Alex Chan | chinadaily.com.cn | Updated: 2019-03-23 12:19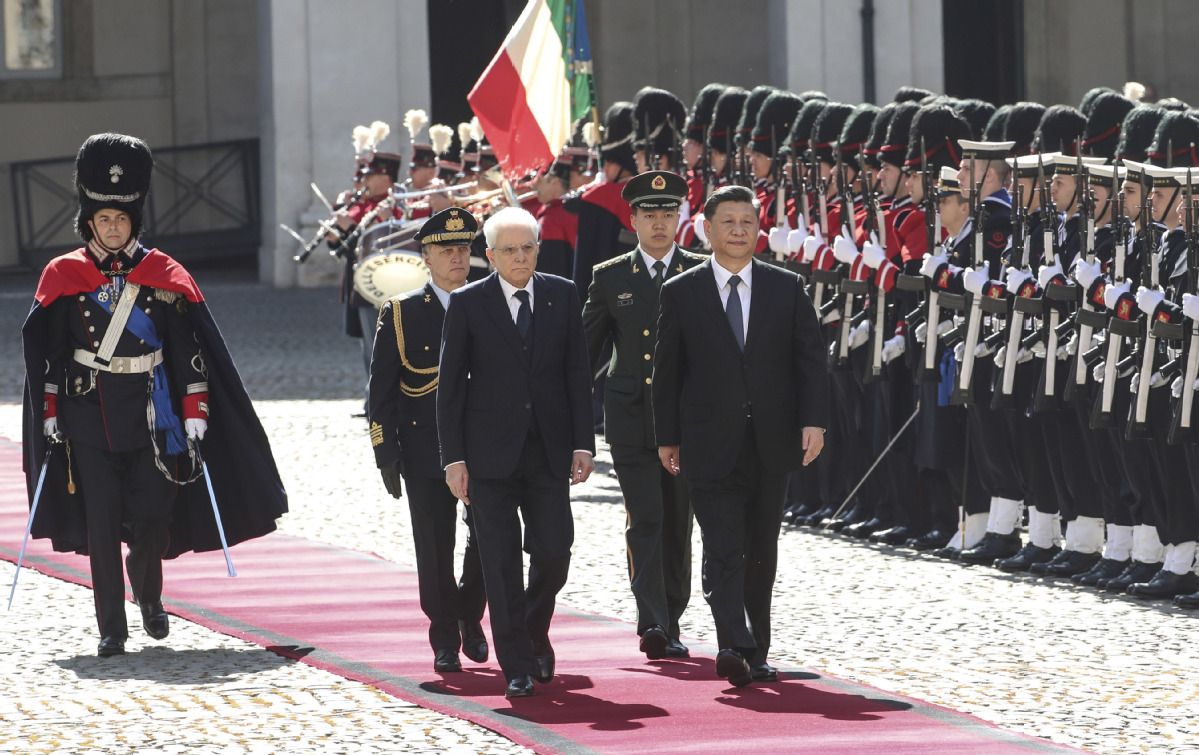 At the invitation of Italian President Sergio Mattarella, President Xi Jinping arrived in Rome to kick off his Europe trip. The state visit has enormous significance for the bilateral development of the past years and for setting up new perspectives for Sino-Italian cooperation along the Belt and Road Initiative (BRI). In a signed article titled "East Meets West – A New Chapter of Sino-Italian Friendship" and published by the Italian newspaper Corriere della Sera, Xi said that China and Italy are both great examples of Eastern and Western civilizations. They have made solid contributions to the development of mankind and have played a crucial role in linking the Eurasian continent. Today, as rapid technological innovation is quickly changing the way we understand global issues, China and Italy should get even closer to grasp the opportunities and deal with the challenges together.
Chinese and Italians have historically been engaged in positive cultural dialogue. In his article, Xi went on to say that over 2,000 years ago, China and ancient Rome were connected by the Silk Road. He cited the Chinese emissary Gan Ying who during the Eastern Han Dynasty (AD 25-220) was sent to search for the Roman Empire. He also made reference to the Roman poet Virgil and geographer Pomponius Mela as well as the well-known Venetian Silk Road explorer Marco Polo, who travelled to China during the Yuan Dynasty (1271-1368) and was among the first Europeans to bring a detailed description of Chinese culture, customs and traditions to Europe. Two other Italians worth mentioning are certainly the Jesuit priest Matteo Ricci, known in China as Li Madou, and Giuseppe Castiglione, known as Lang Shining. Ricci was among the first European intellectuals to read and write classical Chinese during the Ming Dynasty (1368-1644), on the other hand Castiglione served as an artist for three Qing Dynasty (1644-1912) emperors, namely Kangxi, Yongzheng and Qianlong.
Since the establishment of bilateral ties in 1970, China and Italy have intensified their relations in all fields. This has become even more important in 2004, when a comprehensive strategic partnership was established, paving the way for intensified cooperation. Last year, under the leadership of the Italian Undersecretary of Economy and Finance Michele Geraci, the Task Force China was launched in the Italian Ministry of Economy and Finance, with the aim of elaborating a systemic and comprehensive approach to cooperate with China. Initiatives such as Task Force China well reflect the increasing importance of Sino-Italian relations. The bilateral trade between the two countries reached almost $50 billion in 2017 and it exceeded $50 billion last year. Besides trade, China and Italy, being the countries with the largest number of UNESCO world heritage, can further cooperate in the fields of culture and tourism. With more than 1.5 million Chinese tourists who choose Italy as their holiday destination every year, this number is likely to increase in the upcoming years.
China and Italy have the potential to build synergy in many other fields. The BRI, proposed by Xi in 2013, has certainly further linked these two countries. In fact, a memorandum of understanding will be signed between the two countries during President Xi's current trip. This would be highly significant for China and Italy as they enter a new era of friendship characterized by all-round cooperation and mutual trust. According to Italian Prime Minister Giuseppe Conte, an MoU on BRI will be a unique opportunity for Italy to gain Chinese investment for its Genoa and Taranto ports. The MoU will also bring high European standards of finance as well as environmental protection to BRI projects. Italy has openly embraced the Chinese initiative and Prime Minister Conte also affirmed that he plans to attend the BRI forum in China next month.
As the first G7 member to sign an MoU on the BRI, Italy made a crucial decision, which is fully in line with trend of the times. With further economic engagement with China, Italy will further boost its competitiveness as well as enhance its economic status in the European Union. While reporting to the Italian Parliament on Thursday, Conte further praised the Belt and Road as an important Eurasian infrastructural connectivity initiative. Conte also stated that joining the Belt and Road is in line with Italian national interests. It will bring enormous benefits to Italian companies who aim to export overseas, allowing them to participate directly in new infrastructural investments. Conte also went on to affirm that the MoU not only sets up the cooperation on the Belt and Road, but works in conjunction with the principles of the 2030 Agenda for Sustainable Development, the EU-China 2020 Strategic Agenda for Cooperation as well as the EU Strategy for Eurasian connectivity.
China and Italy have both a lot to gain with the upcoming cooperation on the Belt and Road. In the signed article, Xi also praised the "Made in Italy" as a guarantee of quality and said that Italian fashion, furniture as well as food are all very popular in China. Italy can certainly deepen its cooperation with China in high-level political exchanges and economic cooperation as well as cultural and people-to-people dialogue. Through advancing together the Belt and Road cooperation, China and Italy can jointly build the Belt and Road and expand cooperation into new areas, such as in ports, ship-building, transportation, energy, medicine as well as encouraging companies to cooperate in third markets.
As next year marks the 50 anniversary of this unique friendship, China and Italy can build an even stronger partnership that is founded on a new approach to international relations and based on the concept of mutual respect for jointly building a community with a shared future for all mankind. The two countries have been playing a highly positive role in multilateral organizations and with the MoU on BRI, they will further cooperate together to advance global stability as well as uphold multilateralism and free trade.
The author is a PhD student in Diplomacy at Peking University. Previously, he graduated in China Studies from Peking University and International Relations from the London School of Economics.
The opinions expressed here are those of the writer and do not represent the views of China Daily and China Daily website.