796 cultural relics home, but 17 million overseas
By Zhang Zhouxiang | chinadaily.com.cn | Updated: 2019-03-25 14:40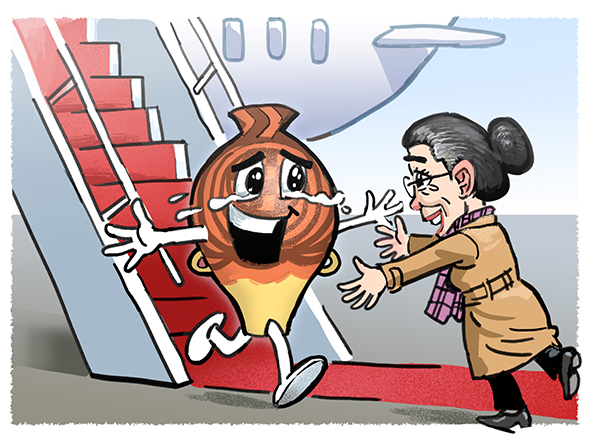 According to an agreement signed by China and Italy on Saturday, a total of 796 Chinese cultural relics that were taken overseas, which cover a wide spectrum of Chinese history ranging from 5,000 years ago to the early decades of the last century, will be returned to China.
This is the largest number of Chinese cultural relics to be returned from overseas since 1998, when the United Kingdom returned about 3,000 smuggled artifacts.
Yet 796 is rather small compared with 1.64 million, which is the total number of Chinese cultural relics displayed by over 200 museums overseas, located in 47 countries and regions.
Combining the ones that are not exhibited, the total number of Chinese artifacts overseas might be as high as 17 million.
And the majority of the 17 million Chinese cultural relics were taken overseas in a way much worse than illegal trade. Most of the lost relics were stolen during the invasions China suffered after the first Opium War in 1839, accompanied by pillage of Chinese cities and villages, killing of innocent Chinese nationals, and the suffering of the whole nation.
That's why, for China, the return of relics is not only of cultural significance but also a matter related to national pride. And for the families that owned them and lost them to foreign pillagers, the antiques are related to their family heritage.
The mission of recovering lost Chinese cultural relics will continue. In the past few years, patriotic Chinese businesspeople overseas have been buying relics that have been auctioned and donated them to national museums of the motherland. That's a good move, but not the best solution.
The return of 796 cultural relics sets a good example because the Carabinieri Art Squad, an Italian police unit responsible for combating cultural relics-related crimes, has done a good job in recovering the relics. It is to be hoped that other countries and regions will learn from their example and help return Chinese cultural relics.