Farrago of hostilities brings no-deal Brexit ever closer: China Daily editorial
China Daily | Updated: 2019-03-25 19:43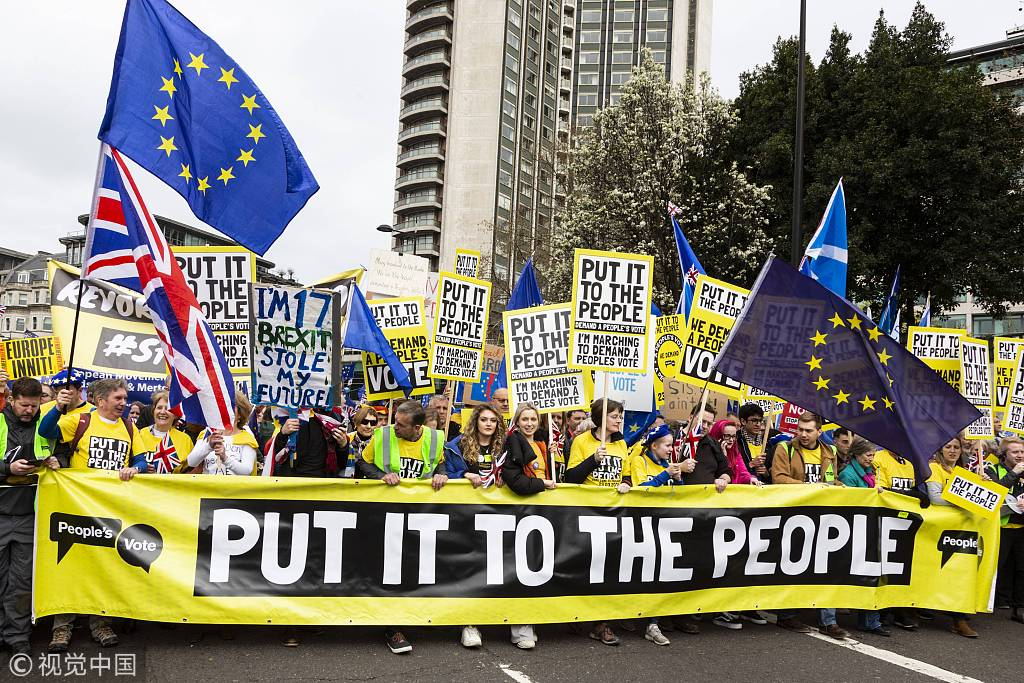 Friday was supposed to be the day of destiny for the United Kingdom, that it won't be is probably the only certainty in its long drawn-out divorce from the European Union.
To keep doing the same thing over and over again expecting a different result is an exercise in futility.
But that is exactly what British Prime Minister Theresa May seems to be considering. In a letter to lawmakers at the weekend, the embattled British leader raised the possibility that she would bring her European Union divorce plan back to Parliament for vote if she thinks there seems to be enough support for it to pass.
Yet the deal has already been overwhelmingly rejected twice, with Members of Parliament heavily divided over how to implement the 2016 referendum vote to leave the bloc. On Saturday, in one of the country's largest rallies, about 1 million pro-Europeans marched through central London asking for another public vote on leaving the EU.
Given the huge divide between the "leave" and "stay" camps and that May's Brexit deal remains the same, there seems no chance of her plan being approved, especially as the clock is fast ticking for the deadline, originally set on March 29, and now extended to April 12 by the EU.
Thus it seems highly likely that Britain will have a "hard" Brexit, which would see the country leave the EU without a withdrawal deal.
Although there are warnings a hard Brexit would cause border chaos and economic recession, those who seek a clean break from Brussels have brushed such concerns aside as scaremongering, despite the fact they have come from a variety of reputable sources.
Still, May seems prepared to embrace that hard Brexit scenario. She has always insisted that "Brexit means Brexit" and "the people have spoken", which appears to leave no room for any other option and a hard Brexit the only choice with her plan by all accounts dead in the water.
Brexiters believe that prospect would allow Britain to get full control of immigration from the EU and immediately set lower tariffs for trade outside the EU and thus bringing great opportunities for the British economy. And the International Monetary Fund has predicted that 90 percent of global growth will be outside the EU in the coming years.
But what if things do not go the way they expect? Given that many foreign investors have invested in Britain in the belief that the country would serve as a foothold for them to trade with the rest of the EU, what impacts a hard Brexit would have on the British economy remains highly uncertain.