Lafayette eyes $1.13b revenue in China
By Wang Ying | China Daily | Updated: 2019-03-26 07:37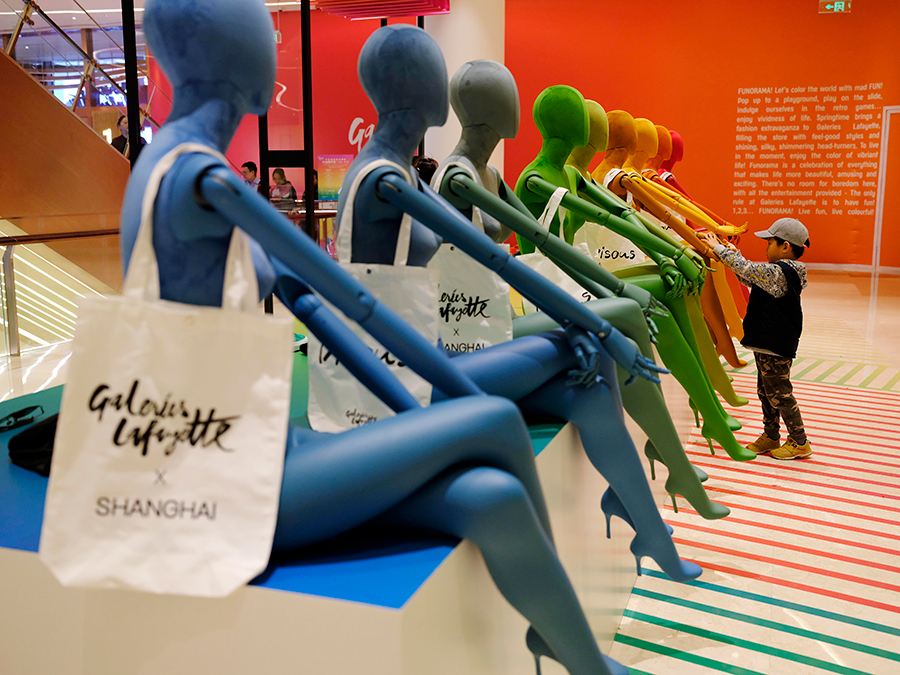 French department store chain Galeries Lafayette is planning to open about 10 stores and achieve revenue of 1 billion euros ($1.13 billion) by 2025 in China, a top company official said.
"We are targeting around 10 stores in China. We think we could reach 1 billion euros turnover from China, and make China the biggest market after France," said Nicolas Houze, chief executive officer of Galeries Lafayette and French concept store BHV Marais, who hopes to achieve this goal by 2025.
The Shanghai store will be the company's second in China after a similar one in Beijing and is scheduled to open in autumn. Currently, the group is also looking for locations for two new stores, with Guangzhou in Guangdong province, Xiamen in Fujian province, Suzhou in Jiangsu province and Chongqing as potential candidates, according to Philippe Pedone, senior vice-president, International for Galeries Lafayette and BHV Marais.
Galeries Lafayette is one of eight iconic brands managed by the Galeries Lafayette Group. The group reported sales revenue of 4.5 billion euros last year.
Since the launch of its iconic Galeries Lafayette store (Galeries Lafayette Paris Haussmann) in 1894, the Paris-based department store alone has received 37 million customers on average per year, with half of the foreign customers coming from China, according to Houze.
Qi Xiaozhai, head of the Shanghai Society of Commercial Economy, said the Galeries Lafayette in Paris has been a landmark for global consumers, but in Shanghai, the store may face some challenges before success.
Qi's concerns are based on the fact that several multinational retail brands have performed less well than expected in China.
According to Euromonitor International data, revenue of department stores in China grew from $153.3 billion in 2014 to $159.57 billion last year, but it forecast the same to fall to $148.49 billion by 2023 after peaking in 2020 at $160.2 billion.
"I think there is still a feeling among high-end retail operators that there is room for more premium retail in China. While some may argue that commercial retail space is overbuilt in China, there are still opportunities for developers to select underserved locations," said Ben Cavender, principal of Shanghai-based China Market Research Group.
In the past decade, some major multinationals have been incredibly successful in China. However, the exit of brands like UK-based Marks & Spencer from China in 2017 are a good example of what global department store owners should not do, he said.
M&S initially sold the same apparel in China that it was selling in other markets leading to confusion among Chinese consumers who could not figure out sizes or read price tags. They also did not have a clear understanding of who was actually shopping at their stores. M&S wanted to be selling to Chinese millennial women but most of their customers were 10-20 years older and hunting for bargains rather than brands, said Cavender.
"Consumption habits have changed and consumers want to experience different methods of shopping, and that's why we are focusing on what the customers expect to see and have in our new store," said Pedone.
Lu Yan, head of research, CBRE Eastern China, believes the new Shanghai store is different from that of Paris and Beijing. Besides luxury brands, it will introduce a number of new brands to local consumers, including niche designer brands from Europe.