China and the world, living in harmony with differences
Xinhua | Updated: 2019-03-28 07:46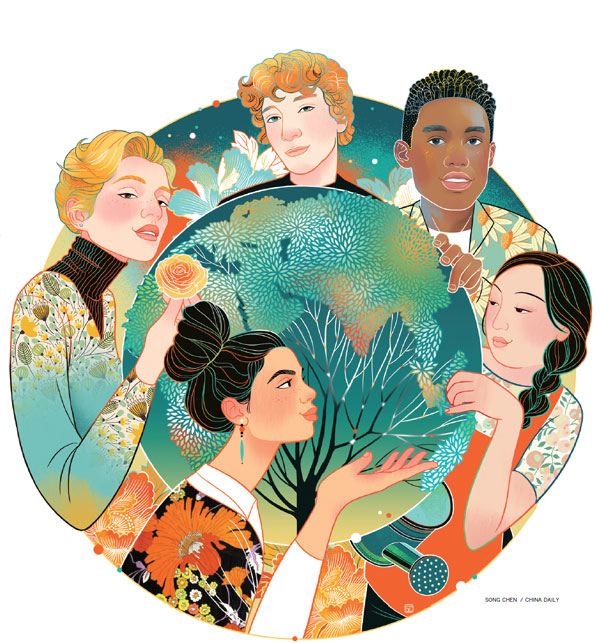 The Chinese have long appreciated the wisdom of "harmony without uniformity."
Harmony is like cooking a thick soup. You need water, fire, vinegar, meat sauce, salt and plum to go with the fish or meat. Who can drink soup with nothing but water in it?
Five years ago, while addressing an UNESCO event in Paris, President Xi Jinping used the above metaphor, along with other stories, to elaborate on his thoughts on why different civilizations should respect each other and live in harmony and why exchanges and mutual learning among civilizations are relevant and valuable.
Over the past five years, China has been working to find out how to make it happen.
When the "zero-sum game" mindset and "winner-takes-all" game prevail, China shows the world the real story in business is not black and white, and win-win results can be realized.
Five years after President Xi revealed his vision for civilization, he on Tuesday reiterated the importance of upholding multilateralism in order to promote international cooperation in addressing common risks and challenges and maintaining world peace and prosperity.
At the Global Governance Forum in Paris, he outlined a four-pronged approach on improving global governance, as he called for fairness and reasonableness to address the governance deficit, and consultation and understanding to address the trust deficit.
Closer communication and dialogue between different civilizations, in particular, are important to increase mutual understanding and mutual recognition between one another.
The Belt and Road Initiative (BRI) opens a new path to improve global governance and increase mutual understanding between different civilizations.
As some Western countries move backward by erecting walls, China is working hard to build bridges through this multi-lateral mechanism aiming at advancing inclusive development in infrastructure construction and social development.
So far, more than 150 countries and international organizations have signed BRI deals with China. Italy has just become the first member of the Group of Seven to join the China-proposed initiative.
Italy, which shares long-standing historical and cultural bonds with China forged through the ancient Silk Road, has shown outstanding far-sightedness and pragmatism in choosing to embrace the initiative.
With Italy's entry, the BRI will become more inclusive and generate greater economic gains for its members. What is equally important is the mechanism makes it possible for people of different cultures to increase mutual understanding when they make deals and build roads, railways and seaports.
During President Xi's latest visit to France, French President Emmanuel Macron presented him the original French version of "An Introduction to The Analects of Confucius," which was published in 1688, as a national gift. It testifies to the long-standing cultural bonds between the two nations, which lays a solid foundation for people of today to deepen their relationships.
China has made it clear that it strives to develop itself by upholding and maintaining world peace through its development. This approach can not conceal the differences between China and other countries.
Recognizing differences, however, does not hold China back from living peacefully with others and moving their relationships forward. China will do well only when the world does well, and vice versa.