In Wuhan, cherry blossoms at center stage
By Cheng Si in Beijing and Liu Kun in Wuhan | China Daily | Updated: 2019-03-28 10:47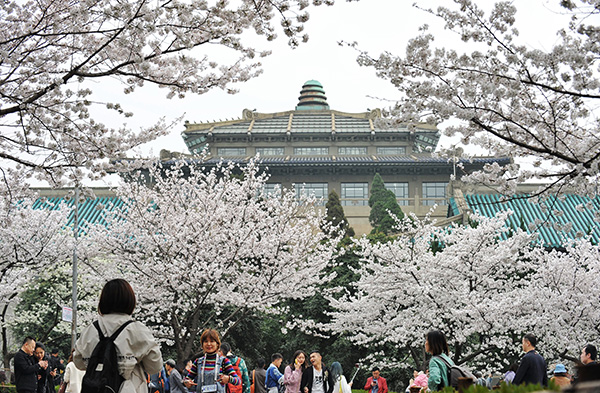 Wuhan University in Hubei province attracts crowds of people not only for its academic achievements but for its cherry blossoms in spring.
The university has been offering free reservations for cherry blossom watchers to visit the campus since last week, allowing 15,000 visitors Monday through Friday and 30,000 on weekends, the university's website said.
This year, 5G technology was introduced for the first time on Sunday by the Hubei branch of China Mobile to broadcast the campus scenery.
Wang Zheng, publicity department director at the branch office, said the limited reservation quota doesn't satisfy public demand, so the live broadcasts allow more people to view the beautiful blossoms.
He said the broadcast was viewed by tens of thousands of people in an hour and a half.
"The cherry trees have a very short flowering season, making people more eager to see them in full bloom," he said. "Also, Wuhan University itself is a tourist attraction known for its palatial buildings. Cherry blossoms increase the attractiveness of the campus."
However, some improper activities, such as shaking the trees and ticket scalping, have not been eradicated, even though strong oversight has been imposed by the university.