Temple leads the way in recycling rubbish
China Daily | Updated: 2019-04-01 09:10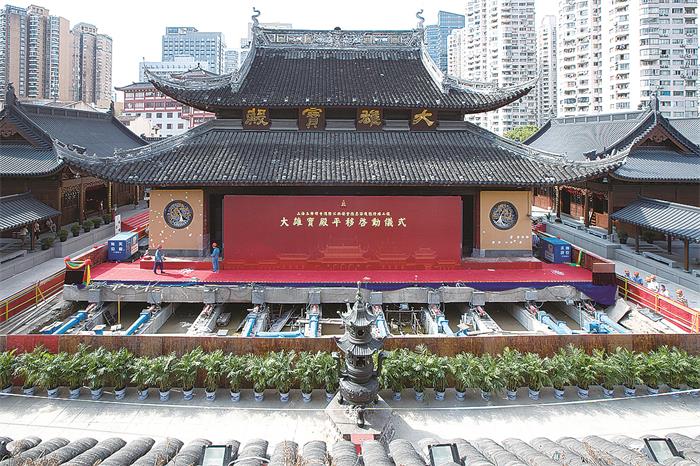 The Jade Buddha Temple in Shanghai has come into the public spotlight with sorted garbage bins illustrated in Chinese, English and Japanese.
Juexing, abbot of the Jade Buddha Temple, called on Buddhist worshippers and tourists visiting the temple to engage in garbage sorting. "Garbage sorting is a good way to purify the environment. We are delighted to contribute to ecological progress," he said.
Located in Putuo district, Shanghai, the Jade Buddha Temple is famous for its Myanmar Jade Buddha. Millions of people from home and abroad visit the temple each year. Earlier this month, sorted garbage bins for recyclable, dry and wet garbage were placed in the corridor connecting the Grand Hall and two other palaces, near the parking lot and the vegetarian restaurant of the temple.
The temple's move came after the city published a set of regulations on household garbage sorting and recycling, which will take effect on July 1 this year. The city has started pilot programs in communities to color-code every garbage bin and garbage carrying vehicle by category.
The temple was quick to take voluntary action to join the practice. "The new regulation has brought us opportunities to promote environmental protection among the believers," said Master Titing, who is in charge of garbage sorting at the temple.
He said apart from garbage bins in public areas, the temple had arranged smaller categorized garbage bins in the monk dormitory.
"In 2017, when I went to Japan with Abbot Juexing for the first time, the abbot noticed that the Japanese sorted garbage in five to six categories and treated waste sorting as an effective way to protect the environment and recycle resources. He told me to take photos so that we could learn from them," Titing said.
He said professionals were invited last week to train monks in the temple on garbage sorting.
The temple also launched a program via the official WeChat account, using cartoon characters to guide readers on the temple's garbage sorting requirements.
Ana Sousa, a tourist from Brazil, showed an interest in the new garbage bins. "I haven't noticed such kind of garbage bins on the streets in Shanghai. But I'm sure this is something that a Buddhist temple should have because I've heard Buddhists in China advocate good behavior," she said.
Abbot Juexing, who is also vice-president of the Buddhist Association of China, said: "From the perspective of Buddhism, everything in the world is interrelated and interdependent. Human beings are part of nature. We must cherish natural resources and mustn't waste or pollute them."
Xinhua
(China Daily 04/01/2019 page7)