Owners find relief in giving dead pets a proper send-off
By Sun Ruisheng in Taiyuan | China Daily | Updated: 2019-04-01 09:15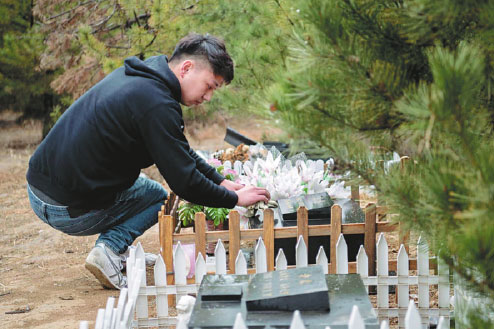 Taiyuan company holds special funeral services for dead animals
When He Jie started raising a Russian Blue cat named Shier, or twelve in Mandarin, he wondered what he should do if the cat died. Then in 2016, an idea occurred to him to do pet funerals.
"I went to Beijing and did my research, then made preparations to start the company," said the 29-yearold, who is now a pet mortician.
He operates a pet funeral service company with a business partner in Taiyuan, the capital city of North China's Shanxi province, and has held funerals for nearly 500 pets since starting the company two years ago.
To give beloved pets a proper send-off, He rented three warehouses and redecorated them to include a funeral parlor and a crematorium. These are located in the Danao mountain in Xinghualing district, about 15 kilometers from downtown Taiyuan.
"Human beings need a sense of ritual, and giving pets proper funerals give owners that sort of sense, and it is also their responsibility," He said.
There were no relevant regulations or policies about pet funerals when He registered the company two years ago, as the local government had no idea how to go about doing it with no precedent to follow.
The pet funeral industry is also almost nonexistent in China, with only three or four organizations registering their businesses as animal carcass disposal sites, according to He. "There were two girls who once did this business in Taiyuan, but have since quit," he said while discussing the current situation of the pet funeral industry.
Despite these initial difficulties in starting his pet funeral business, the biggest difficulty that He currently faces is the misunderstandings that villagers living in the Danao mountain have of his business. They believe that the pet funerals affected local feng shui, a traditional Chinese geomancy, and have asked He to close down his company several times.
"I don't like to think of it too much. I think it is a good thing, so I can throw myself into it," said He, unwilling to let criticisms of the villagers affect his work.
Apart from doing pet funeral arrangements for a cooperative pet adoption agency and veterinary clinics, He also does these services for some pet owners as well. "The adoption agency has over 40 dogs and is operated by a reporter at her own expense, so I cremate and give funerals to her dogs for free," He added.
Before the emergence of pet funerals, He said many people there just casually bury their pets on the mountains, which is usually better than those who throw the remains into trash bins or the thickets beside the roads. Likewise, roadkill are often seen on the road, and no one cares about them, which He said it is harmful to both the environment and traffic safety.
"The feelings are mutual when people put in feelings to raise their pets. It is hard for me to casually discard pets when their lives are over, because every pet means a lot to their owners," he said.
One girl left her dog at an adoption place as she was traveling, but the dog later died of illness. The girl was full of remorse and wept uncontrollably when He took the dog for cremation.
Clients can make an appointment with He before deciding to have a funeral for their pets, and they can choose to personally take their pet's remains to his company. Alternatively, his employees can pick up the remains from the clients' homes. The remains are cleaned and cremated after a short farewell ceremony.
Owners can take the urns with them, bury it, or scatter the ashes under the trees. A few dozen meters from the funeral parlor, there are over a dozen tombstones, each with words engraved expressing the owner's grief.
The cremation is charged according to the weight of the pet, with prices starting from 500 yuan ($74), and a tombstone costing between 600 and 1,200 yuan. The company provides the burial ground and caretaking services for free.
The income from pet funerals is not good, as annual operating costs for He's business can be more than 20,000 yuan.
"It may be less than the income of an office job," He said.
He's family initially objected to his work as they feared he would not make much money.
"I am just so determined that nobody can change it. After all, I needed to support myself after graduating from university," he said.
Some people that He knows treat their pets kindly, while some people's feelings for their pets do not last long. "They buy a pet just out of curiosity and may abandon the pet shortly after," he said.
Whenever He encounters dead animals on the road, he brings them back to his funeral parlor and gives them funerals. He also accepts dead stray animals that some people bring to his parlor, and helps to cremate them as well.
"There should be regulations for owning pets. Owners should not abandon their pets at will, which can also help avoid the occurrence of homeless animals," he said.
"The pet funeral industry in Shanxi province still falls short, and I will continue to do this job not only for the pets, but also to provide an option for the owners to properly bid farewell to their pets."
Yang Zekun contributed to this story.