Cloning man's best friend
By Barry He | China Daily Global | Updated: 2019-04-01 23:47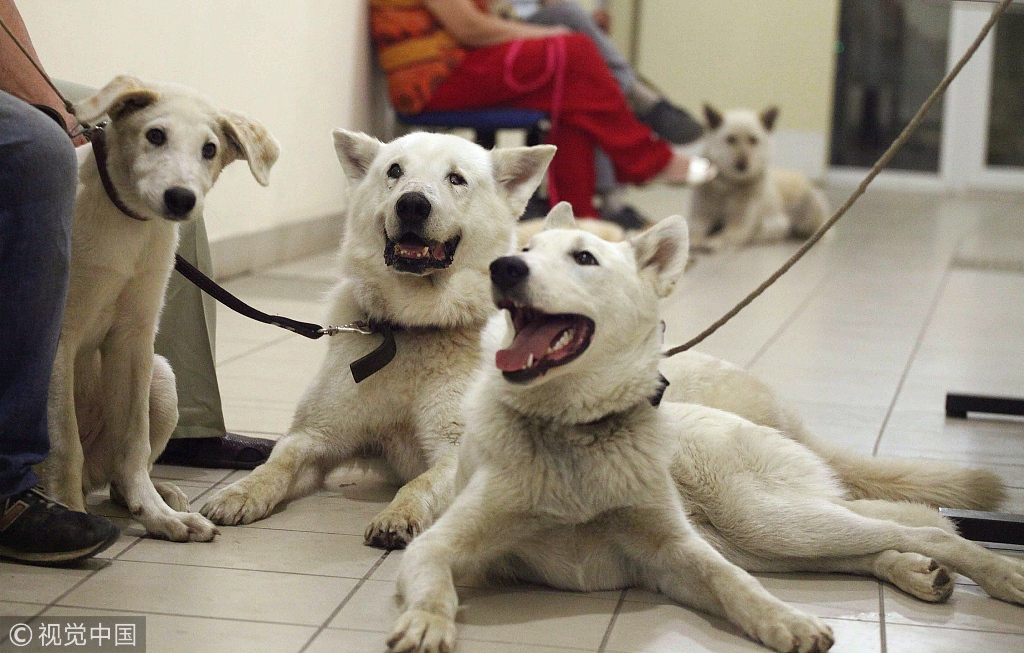 In the United Kingdom, 45 percent of people own a pet. Pet ownership, arguably, is a national obsession, being a much higher percentage than the European average, where just 21 percent of European Union citizens are animal lovers.
The majority of the UK's pet lovers are proud dog owners, and, walking around London, it is clear they are an intimate part of life on the roads, parks, or in the pubs of the city. As a self-confessed dog lover, seeing a friendly canine on the tube lying faithfully at the feet of his or her beloved human companioncan make my day, and cheer up even the most exasperated of commuters.
As much as we love our cute furry friends in the UK, the relationship between man and dog is steeped in a history of utility. The use of dogs in law enforcement goes back thousands of years, and evidence of this is present in classical Greek, Babylonian, and Persian historical records. The reason why we still need help from these amazing animals today is simple. A dog's sense of smell is 10,000 times more acute than our own. They can smell, uniquely, in layers, meaning that unlike us they can differentiate between different smells, even if the scent has been masked with odors such as perfume. This makes them extremely useful for hunting and tracking down targets, even if the scent is days or weeks old, sometimes even years. All this is topped by the fact that dogs can move and search areas over four times faster than your average police officer, no matter how much he goes to the gym.
To try and emulate this level of agility and smell accuracy using today's modern biotechnology would be utterly hopeless.
However, one thing modern biotechnology can do is clone animals. In China, a 2-month-old puppy has been heralded as the Sherlock Holmes of police dogs. Scientists from the Yunnan Agricultural University and Sinogene took DNA samples from a specialist police dog, and implanted the genetic material into an egg and then a surrogate mother. After six months, the cloned dog will begin fulfilling her destiny by undergoing extensive training in crowd control, drug detection, and, importantly, evidence detection.
The ultimate sniffer dog.
"The surrogate was a gentle beagle," Sinogene project technician Liu Xiaojuan said to Science and Technology Daily. "To prevent complications and improve the survival rate, we carried out a caesarean section."
The standard breed used for cloning are beagles, and cloned dogs can sell for up to 380,000 yuan ($56,615). This may sound expensive, but the average cost for training a police dog with no genetically cloned advantage costs 500,000 yuan, and takes around five years to complete. The plan is to mass produce and sell cloned dogs to police forces around the world, something that could save vital resources in countries where law enforcement state funding is suffering cuts, such as in the UK.
"Cloning police dogs is at an experimental phase. It's hoped that we can mass produce cloned good-performing police dogs as techniques mature in the next 10 years," Wan Jiusheng, a researcher at Kunming Police Dog Base, said in a statement. "The program also plans to establish a somatic cell bank of good-performing police dogs that can be preserved for 50 years, and a group of good-performing police dogs for breeding to fast-breed good police dogs."
It is important as we go forward with such experimental technologies that we keep our furry friends in mind too. Putting animal welfare first is essential, if not for ethical reasons, then because of the fact that intelligent and sentient creatures such as dogs are ill-receptive to training if treated badly. In any relationship, it is important that both sides are kept happy. Genetically altering animals for our own gain is nothing new to human history either, but if our canine comrades are happy to help, then we should reciprocate the gesture too.