College hopes cowboys lasso new students
By Scott Reeves in New York | China Daily | Updated: 2019-04-03 08:59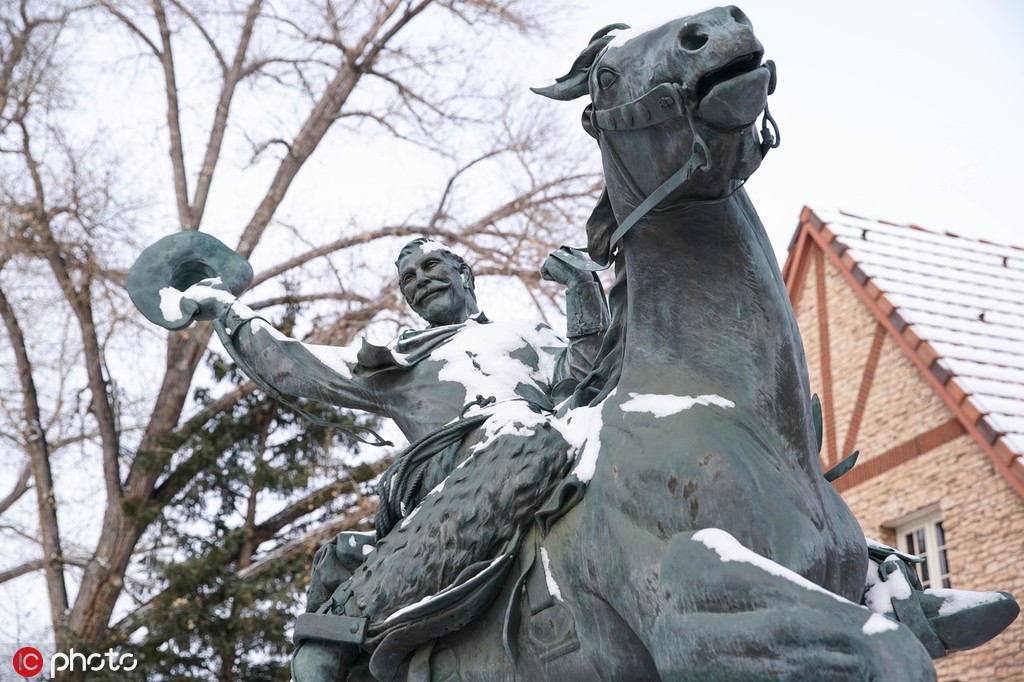 Remote University of Wyoming recruits with Go-West marketing
The University of Wyoming, a small school in a sparsely populated Rocky Mountain state, has successfully employed an unusual marketing pitch to round up new students: cowboys.
The iconic cowboy, kingpin of lore of the Wild West in the United States, has inspired countless Hollywood movies and TV shows. The university's new marketing campaign, with the slogan "The world needs more cowboys", has generated 18,000 requests for information from prospective freshmen.
That's something of a stampede for a school with an enrollment of about 12,500, including 700 international students.
"People have responded positively across the country," university spokesman Chad Baldwin told China Daily. "Being a cowboy is not about what you are - it's about who you are. Cowboys are about shared values, hard work, tenacity, curiosity and adventure."
The university hired a market-research firm to test the campaign's impact on prospective students. Before watching one of the campaign's videos, only 25 percent of surveyed students said they would consider applying to the school; the number increased to 41 percent after seeing the promo.
The university won't know how many students actually enroll until the school year begins in September. Traditionally, the school has been a tough sell. It's in Laramie, a city of 32,000 about 200 kilometers and a two-hour drive from Denver, Colorado, the nearest major city.
Wyoming in general is not the place for students looking for bright city lights or bikini weather. The state has an estimated population of 568,125, spread across 253,337 square km. Laramie's average temperature in December is -6 C, rising to 15.6 C in June.
In contrast to the University of Wyoming's cowboy marketing campaign, which cost $500,000, major US universities typically seek to attract students by crafting an image of academic excellence leading to successful careers in prestigious fields.
Critics of the university's Go-West campaign accuse it of being racist and sexist because they believe the image of a cowboy excludes nonwhites and women.
The university has brushed off those objections. Pistol Pete, the university's cowboy mascot, appears on jackets, T-shirts, mugs, hats, key chains, and stationary as part of the school's effort to attract new students, Baldwin said.
As for cowboys being racist, in the 1800s cowpokes were a surprisingly diverse group. After the American Civil War (1861-65) many emancipated blacks headed out West. An estimated 25 percent of cowboys, or 6,000 to 9,000 men, after the war and through the 1880s, were black, while about 20 percent of US cavalry troops were black, according to WyomingHistory.org.
And modern-day cowboys aren't exclusively white males either. Black cowboy Myrtis Dightman was ranked the world's top bull rider in 1967 and Maggie Parker was the first woman to win cash while competing against men in an event sponsored by the Professional Rodeo Cowboys Association, Wyoming newspapers reported.
Ironically, the popular image of the cowboy was crafted by an Easterner and graduate of Harvard Law School.
Owen Wister was born in 1860 to a wealthy family in Philadelphia. His father, a highly respected doctor, expected his son to build a professional career.
Young Wister chafed at life on the East Coast and was close to a nervous breakdown when, in 1885, he traveled to Wyoming in an effort to relax and clear his mind. He became captivated by the rugged mountains, the pristine air and the independence of the people he met, according to biographers.
Wister made 15 trips to the US West from 1885 to 1900 and kept diaries, which are now held at the University of Wyoming's American Heritage Center. Wister published an essay titled The Evolution of the Cow-Puncher in Harper's Monthly in 1895.
In 1902, he published The Virginian, a novel that portrayed the cowboy as a natural nobleman and horseman making an independent living in a spectacular and often harsh environment. And Wister's cowboy hero was no illiterate rube: he regularly enjoyed the books of Sir Walter Scott.
Who knows, maybe he'd have enrolled at the University of Wyoming too.