'Cutest' rural schoolgirl warms hearts of many
By Shi Baoyin and Qi Xin in Zhengzhou | China Daily | Updated: 2019-04-03 09:08
On a sunny and warm day, Zhang Haixia and her 51-year-old father Zhang Gaiyang left home to enjoy the sunshine on a small square of a primary school in Yifeng county in Zhumadian, Central China's Henan province. Zhang pushed her father around in a wheelchair.
Unlike other college graduates who choose to find jobs in major cities, the 26-year-old went back to the small county to be a schoolteacher last year, so that she can care for her disabled father, which she has been doing for more than 13 years. Whether Zhang was in middle school, high school or in the university, she always took her father with her.
Born in Sanlihe village of Queshan county in Zhumadian, not far from the primary school she works for, Zhang was glad to see her father talking to people in their local dialect. "Working here is a good choice," the daughter said.
When she was a little girl, her father was paralyzed by rheumatism and could hardly stand up. As the only child, she learned to plant crops and raise pigs at a young age.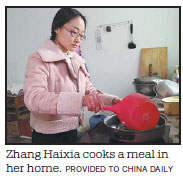 She was only 5 when her mother remarried, leaving her to support both herself and her father.
"Relatives helped me, but my school fees and my father's medical expenses became a burden for my family," she said.
She even wanted to drop out of school when she was in sixth grade, so as to ease the burden of her family. Luckily, a young warmhearted man, named Qi Jian, came into her life in 2006.
Qi, from Luohe in Henan, paid her school fees that year and encouraged her to study hard to go to university.
"He was very nice, and he wore a cotton padded jacket and had a dark blue cap on when he visited my home," said Zhang, still clearly remembering her first meeting with Qi.
She studied hard and appreciated the support of warmhearted people around her. However, at the end of 2007, she heard that Qi had leukemia. He had decided to completely abandon treatment as he could hardly afford the high costs, though the hospital had found him donors with matched bone marrows. He donated the rest of his money to charity.
She refused to continue accepting his support. She and her father went to the hospital to encourage Qi to get treatment. "It was the toughest time, indeed," Zhang said.
She was only 12 years old when she wrote a special public appeal letter for Qi's plight.
She wrote: "My brother, Qi Jian, needs nearly 500,000 yuan for his operation. I promise, if there are people who would like to lend me the money, I will write an IOU for 1 million yuan instead - at the highest bank interest rate. I will work hard to pay back the money after graduating."
Moved by her words, warmhearted people offered their help and Qi was able to undergo the operation and has recovered.
She was known as "the cutest Chinese schoolgirl", and was also nominated to appear in the CCTV program Moving China in 2007.
Qi would take his two children to visit Zhang's family every year, celebrating traditional Chinese festivals like Spring Festival together. "She suffered a lot of hardship, but I am proud of having such a good daughter," her father said.
As teachers were urgently needed in the rural areas, Zhang became a country teacher. She has only 11 students in her class now. Her dearest wishes are to take better care of her father and give her students a better education.