Talent war intensifies in tech, digital, financial services sector
By Wang Ying in Shanghai | China Daily | Updated: 2019-04-03 09:39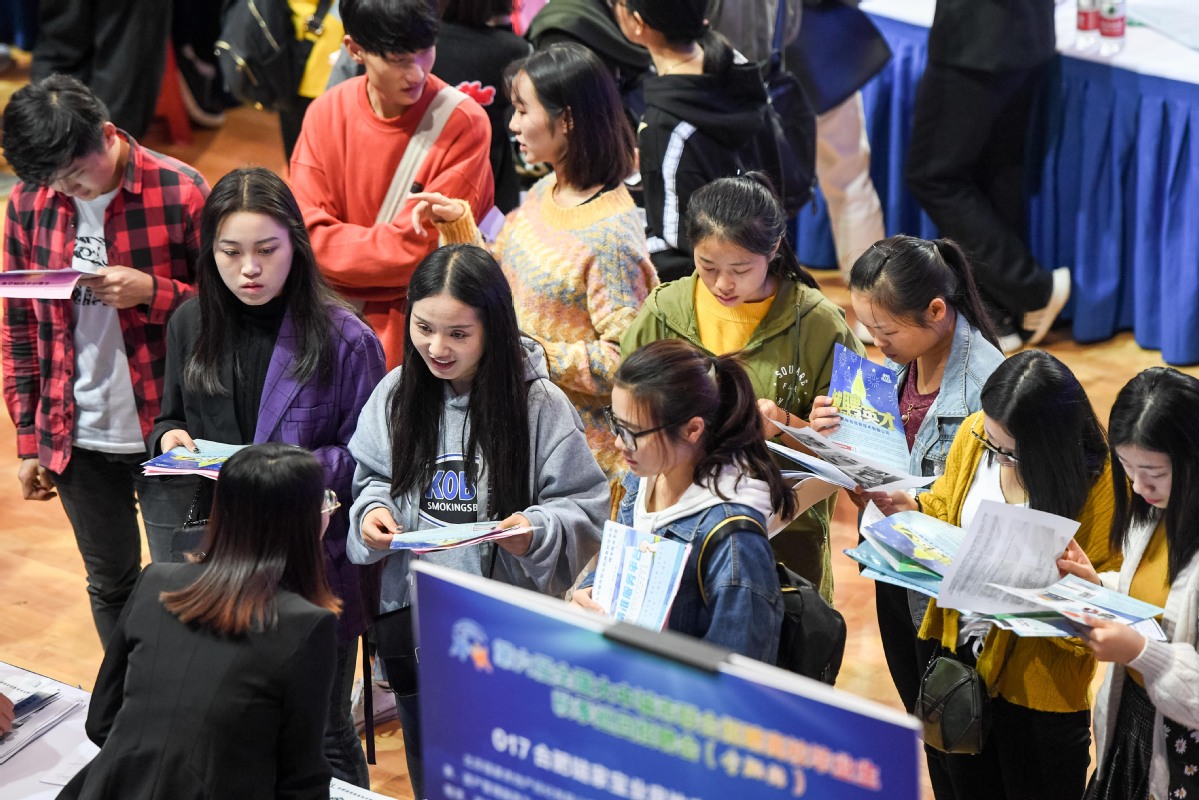 China's demand for talents in technology, digital and financial services sector will continue to grow, while the education sector may see a tight talent crunch as demand still outweighs supply, a new report said.
The evolution of technology in China has created a shortage of experienced local talent, whereas job options for the middle and senior management level personnel are growing in the technology industry, according to the latest China Salary Benchmark 2019 published by specialist recruitment firm Michael Page China.
"China's reputation as a global technology superpower has led to consistent job opportunities. Leading the employment activities are the entrance and expansion of firms in the large telecommunications, manufacturing, industrial, retail and artificial intelligence spaces," said Mark Tibbatts, managing director, Michael Page Greater China.
Likewise, the digital transformation across China has been widely-adopted by businesses with fast-moving consumer goods, pharmaceuticals and manufacturing the major gainers.
The report suggests a 30 percent increase in the number of digital jobs posted in the last 12 months, and successful job hoppers can expect a salary hike of 30 percent.
Amid the continuous drive for a cashless China, there appears to be new hiring demand for professionals skilled in e-payment technologies and user experiences, prompting companies to look for experts proficient in creating and refining a buying ecosystem.
Data analytics is another key focus area for companies in China pursuing progressive technology skill sets, and is a result of more companies opting for data-driven decision-making strategies, Tibbatts said.
"The talent competition in China's digital scene will persist in 2019," he said.
China's financial services is another sector facing talent shortage, and increasing competition will spur employers to expand their search to other industries, including technology, media, telecommunications as well as healthcare.
The education sector is expected to see demand continuing to outweigh the supply of job seekers in 2019, and the report projected 30 percent average salary increases when switching jobs within the sector.
Shortages will be seen in administrative and academic roles, creating huge opportunities for interdisciplinary talents. With the expansion of international schools in China, there will be additional employment opportunities for top candidates, added the report.
In a survey by Chinese online recruitment services provider zhaopin.com, in the two weeks after the Chinese New Year, total people needed decreased 4 percent year-on-year but people looking for jobs increased by 4 percent, with the number of resumes sent during the time increased 18 percent year-on-year. Average salary for job applicants in this year's spring recruitment saw a 5 percent increase to 8,165 yuan ($1,216) on average from the same period a year ago.
"My outlook for 2019 is positive, January and February are always a quiet period for the recruitment market in China due to the Chinese New Year. The number of jobs that we are working on per person in our business ... is exactly the same as it was a year ago ... I am optimistic about the rest of 2019," said Tibbatts.
According to him, technologies including artificial intelligence, data, data science are hot areas, with education, healthcare and smart manufacturing continuing to offer more opportunities than others.
"We are seeing now in southern China a really rapid transformation into the smart manufacturing space. Ten years ago, we recruited for a lot of international companies in Guangdong province, and nowadays most of our engineering and manufacturing clients are domestic companies ... that's a very exciting trend. Link to that, the Greater Bay Area (Guangdong-Hong Kong-Macao Greater Bay Area) policy is certainly something driving strong activity in Southern China."
Lin Qi, 36, who is working at a local Shanghai-based technology company, said stability and the prospects for personal development are two major factors she considers when seeking a job.
"I do not care about if it is a State-owned, privately-owned or foreign capital company. What I care the most is whether my specialty suits the post and whether I have ample growth opportunities," said Lin.
Lin's choice is underpinned by a recent Staff Intention Survey conducted by Michael Page China, which indicated that 70 percent of the job seekers mentioned the opportunity to develop new skills and experiences as their motivation to switch jobs.
Candidates have more demands when committing to a new company as well, a result of the maturing employment market in China. Besides compensation and benefits, personal development (69 percent) and progression within the industry (38 percent) are polled as reasons for changing jobs.
"The general shortage of specialized local talent in China means that to secure the best professionals, firms have to emphasize a good company culture, strong employer branding and a clear career development plan. With intense competition over the limited talent pool, companies in China need to accelerate their hiring process and constantly engage with the candidate of choice right from the offer stage to ensure they secure their hires," added Tibbatts.