Four-day May Day holiday offers best of both the worlds
By Liu Jianna | China Daily | Updated: 2019-04-04 07:20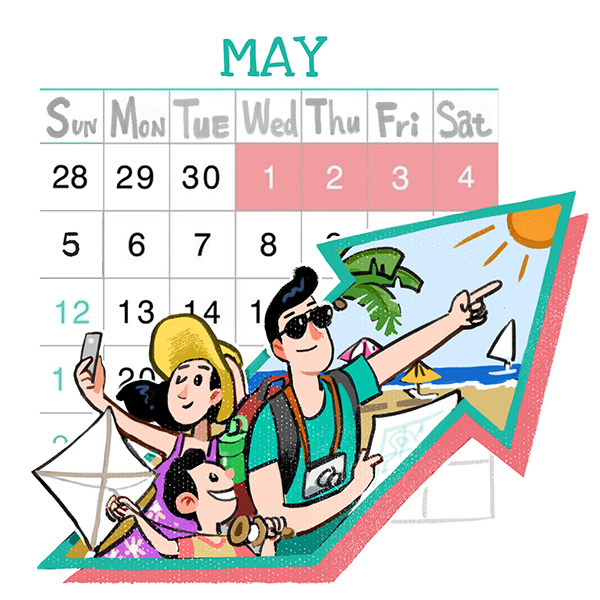 Editor's Note: The May Day holiday this year would be extended to four days. When Premier Li Keqiang was asked at a news conference during the recent second session of the 13th National People's Congress whether China would resume the May Day golden week holiday, he said relevant departments were studying the issue and would seriously consider the public's opinions before making a decision. What effects will a four-day holiday have on the people and the economy? Two experts share their views on the issue with China Daily's Liu Jianna. Excerpts follow:
Holiday answers people's appeals
The four-day holiday will, to a large extent, meet Chinese people's requirements for a better life, including the growing desire to enjoy quality longer vacations both at home and abroad.
There have been calls for longer holidays ever since the May Day golden week holiday was reduced to three days. And the extension of the May Day holiday to four days this year suggests the government has been taking public opinions into serious consideration.
The move could also boost economic development, especially the development of the tourism sector, a pillar industry of China.
In fact, after the four-day holiday was announced on March 22, tourism-related stocks rose sharply. Also, the number of tourists and tourism revenue during May Day holiday this year are set to increase by about 8 and 9 percent year-on-year, respectively, according to China Tourism Academy.
But the actual number of holidays has not increased because April 28 and May 5 being Sundays are make-up working days. And since there is a debate on whether the government should put people's demand for longer holidays above economic development, the four-day holiday without reducing the number of working days will help the government and companies to strike a balance between maintaining economic development and meeting people's need for longer holidays.
But why do Chinese people crave for longer holidays? They do so because some employers, especially in some underdeveloped regions, have not given (or have been reluctant to give) the paid leave to their employees. Besides, national holidays put a great strain on the tourist sites and limited tourism resources, including the transport system, which reduces the quality of tourists' experience to a large extent. So a good solution would be more paid leave on the one hand and flexibility for people to avail themselves of the holidays on the other.
Jiang Yiyi, a professor at the School of Leisure Sports and Tourism, Beijing Sport University
Too much pressure on transportation
The four-day May Day holiday would put the transport system to a severe test. Confronted with rising pressure on transportation facilities nationwide, the transport department should intensify supply-side reforms to ensure people can travel without hassles during holidays.
Several transport sector problems need immediate attention. First, due to a lack of proper planning, many tourist and public areas don't have enough parking lots nearby-as a result, drivers find it extremely difficult to park their vehicles. In fact, some cities in Southwest China cannot receive the tourists they have tried so hard to woo because of the lack of parking lots near tourist sites and the ensuing traffic jams.
Second, although traveling has become more convenient for Chinese people because of the rapid development of high-speed trains and the civil aviation industry, the transfer from one mode of transport to another can still be troublesome at times. For instance, some high-speed train stations have been built far away from the cities they serve, dragging down travel efficiency.
And third, some practices-such as free highway passage-may aggravate the conflict between supply and demand.
To solve these problems, which could worsen during holidays, synchronized planning and cooperation of multiple departments are required. To cope with holiday traffic, the authorities should also promote smart transportation and use advanced technologies including artificial intelligence and big data to improve travel efficiency.
Moreover, "green travel", that is, maximum use of public transport, should also be encouraged.
Yet travel safety is one thing that is more often than not ignored. Media reports publicize tourist spots, especially before and during long holidays, while traffic safety education is rare, which is a pity because traffic safety education and proper traffic management can prevent accidents.
Jia Yuanhua, a professor of transportation engineering at the School of Traffic and Transportation, Beijing Jiaotong University
The views don't necessarily represent those of China Daily.