'Creatives' relocate to embrace new opportunities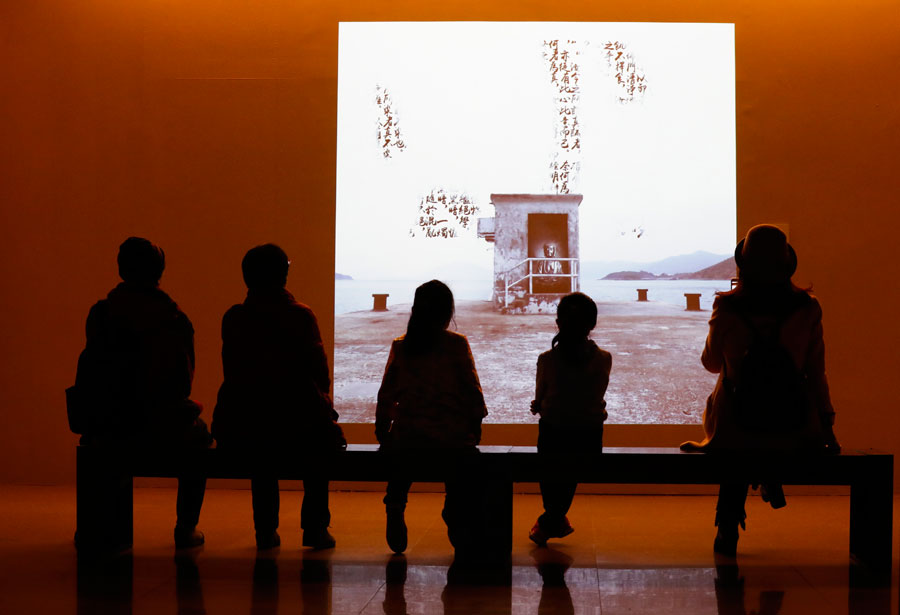 Wider acclaim
In Beijing, the enthusiasm for novelty has opened doors for niche artists such as Tsang Tsz-kin, who teaches contact improvisation, a form of modern dance.
Having accompanied his wife when she was transferred to Beijing from Hong Kong two years ago, Tsang initially resigned himself to being a stay-at-home house husband.
Instead, he runs a contact improvisation workshop, and attracts new students by promoting his program through social media platforms such as WeChat.
"I teach eight classes every week. That would never have happened in Hong Kong." he said.
The numbers tell the story. For example, in 2017, the gross take for performing arts at box offices across the mainland was 17.6 billion yuan ($2.57 billion), while in Hong Kong it was HK$506 million ($64.5 million), according to the China Association of Performing Arts and the Hong Kong Arts Development Council.
After graduating from the Hong Kong Academy for Performing Arts, Tsang opened his own studio to teach performance art in the city. Although he did pretty well, he grew weary of the repetitive teaching routine. "Being a teacher became a job, not a career." he said.
He became involved with contact improvisation 20 years ago, regarding the form as a way of liberating dancers from repetitive gestures by replacing them with movements between people in contact.
Tsang found it hard to promote the dance form at home. "It wasn't until I left Hong Kong that I realized people there are very conservative," he said.
He added that some of his students seemed more concerned with winning awards than performing dance moves.
In addition, he found that Hong Kong audiences didn't really appreciate his art.
According to the Hong Kong Annual Arts Survey report, published in November by the Hong Kong Arts Development Council, audience numbers at dance performances in the city were the lowest among all forms of performance art, including music, theater and opera.
The numbers fell for five consecutive years, from 271,000 in 2012 to 213,000 in 2017.
Tsang has experienced big changes during his two years in Beijing, where audiences are enthusiastic and enjoy his contact improvisation dance.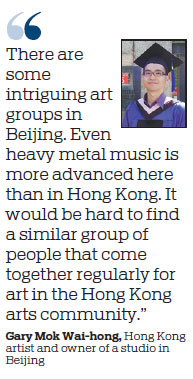 "If they don't know about a new thing, they are willing to learn and figure it out." he said.
He has become active in the mainland's contact improvisation community: "I know this dance form is drawing audiences in big cities in addition to Beijing, such as Shanghai, Hangzhou, capital of Zhejiang province, and Chongqing."
He has also been impressed by the receptiveness of audiences in lower-tier cities. He recalled the time he was invited to share his skills at a workshop in Xi'an, capital of Shaanxi province, one of the biggest cities in northwest China.
Many of those attending had traveled from smaller cities, such as Lanzhou, capital of Gansu province, and Yinchuan, capital of the Ningxia Hui autonomous region.
"Those people were willing to spend more than two days traveling to another city just to learn about something new. That was really precious," Tsang said.
Deeper cooperation
In July, the China National Arts Fund announced that practitioners from Hong Kong, Macao and Taiwan had been invited to apply for financial support, which could amount to as much as 4 million yuan per project.
The practitioners are also eligible for training programs subsidized by the fund, while arts organizations on the mainland are being encouraged to work with Hong Kong's art institutions to promote creative synergy and cultural exchanges.
Established in 2013, the arts fund has awarded 11.3 million yuan through seven art exchange projects related to Hong Kong, and artists from the city have participated in 15 national projects supported by the funding.
In 2017, Cheng Shing-tai, a 42-year-old conductor from Hong Kong, joined a project at the Central Conservatory of Music in Beijing.
The monthlong program gave him the opportunity to work with 17 musicians from different provinces and with the China National Traditional Orchestra, the country's leading ensemble of its kind.
Cheng was the only student in his master's class for conductors of Chinese music at the Hong Kong Academy for Performing Arts.
"Our faculty was established in 2011, but the education facilities and teaching resources are relatively poor," he said. The exchange project gave him more opportunities to practice his skills.
Cheng was excited when he learned the national funding was open to artists from Hong Kong, and said he would definitely apply if he could find suitable projects.
Nurturing cultural talent and promoting exchanges among arts groups have been written into the blueprint for the development of the Guangdong-Hong Kong-Macao Greater Bay Area, which was released by the Central Committee of the Communist Party of China and the State Council, China's Cabinet, in February.
In the meantime, local artists will continue to cross the border to seek their fortunes on the mainland.