BYD cheers production of 300th electric bus in US
By LIU YINMENG in Lancaster, California | China Daily Global | Updated: 2019-04-04 23:40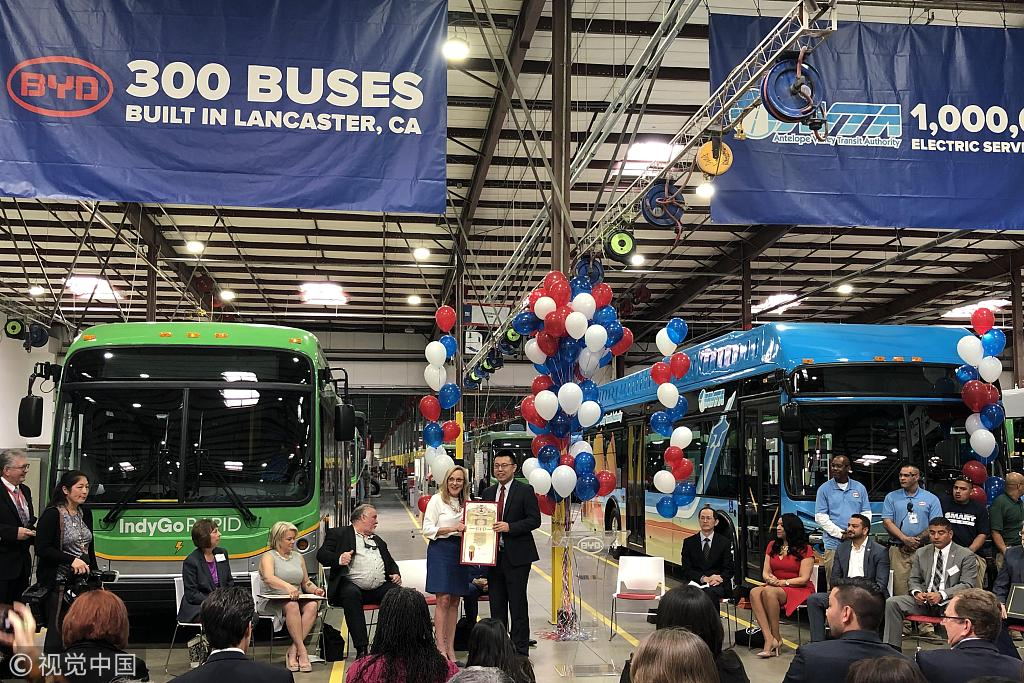 China's electric-car maker BYD on Wednesday celebrated the production of the 300th bus at its Lancaster, California manufacturing plant, a milestone hailed by some officials as a successful example of US-China business collaboration and a great step toward reducing pollution.
The event, attended by city and county officials, employees of BYD, as well as community members, also celebrated the Antelope Valley Transit Authority (AVTA), BYD's neighbor and one of its first customers, on closing in on 1 million miles of zero emissions bus operations. AVTA is expected to meet that goal in early May.
"Three hundred buses is a milestone for BYD," said Patrick Duan, BYD's vice president of operations and Skyrail.
"I remember about six years ago, when we arrived in Lancaster, BYD had about a dozen employees working on a few buses at a time. Today we have 750 employees working in a facility of over 550,000 square feet, and we are constructing as many as 80 buses at any given time. These are buses that will be delivered to businesses, institutions and communities throughout the US," he said.
The 300th bus is a 35-foot BYD K9S model transit bus. It's one of three built for Baton Rouge, Louisiana's Capital Area Transit System (CATS), BYD said.
Lancaster Mayor Marvin R. Rex Parris said the milestone is a result of a successful collaboration.
"What BYD and Lancaster have done is we got together and decided to solve a puzzle, how do we have buses that don't add to the climate disruption," he said. "When we first met with BYD, no one had one. … America and China working together solved that problem."
The mayor said BYD saved Lancaster economically.
"We had 24 percent unemployment when BYD opened the doors. We are now down to a little under 4 percent. It's a huge difference," he said.
BYD is the largest manufacturing employer in Lancaster, a desert town in northern Los Angeles County.
BYD opened the Lancaster plant in 2013. The plant's last expansion, which was completed in 2017, increased its diverse workforce from 500 to more than 800 and 25 percent in annual revenue for Lancaster.
Chinese Deputy Consul General in Los Angeles Shi Yuanqiang congratulated BYD on its achievement, and said that California enjoys close economic and trade ties with China.
"Since the year 2000, California has attracted nearly $30 billion of Chinese investment," he said.
In 2018, the California Air Resources Board voted unanimously to require all new buses be carbon-free by 2029. Environmental advocates predict that the last buses emitting greenhouse gases will be phased out by 2040.
But some transit agencies, such as the AVTA, already implemented its own plan to phase out fossil fuel buses. In 2016, AVTA set the goal to become the nation's first fully electric fleet by the end of 2018. As part of that decision, it awarded BYD with a contract to purchase 85 electric buses from it over the next five years.
BYD has already delivered 25 buses to AVTA, the company said.
Los Angeles County Supervisor Kathryn Barger said she is grateful to BYD for its collaboration with the AVTA. "This has been a partnership, a partnership not only with private sector, but with governments and with the labor. It's the perfect, perfect match," she said.
"What I found so exciting about the workforce here is: The workforce is made up of 80 percent minorities, including veterans, a growing number of women, and second-chance employees. When you look at the county, that is our top priority," Barger added.