More optimism voiced at trade talks
By ZHAO HUANXIN in Washington | China Daily | Updated: 2019-04-06 06:05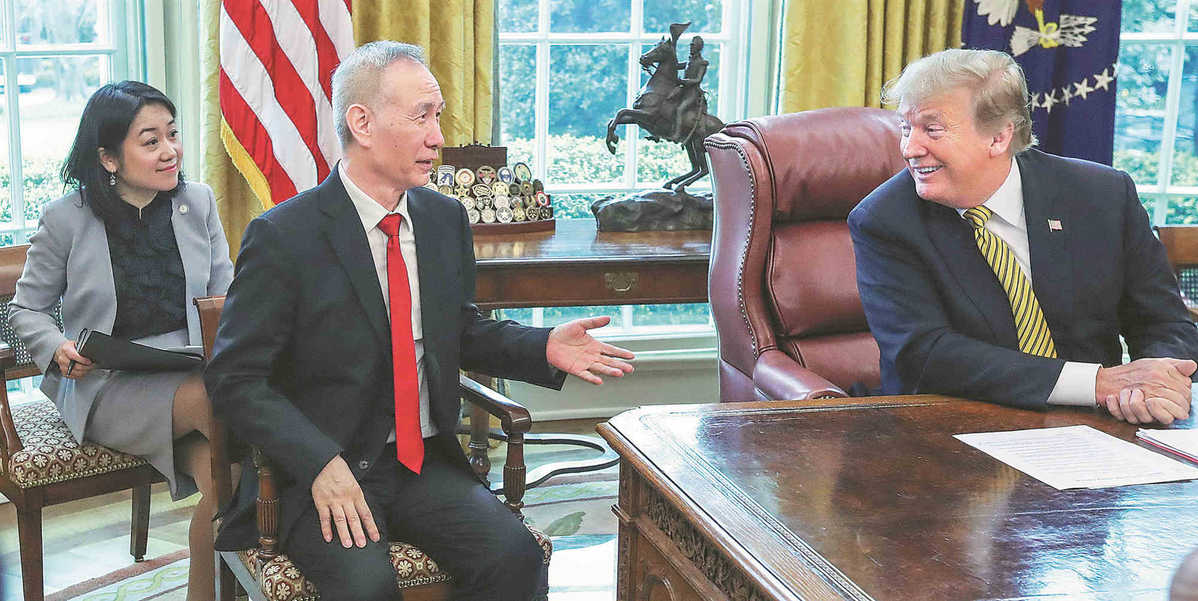 China, US reach 'new consensus' on key issues in latest discussions
China and the United States are "getting a lot closer" to making a deal following "fruitful consultations", senior officials said on Thursday.
The two nations reached a "new consensus" on important issues, particularly the text of the economic and trade agreement during their two days of talks, and will complete negotiations for an agreement as soon as possible, Vice-Premier Liu He said.
Liu spoke after negotiations were held on Wednesday and Thursday in Washington in the ninth round since last year aimed at addressing differences on outstanding economic and trade issues.
He met with US President Donald Trump in the White House's Oval Office on Thursday.
The vice-premier, who is heading the Chinese trade negotiation team, conveyed greetings and a message from President Xi Jinping to Trump.
In the message, Xi said that new, substantial progress has been made on the text of the China-US economic and trade agreement in the past month or so.
Xi encouraged the two sides to maintain the spirit of mutual respect, equality and mutual benefit, and resolve issues of mutual concern so as to conclude negotiations on the agreement as soon as possible.
Xi also said that the healthy and stable development of China-US relations needs, in particular, their strategic leadership, and that he is ready to maintain close contact with Trump.
Liu said that, guided by the consensus reached by the two leaders, the nations will continue with consultations to achieve more progress on issues of mutual concern and push for steady and sound development of bilateral trade relations.
The latest talks followed a round of negotiations in Beijing the previous week, headed by Liu and US Trade Representative Robert Lighthizer.
Lighthizer said on Thursday that the two teams "made a lot of headway".
"We're working very hard. We have a great partner in the vice-premier. He's become a good friend," he said at the White House meeting.
Speaking to reporters at the start of the meeting with Liu, Trump said: "We're getting very close to making a deal. That doesn't mean a deal is made, because it's not, but we're certainly getting a lot closer.
"And I would think with, oh, within the next four weeks or maybe less, maybe more, whatever it takes, something very monumental could be announced," he said. "We've agreed to far more than we have left to agree to." Trump also said he looked forward to meeting with Xi.
He also expressed appreciation for Xi's decision to crack down on the powerful opioid fentanyl, saying that it is of great importance to Americans, and for the anti-drug cooperation between China and the US.
Starting next month, China will add fentanyl-related substances to a supplementary list of controlled narcotics and psychotropic substances used for nonmedical purposes, authorities said on Monday.
Trump also said that a trade deal with China is good for both countries and the world as well.
Gregory Daco, chief US economist at Oxford Economics, said in a report on Thursday, "A trade deal between the two economic giants would help alleviate global growth concerns, provide a much-needed global confidence boost and lift markets," the Associated Press reported.
Vice-Premier Liu He meets with US President Donald Trump in the Oval Office of the White House in Washington on Thursday.