My China Album contributors share their stories
chinadaily.com.cn | Updated: 2019-04-06 01:40
Carson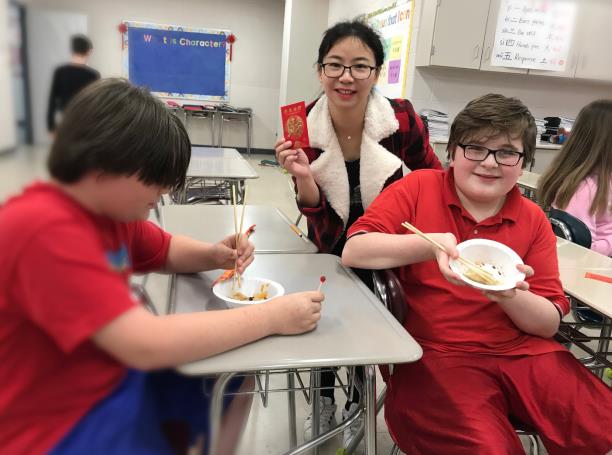 Hello, my name is Carson, from Butler County Middle School, Kentucky. I would like to share with you my story with my Chinese teacher, Mrs. Huang.
This is my first year to be in the Middle School, and I am so lucky to have Chinese classes because I learn and experience a lot of new things that I have never done before.
I have always been interested in other cultures, especially Chinese culture. China's 5,000 years of history makes the language and culture mysterious and intriguing. Therefore, I was so excited when Mrs. Huang, my Chinese teacher, told us that we would celebrate the 2019 Chinese New Year in class.
February 5th was the first day of the Year of the pig. I got up early and put on my red shirt because I was so ready for school. Mrs. Huang told us that red is an auspicious color which will bring good luck. So as you can see in the photos, I am in red in the hope of getting my good luck for the New Year.
The funniest part of the celebration was learning to make dumplings. Mrs. Huang showed us how to hand-make the dumpling wrappers first. I tried a little bit. It looked easy but proved to be challenging. It was hard to make it round-shaped but it didn't matter. I enjoyed it. Then Mrs. Huang taught us how to wrap the fillings step by step. My first one was not pretty at all, but it got a lot better when I made my second one and I felt like I was making some crafts. I asked to make more and I had a sense of achievement when I saw my own work getting better and better.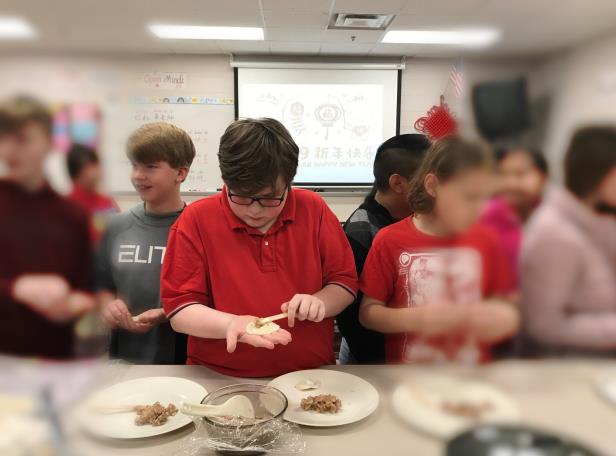 After watching Mrs. Huang cook those dumplings, I couldn't wait for the most exciting part of the celebration-eating dumplings. As soon as I put a dumpling in my mouth, I felt it was the best thing I have ever tasted in my life and it felt awesome as if I was exploring a whole different world with different food. While we were enjoying the dumplings, Mrs. Huang gave each of us a red envelope, which is also a tradition of Chinese New Year. Two out of 17 students were lucky to get real Chinese money inside of the red envelope while the rest got candies. I was not the lucky one but I promised myself that I would keep the red envelope for good luck and someday I would go to China and learn more about China. Thanks to Mrs. Huang, she opened a new world to me.