Consumers see the beauty of retail therapy
By CHEN YINGQUN/WANG ZIWEI | China Daily | Updated: 2019-04-08 07:27
Sales of cosmetics surge as buyers try a new look
Liu Meiyi occasionally treats herself to a little retail therapy by purchasing lipsticks.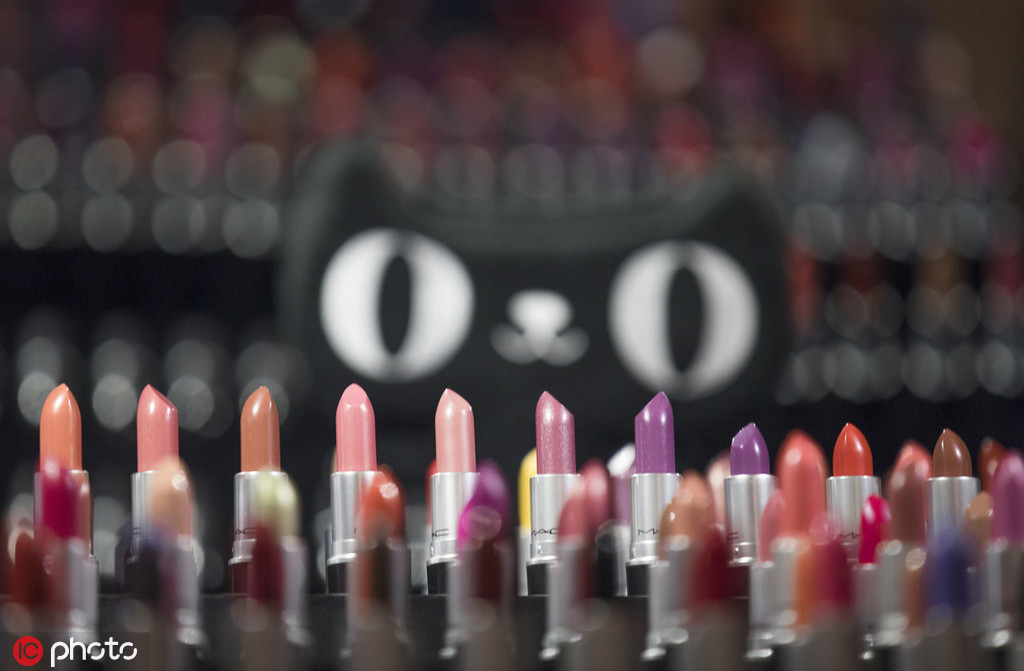 The 26-year-old, who works for an internet company in Beijing, said she sometimes hesitates before buying clothes or expensive fruit, but never when it comes to lipsticks.
Her closets house dozens of lipsticks in a variety of colors that she wears for different occasions.
"Lipsticks help brighten my complexion, and buying them makes me feel less stressed," she said. "Moreover, the price of clothes can vary dramatically, which makes me doubt whether they represent true value, while prices for luxury-brand lipsticks are stable and they are not very expensive for me."
Lipsticks are a favorite cosmetics item for Chinese consumers. A recent report by major e-commerce website Tmall showed that last year more than 300 million consumers, about 50 million of them born after 1995, bought cosmetics from the platform. On average, each consumer bought 3.3 lipsticks on Tmall in 2018.
It is not just lipsticks, as an increasing number of consumers are willing to invest in beauty routines, resulting in cosmetics sales surging in China, analysts said.
George Ren, a senior partner with global consultancy Roland Berger, said Chinese consumers are attaching increasing importance to their appearance, with many people living more-exquisite lifestyles and asking more questions about quality, designs and brands. Consumers, mainly those born in the 1980s and '90s, are especially keen on improving their looks and are willing to pay for good-quality and high-end products.
"Many Chinese consumers have started to wear different makeup while attending different occasions," he said. "They have diversified requirements for cosmetics and prefer beauty products from high-end brands that have different functions."
Sales of beauty products on Tmall rose by more than 60 percent last year compared with 2017, with females comprising 67.7 percent of consumers, and 50.8 percent of the consumers born from the 1990s onward, the report said.
Major global cosmetics brands, which are dominating the Chinese market, saw outstanding performances last year.
French giant L'Oreal said its sales in China hit a 14-year record-high growth in 2018, with revenue in the country surging by 33 percent.
Stephane Rinderknech, CEO of L'Oreal China, said Chinese consumers are entering a new era with the ultimate desire for personalized beauty.
This era features new concepts such as "beauty is everything" and "one person can have 1,000 looks", he said, adding that consumers' demands usually evolve every time their desires are satisfied.
In early February, major Japanese cosmetics company Shiseido reported that its sales in China last year rose by 32.3 percent year-on-year, reaching about 191 billion yen ($1.72 billion). The figure comprised 17 percent of the company's sales, with growth in China outpacing that in many other markets worldwide.
In New York, Estee Lauder reported outstanding financial results for its second quarter, which ended on Dec 31. Sales in the Asia-Pacific region, mainly driven by the Chinese mainland and Hong Kong, rose by 20 percent year-on-year, to about $1 billion.
Fabrizio Freda, CEO of Estee Lauder, said Chinese consumers' demands for "prestige beauty" have remained strong. The company's overall sales grew by 7 percent in the second quarter, resulting in it raising the target for the entire fiscal year to 8 to 9 percent year-on-year growth.
Chinese manufacturers are enjoying similar growth. The Marie Dalgar brand from Shanghai, which targets consumers in their 20s, has seen annual revenue growth of 57 percent on average in recent years.
Cui Xiaohong, founder of Marie Dalgar, said the key to the company's success lies in its dedication to providing creative products and a fun experience for consumers.
"China's main consumers are young people who persistently pursue beauty, novelty and enjoyable experiences, so it is important for cosmetics brands to look into their needs and innovate accordingly," Cui said.
Marie Dalgar opened China's first self-service cosmetics shop in Shanghai last year-in the shape of a colorful train. Apart from vending machines, on which consumers can play games to buy lipsticks, it uses robots to interact with customers and guide them in making purchases.
"The dynamism of the Chinese cosmetics market will continue, and more players will enter it," Cui said.
Jessica Jin, director of research at global marketing research company Mintel China Reports, said Chinese consumers' confidence in the cosmetics sector remains strong, despite the economic slowdown.
An important reason for this is that cosmetics brands have been cultivating the market, which helps consumers to access beauty products with various functions and to learn about the many ways to apply cosmetics, she said.
"Cosmetics brands have also innovated continuously to attract consumers who like to follow the latest fashion trends or reward themselves with beautiful items, try on new products or make repeated purchases," Jin said, adding that some 59 percent of consumers have many lipsticks that they have not used.
Zhen Xinwei, a researcher with the International Monetary Institute of Renmin University of China, said the "lipstick effect" being felt by some consumers in China has also partly helped to fuel rapid growth among cosmetics brands.
The "lipstick effect" refers to a slowing economy where people reduce consumption on expensive items such as cars, apartments or fur coats, turning instead to buy small luxuries, such as expensive lipsticks, to indulge themselves.
"For example, a luxury-brand handbag will be costly, but a lipstick from the same brand would be much more affordable to consumers," Zhen said.
While some people are feeling the "lipstick effect" and downgrading their consumption, others, especially consumers in third- and fourth-tier cities and below, want to upgrade, Zhen said.
China set its economic growth target for this year at 6 to 6.5 percent after reporting expansion of 6.6 percent last year.
Zhen said the economy still faces downward pressure, so some middle-class consumers in large cities, who have mortgages and other commitments, might lower their expectations for future earnings, or not have much disposable income. As a result, they would watch their spending more carefully.
About 70 percent of young people in lower-tier Chinese cities are willing to spend 80 percent of their salaries on daily consumption, and their annual spending is much higher than that of people in first-tier cities, according to recent research from global market consultancy Kantar Worldpanel.
Li Sainan, 34, who works for a company in a fourth-tier city in Jiangxi province, said she spends about half of her salary on clothes and cosmetics, and she particularly trusts high-end skincare and cosmetics items.
"Good clothes and makeup make me feel confident and also help me leave a good impression with others," she said.
As high-end brands have not yet opened stores in her city, she buys from online platforms.
Ren, at Roland Berger, believes the convenience brought by e-commerce has also been a main sales driver for cosmetics in China.
According to the China Internet Network Information Center, the number of online shoppers in the country reached 160 million by the end of last year, up by 14.4 percent year-on-year.
Even in small counties and villages, Chinese consumers can buy products online and have them delivered to their homes in just a few days.
"Beauty products feature in repeat purchases, and e-commerce makes the purchases so much easier," Ren said. "For example, if you try a lipstick in a physical store and want another one in the same color or in a different color, you can easily go online and avoid going to the store again."
Most cosmetics companies have opened online sites, with 22 brands produced by L'Oreal China setting up e-commerce stores.
Hu Weixiong, general manager for fast-moving consumer goods at Tmall, said the platform will help 1,000 cosmetics brands to open online stores this year.
Rinderknech, the L'Oreal China CEO, said he is confident in the long-term prospects for China's economy and its dynamic beauty market.
"We believe that beauty is an all-time pursuit and that consumers' aspirations keep evolving," he said.
"We are happy to see consumers becoming more sophisticated and valuing quality and efficacy over price, which is absolutely positive to us."
He said some other sectors will witness a similar trend to that being experienced by cosmetics. For example, the hair-styling market in China is one of the biggest in the world for the company.
Moreover, male attitudes toward beauty products have also become more positive, and some have started to try entry-level items such as foundation and lipsticks, Rinderknech said.
Wang Ziwei contributed to this story.