Chinese snack firms tickle taste buds of variety-lovers
By Chen Meiling | China Daily | Updated: 2019-04-08 08:05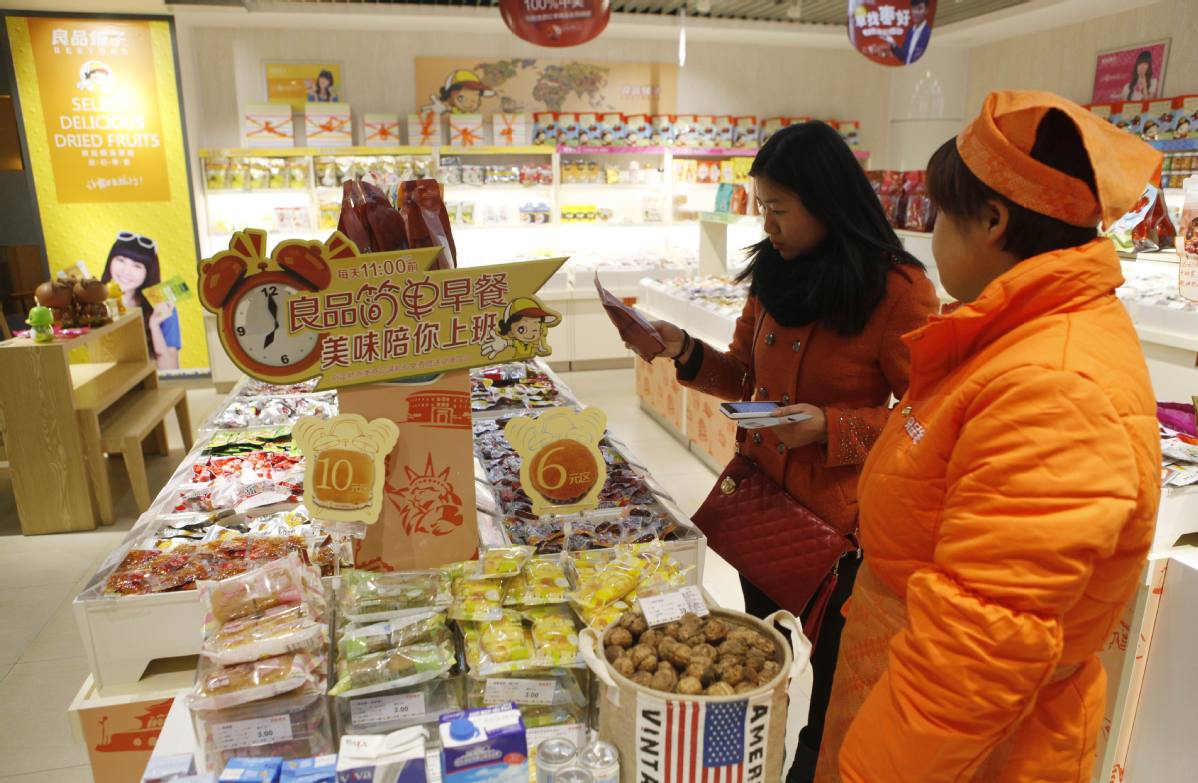 BRI, mainland students overseas and brand-building bring about expansion
Chinese snacks are tickling foreigners' taste buds, besides sating cravings of Chinese overseas, as the country's food firms go global, industry insiders said.
Their global moves come not just to expand and earn bigger profits but to brighten their brand image and thrive in markets that are fiercely competitive.
The large number of overseas Chinese, the stronger influence of Chinese culture, as well as opportunities presented by the Belt and Road Initiative and other policies are stoking global expansion of Chinese snack firms, said Jerry Hua, senior manager of PwC's food supply and integrity services.
The first overseas factory of China's major snack producer Qiaqia Food is expected to start operations in Thailand in June, said Wang Bin, its vice-president, in an interview with the Economic Observer in March.
The factory is expected to shorten international logistics time, and help improve freshness of food, to better serve consumers in Southeast Asia, the company said.
Qiaqia's products reach over 40 countries and regions, including Russia, Central Asia and the United States. Its overseas sales contribute about 10 percent to total sales, and are expected to reach 30 to 40 percent in the future, it said.
Snack producer Bestore announced it will expand its overseas business in August. Its over 100 kinds of snacks are sold in more than 20 countries via offline stores and cross-border e-commerce platforms.
Snacks brand Be&Cheery exports dried fruits, roasted seeds and nuts to countries and regions such as the US, Italy, Australia, Singapore and Dubai.
Xu Feifei, associate partner of leading global consultancy Prophet, said international snack giants such as Nestle and Mondelez have had a presence in China and command a large market shares.
In the face of fierce competition, domestic brands are adopting different initiatives and strategies, including innovating flavors of homogenized products, high-end products, experiential branding and overseas expansion, she said.
Chen Ke, a senior partner of consultancy firm Roland Berger, said the market scale of snacks in China is expected to reach 3 trillion yuan ($448.3 billion) in the following two years. But the industry is highly decentralized, and the market shares of top domestic brands are still low.
Over the last three to five years, domestic snack providers built production bases or planting areas in Southeast Asia, which has rich raw materials and other resources.
They also opened stores or sold their products via local supermarkets. The go-global wave spawned by e-commerce platforms like Tmall also provides them a more convenient channel to sell to overseas consumers, Chen said.
Li, 25, a Chinese financial analyst in Philadelphia in the US, is one such consumer. She studied and has been working in the US for over a decade. She often buys Chinese snacks in local Chinese supermarkets, small stores and Yamibuy, an online retailer targeting Chinese immigrants and students in the US.
Li said Chinese snacks always stir her childhood memories. Her favorites include small cookies and senbei (rice crackers), whose price is $2 to $3 in small package. Each week, snacks cost her about $20 to $30.
"Where there are Chinese, there are supermarkets selling Chinese goods. We can find almost all the categories of Chinese snacks there," she said, adding most of consumers at the supermarkets are Chinese, or other Asian people.
On workdays, she may grab a sandwich for lunch, so snacks "supplement" her meal to pacify her "hungry stomach".
Li said: "The snacks give me a familiar feeling of being at home."
But sometimes the products lose freshness and are not crispy. Yamibuy also often runs out of stocks of Chinese snacks, she said.
Hua from PwC said since more young people go abroad to study these days, they bring not only consumption but also their eating habits, which can influence others.
The number of Chinese students studying overseas surpassed 600,000 for the first time in 2017, up almost 12 percent year-on-year, making China the largest source country of overseas students, according to the Ministry of Education.
According to a research report from Nestle, 52 percent of the millennial generation in the US has cross-cultural background, and 60 percent are willing to try out new foods from other countries.
Southeast Asian countries, such as Indonesia, Thailand, Malaysia and Singapore, also have a large number of Chinese. So they are often among the overseas destinations tapped first by Chinese snack companies, Hua said.
"Though few Chinese snack companies have built a brand and the contribution of overseas branches is limited, the go-global strategy is of great value in the long run."
According to global research agency Nielson, 45 percent of snacks' consumption worldwide is from Europe and 33 percent from North America, which suggests a big opportunity for Chinese companies.
Besides, developed markets tend to have tighter regulations for food safety. If Chinese snacks can pass their test and win trust of local consumers, it would brighten brand image back in China, Hua said.
Chen from Roland Berger said snack companies should be cautious when going global because in those markets, consumers have set lifestyles, which could limit the scope for newcomers to grow.
He suggested companies should study demand and preferences of local people, especially the middle-income group, and establish sales channels in supermarkets, which could help boost consumption.
Xu from Prophet said localization is important for companies going abroad. It is not only about localizing products but also localizing branding. For example, telling a more relevant brand story to create stronger emotional links might help.
"When coffee first entered China, most people thought its flavor was weird. But gradually it became popular. It takes a long time and great effort to educate consumers that coffee is not only a drink but also represents a certain lifestyle," she said.
Cao Weijing, a partner at PwC, suggested companies should allocate more resources to product innovation and business expansion via differentiated products. Chinese snack companies that have only half of the product development ratio-R&D funding versus sales revenue-have relatively lower margins, compared to their global peers, she said.
"Homogeneous competition leads to price wars, inflated marketing expense and little return on investment for the companies concerned," Cao said.