Seeing the light in a land of darkness
By Wang Ru/Liu Kun | China Daily | Updated: 2019-04-10 07:47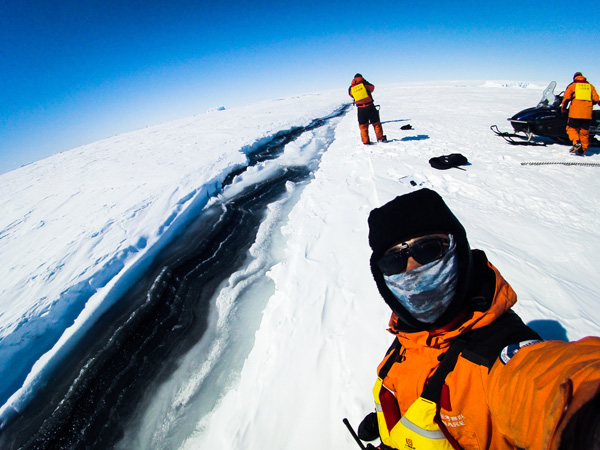 "Once I went to the toilet at night during a polar day. I accidentally drew the curtains and the sunlight flooded in. Then I found it hard to continue sleeping since I subconsciously felt I should not sleep when the sun had not set," says Li. "During the polar night which lasts for two months there, I sometimes felt a little gloomy. But when we had lunch in the canteen and saw the stars in the dark sky, it was really magical."
The other impressive side of living in the South Pole for Li concerned the food. Since China's polar expedition team goes there once a year, members have to carry food to last the whole year.
"Fruit and vegetables could not be stored for a long time, so after several months we had no such food to eat. We grew some vegetables in the soilless culture, but they did not taste good.
"Some other food, like instant noodles, usually have a quality guarantee period of six months. So after six months, we had to eat expired food," Li adds.
Li started to take pictures to pass the time.
He crossed mountains and peaks to find suitable places to take photos. Sometimes he would be out all night.
"When I walked on the ice field and stood under the aurora, the power of nature shocked me. We left our motherland and family members to stay in this isolated place, but we could see amazing views. I believe it's a gift from the nature," says Li.
"The scene touched my heart deeply, and you cannot totally understand my feelings even when you see my photos. Only seeing it with your own eyes can make you feel the same way."
Li says he still gets that feeling frequently in his dreams even after three years, and he often found himself immersed in that feeling when he woke up.
He also took photos of penguins.
"We were not allowed to approach them, but some of them were curious about us and came to see how we worked," he says.
He also faced problems during the photographing process.
Once he went out alone at night for photos but got lost.
His flashlight was running down and he could not see the lights from the Zhongshan station.
He still remembers his sense of panic before finally seeing a distant glow in the sky that he knew was his base.
After he returned home in 2016, he read about a photography competition organized by Nature magazine, calling for photos under the theme "scientists at work". Li then submitted a photo he took in the South Pole and later he received an email to tell him his photo would be published in the magazine.
Science magazine also published one of his photos shot in Antarctica when the magazine ran a special column to celebrate the 125th anniversary of the establishment of Wuhan University last year.
He chose some of his photos and made them into a time-lapse photography work called Till the End of the World. It won the gold medal in a national competition of time-lapse photography.
He published a book 500 Days in Antarctica to recount his experiences there.
According to Li, his experience in the South Pole enabled him to feel nature.
"When you see the stars and auroras in the night sky, you feel like the universe is talking to you. The South Pole shaped me, and it has become more than the name of a place for me. It is a distant home."
Liu Kun contributed to the article.