Channeling the chinoiserie design aesthetic through flowers
By ZHANG YUAN and ZHAO XU in New York and LIU YINMENG in Los Angeles | China Daily Global | Updated: 2019-04-11 00:25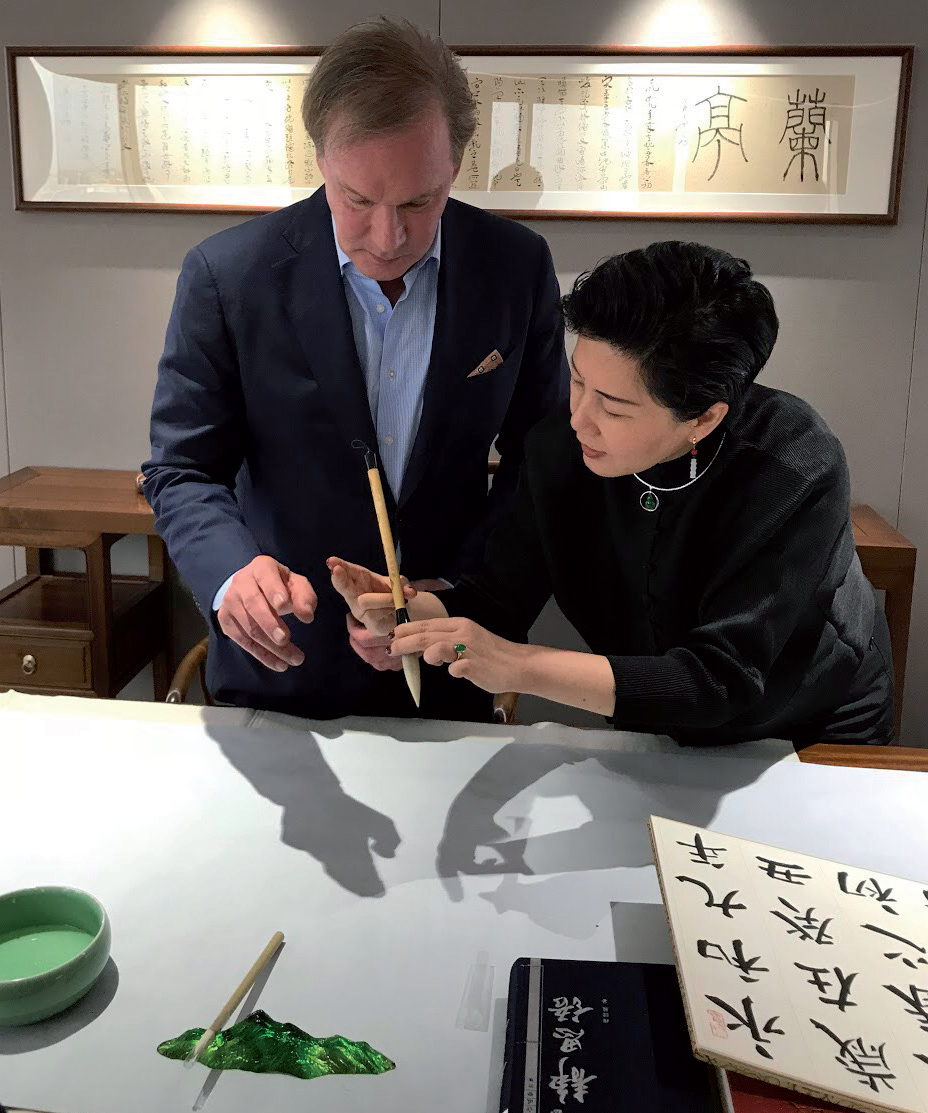 It's springtime, so the Moss Mountain Farm in Arkansas is getting ready to welcome visitors for its annual peony flower display.
"The peony flower has never lost its charm with the Americans since it was first introduced from China through England and the European mainland in the early 19th century," said P. Allen Smith, garden designer and television host who over the years has been increasingly drawn to what he sees as the "essence of Chinese aesthetic".
"That essence is centered on harmony. Through the elements of design — line, shape, form, texture — I'm trying to bring a universal sense of harmony and tranquility to my work," he said. "And I think the Chinese understand how to reach that point of harmony, which is something every human wants to be a part of."
True to his word, his Moss Mountain Farm, a Greek Revival-style estate that sprawls over nearly 600 acres, has been built to balance the inside and outside.
"I think the transition from one space to the next should be gentle," he said. "The division between the natural space and the shaped human space should be eased in a way that people become unaware of it."
Another main principle of Chinese garden design that has influenced Smith is simplicity, a principle that he believes resonates with the spirit of contemporary design.
"Chinese designs had helped me become a better 'editor', meaning reducing the elements in a composition to only what is essential," he said. "Anyone can add more to a design, but the best designers are the ones with the courage to remove elements to the core of the composition."
Smith was musing about the garden designs during the Ming Dynasty (1368-1644). Viewed today as representing the pinnacle of classical Chinese design, the Ming gardens aimed to appeal to the literary-minded and had as their key elements rocks, bamboo, wooden, latticed windows and a fish pond to gaze upon.
In other words, there's almost nothing chinoiserie about it, a fact that Smith wants to bring Americans to see.
"Chinese designs and images appearing on the earliest Chinese exports to the West, porcelain for example, had led Western designers to 'reinterpret' Chinese style, which eventually gave rise to the word chinoiserie," he said.
"The style has been popular since the 18th century. But today I see it being expressed in exaggerated or overscaled replicas of period Chinese motifs, as is seen in fabrics, screens and wallpapers. It has become a cliché."
For the moment, Smith is planning a model 200-acre, 500-home site conservation development village at Moss Mountain.
"We plan to apply Chinese landscape principles in designing the natural environment, especially around the spa and the hotel area," he said.
The designer has in mind as potential customers both Chinese tourists and Americans wanting a break from the chaos of life in big cities, by providing them with a becalming environment where design and nature merge seamlessly.
In February 2018, Smith traveled to Beijing, where he toured the Forbidden City, the imperial palace for successive Chinese emperors between the 15th and early 20th centuries, and sampled more than a few types of Chinese food.
"Culinary experiences were certainly among the fondest memories of that visit," he said. "I was completely surprised by the range of cuisine. And since returning, I have planted Chinese garlic chives, bok choi (Chinese cabbage), snow peas, lemongrass and other herbs to use for demonstration in my TV shows."
The 58-year-old, who's also a lifestyle expert and a gourmet, has three award-winning shows under his name: Garden Home, Garden Style, Garden to Table, some of which are available on Public Broadcasting Service (PBS).
In fact, he was in Beijing looking for ways to bring and even film some of his programs in China.
"I appreciate the Chinese concept of avoiding illness through better living rather than looking for a cure once you have developed a condition from excessive living," he said, referring to the cardinal rule of Chinese medicine, which has always fascinated him.
"Food and natural beauty are ways we can find common ground and get to know one another's culture better," he said.
Now come the peony flowers, planted in plenitude at Smith's garden retreat. "We display 36 varieties of peony at the Moss Mountain Farm while producing peony plants for the US market at our flower farm in Reeds, Missouri. There, we have been cultivating peonies since 1885, with over 200 varieties," he said.
Being China's national flower, the peony developed a cultlike following during the Tang Dynasty (AD 618-907), a time in Chinese history associated with cultural flourishing and unprecedented level of openness.
For Smith, the history of one flower offers a potent metaphor for the kind of exchanges he is aiming for.
"Most Americans today don't realize that a multitude of the beautiful ornamental plants in our gardens are, in fact, Chinese in origin. These include, apart from peony, rhododendrons, camellias, viburnums and flowering cherries, just to name a few," he said. "They are so ubiquitous in our landscapes today that we think of them as 'natives.'"
"Our planet is so small, and we need to get along with each other," he said. "The way you do that is that you get to know one another," and each individual has "some gifts to share".