Creative emojis raise rights issues online
By LIANG KAIYAN | China Daily | Updated: 2019-04-11 08:42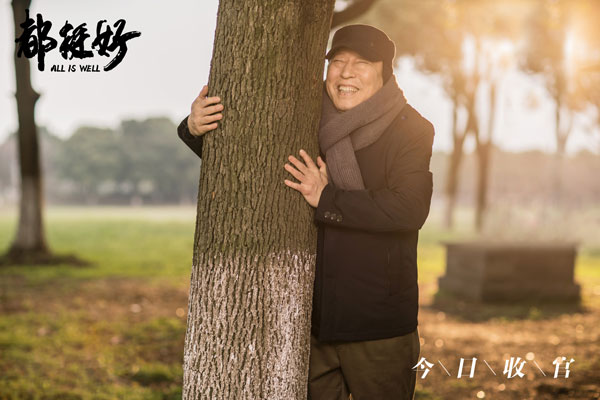 Popular television show and fan at center of debate on copyright infringement
A series of cartoon emojis created depicting characters from the popular television drama All is Well have raised questions online as to whether a copyright infringement has occurred or not.
The questions voiced include whether the creator of the emojis can claim independent intellectual property rights or whether the rights of others have been infringed-such as those of the character depicted, Su Daqiang, and Ni Dahong, the actor who portrays him, as well as those of the drama's production company, online news portal Chinanews reported.
With the rising popularity of the TV drama, the emojis in question have been abused among TV programs, commercial advertisements and Sina Weibo marketing accounts.
Liu Qian, the creator of the emojis and who has not profited from them, told Chinanews that she hadn't paid any attention to whether there might be any copyright issues until they were raised by people online.
No definitive answers to the questions raised have been provided. Liu said she is confused as to whether she can create more emojis based on popular characters.
Chen Xi, a senior partner at the Beijing-based Jincheng Tongda& Neal law firm, told Chinanews that if the emoji creator doesn't receive any benefits and the emojis are "only used for personal study, research or appreciation by others", then it can be considered reasonable use, and there is no need to gain the consent of the copyright owner and for the payment of royalties.
The emojis created by Liu have originality to some degree, and they reflect the creator's unique ingenuity in conceiving, designing, choosing and combining, Chen said. Thus, Liu is undoubtedly the copyright owner of her works, and the creation of emojis should also be protected by the Copyright Law, she added.
However, Liu has adopted the elements of the TV drama and Ni Dahong's portrait to create the emojis. So there are at least two other rights and interests involved in the emoji creation-the portrait of actor Ni and the IP rights of the drama's production company, according to relevant provisions of the Copyright Law and the General Principles of the Civil Law, Chen noted.
The emojis cannot be used commercially, such as in advertisements or derivatives, without the authorization and consent of the original copyright owner, the TV drama and actor Ni himself, Chen added.
In recent years, the abuse of pop stars' photos as emojis for commercial use has also caused disputes. Actor Ge You and singer Yang Chaoyue have been involved in such cases.
"Celebrities have an exclusive personality right to their portraits," Chen said, adding that the right to the picture of the character Su belongs to actor Ni.
The images of the cast are generally allowed to be used for film promotion within their employment contracts, but the producer needs to obtain additional authorization from celebrities, for adaptation of the images for spinoffs, the production of derivative products or use in other commercial advertisements, Chen noted.