Wuhan-Lyon train heralds trade boom
Xinhua | Updated: 2019-04-15 09:59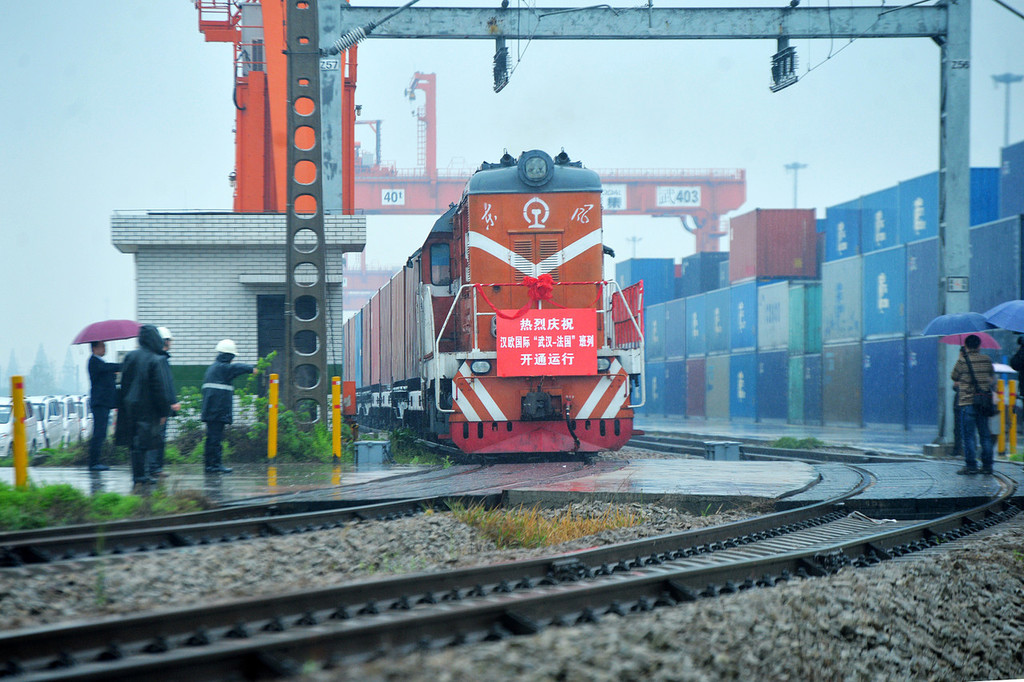 LYON, France - After traveling about 10,000 kilometers across the Eurasian continent in about 18 days, a freight train from Central China's Wuhan city arrived on a March morning at a rail terminal in Venissieux, south of the French city of Lyon, with its containers full of sports clothes, electronic goods and items for a cultural exposition.
Back in the 16th century, Lyon was the terminus in Western Europe of the ancient Silk Road, a path connecting the East and the West and facilitating the exchange of products, innovative techniques, doctrines and cultures.
Today, dubbed the "caravans of steel camels", the China-Europe Railway Express carries new opportunities to Europe and injects new impetus into Sino-French trade, whose volume exceeded $60 billion in 2018.
Marcel Stein, chief of German firm DBO Bahnoperator, which runs transit freight trains from the German city of Duisburg to Lyon, believes that the China-Europe Railway Express offers new import and export opportunities to merchandisers.
"It takes around 15 days for freight trains from China to France, right between the transit time of maritime freight (around 40 days) and air freight (a few days), but the cost is only a fraction of that of the air shipping and close to maritime transport," said Stein.
"The China-Europe Railway Express is an ideal choice, for example, for those who want to transport their merchandise from Europe to China. In this case, the rail route connecting Lyon with Wuhan has no rival in the market," he said.
Official figures from China clearly showed the China-Europe Railway Express' leap since its launch in 2011. As an artery of international trade, the freight trains now link 59 cities in China with 50 cities in 15 European countries, with the cumulative number of shipments having so far exceeded 14,000.
In France, the first freight route linking Lyon and Wuhan was put into service in April 2016. One-and-a-half years later, a "tailor-made" route from Wuhan to France's Dourges was launched at the request of Decathlon, a French retail and sports distribution group.
Brigitte Bernard, a terminal manager at Venissieux, said that she has never seen containers from China before 2016, but now Chinese containers arrive in this terminal every week. "Despite a currently low proportion of Chinese containers in our terminal, I expect an increase in the future and hope to receive more containers coming from China," she said.
As to the future development of the China-Europe Railway Express, Alain Labat, vice-president of the New Franco-Chinese Institute, said it depends essentially on two factors. "First is the necessary improvement of France's export capacities to re-balance all of its foreign trade, and the second concerns the growth of Chinese imports from France," he said.
France participated in the first China International Import Exhibition held in Shanghai last November, which gives hope for favorable developments, said Labat, calling on French decision-makers to have a better understanding of the Belt and Road Initiative.
Wang Lijun, CEO of Wuhan Asia-Europe Logistics, operator of the Wuhan-Lyon route, said that there are two freight trains heading to Lyon every week, where cargoes are distributed and delivered to Paris, Bordeaux and Dourges.
Attracted by brisk Sino-French trade and the BRI, more and more large French firms, including Peugeot, Citroen and Decathlon, as well as some small and medium-sized enterprises, are showing interest in the service, which reduces transit time while saving money. At the same time, the categories of cargo are diversified, ranging from automobile parts and aeronautical parts to medical products and French wines, Wang said.
Thanks to the upgrading of equipment on trains, the China-Europe Railway Express will be able to satisfy more diversified demands of customers, like refrigerated transport of agri-food products, said Wang.
WAE is currently negotiating with winemakers in Bordeaux to introduce this region's famous wine to an e-commerce platform in China, where Chinese consumers can place their orders and wait for their wines to be carried back to China by trains, said Wang.
"Local winemakers are very interested in our project. Once the service is launched, Silk Road will become Wine Road," said Wang.