Phones stay on agenda for Meitu in Xiaomi partnership
By Fan Feifei | China Daily | Updated: 2019-04-16 09:20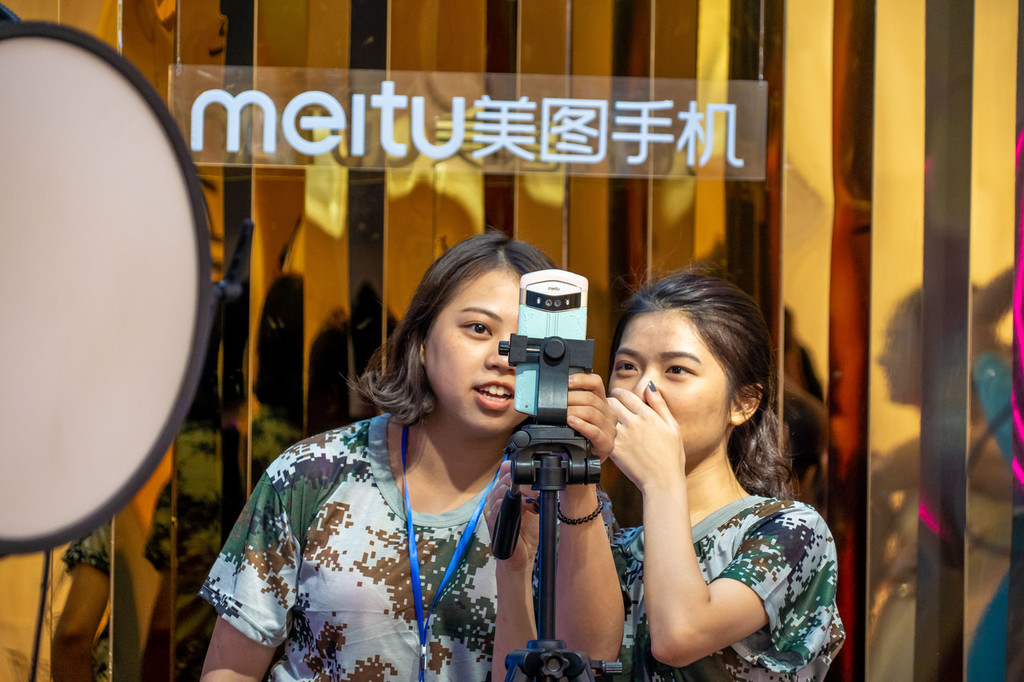 It is very difficult for niche smartphone brands that focus on developing some specific functions, such as beauty enhancing and gaming, to survive in the highly competitive Chinese smartphone market, and they are expected to seek strategic cooperation with large vendors, experts said.
Selfie application maker Meitu Inc said on Monday via its official Sina Weibo account it has adjusted its smartphone business, and carried out strategic cooperation with Chinese smartphone maker Xiaomi Corp, which will receive global exclusive license to use the Meitu smartphone brand.
On Nov 19, the two companies reached a strategic cooperation arrangement. The Beijing-based tech giant Xiaomi will be responsible for the design, research and development, production, business operation, sales and marketing of the Meitu smartphones. Meitu will provide its proprietary imaging technologies and beautification algorithms to Xiaomi.
In the meantime, media reports said that Chinese gaming giant Tencent Holdings Ltd is trying to make a gaming smartphone.
Online technology media platform 36Kr reported Tencent is contacting AsusTek Computer Inc, a computer and phone hardware and electronics company, Razer, a leading computer game equipment maker and Wingtech Technology, but the final partner hasn't been finally determined. Tencent declined to comment on these reports.
"The market size of smartphones that feature some specific functions, such as beauty enhancing and gaming, is relatively small, and niche brands such as Meitu smartphone will face more intensified competition," said James Yan, research director at Counterpoint Technology Market Research.
Yan added only big companies which include Tencent, Huawei, Xiaomi and Oppo, could utilize their e-commerce channels, application platforms and distribution channels to gain a bigger market share in the segmented market.
He added that Xiaomi has an upper hand in the hardware design, manufacturing, selling and supply chain, while Meitu could exert its advantage in software fields, such as image processing technologies and selfies.
"China's smartphone market is huge, and although it has fallen for two consecutive years, it still accounts for about 30 percent of the global market. In such a big market, there are many niche users, who will satisfy the survival of the niche brand itself," said Jia Mo, an analyst from global market research company Canalys.
Jia said it will be very difficult for a niche smartphone brand to succeed in China's fiercely competitive market, and if the phone maker does not differentiate itself from others, it will vanish.
"The gaming smartphone market is being eroded by big companies. It is not difficult for internet giants to find an original design manufacturer for mobile phones. The key problem lies in whether the smartphone could really attract consumers," Jia added.
The Meitu brand, which is popular among female users, seems to be a sub-brand for Xiaomi, and will help attract more female customers, Jia noted.
Market consultancy IDC said that the Meitu-Xiaomi partnership will help both parties expand their customer base and signals a further consolidation in the highly competitive Chinese smartphone market.
IDC said more small vendors are expected to seek strategic cooperation with large vendors and drive consolidation in China's smartphone market.
Meitu released its first smartphone in 2013 and then developed three series - M, V and T. The Meitu app's number of monthly active users grew to 117.4 million by Dec 31, 2018.