Moon calls for another summit with DPRK
By Pan Mengqi | China Daily Global | Updated: 2019-04-16 09:38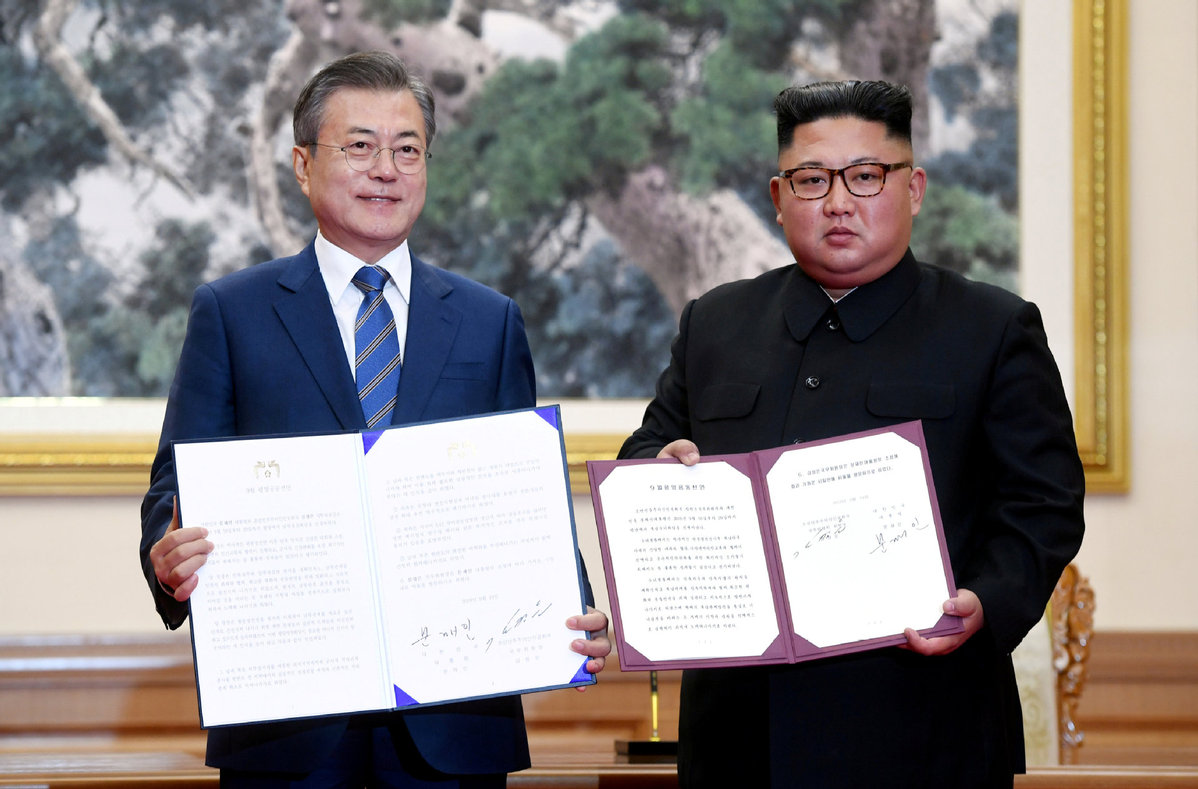 The Republic of Korea's President Moon Jae-in said on Monday that he will actively push for another summit with Kim Jong-un, top leader of the Democratic People's Republic of Korea, to help resume dialogue between the DPRK and the United States.
According to the ROK's Yonhap News Agency, Moon made the remarks in a meeting with his senior secretaries, saying that "now is the time to make preparations and push for inter-Korean summit talks in earnest", referring to a potential fourth meeting between the ROK and the DPRK leaders.
"As soon as Pyongyang is ready, I hope the two Koreas will have another summit without being restrained by the venue and format," Yonhap reported, adding that Moon's remarks marked his first official message on Pyongyang since his latest meeting with US President Donald Trump.
Moon said his Washington meeting with Trump aimed to remove uncertainties raised after the second DPRK-US summit, and restore the momentum of dialogue between the DPRK and the US for the unwavering push for the peace process on the Korean Peninsula, Reuters reported.
In a Friday speech, Kim said he will wait "with patience" for Washington to adjust its attitude toward Pyongyang till the end of this year. Moon described Kim's statement as showing a willingness to continue the dialogue.
Moon has hoped to play a role in bridging the gap in demands between the US and the DPRK that resulted in the breakdown of their second summit talks, held in late February in Hanoi.
Hong Min, a researcher of Korean Peninsula issues based in Seoul, said Pyongyang would likely to accept such offer to hold another inter-Korean summit, which he said "could help Pyongyang to have a possible resumption of dialogue with Washington as well as to boost economic cooperation with Seoul".
As expectations grow for the fourth inter-Korean summit, speculation is mounting that the next one could take place at the border village of Panmunjom. If held, it could be timed to coincide with the first anniversary of the two leaders' first summit, held on April 27 last year.
Moon and Kim met three times last year-in April and May at Panmunjom and in September in Pyongyang. In particular, the second summit in May was a brief meeting arranged to salvage Kim's first meeting with Trump from the brink of collapse, according to The Associated Press.
Kim promised in his last summit with Moon to visit Seoul for their next summit "at an early date".
Pan Mengqi contributed to this story.