The players behind ping-pong diplomacy of '70s
By ZHAO XU and ZHANG YUAN in New York | China Daily Global | Updated: 2019-04-18 00:41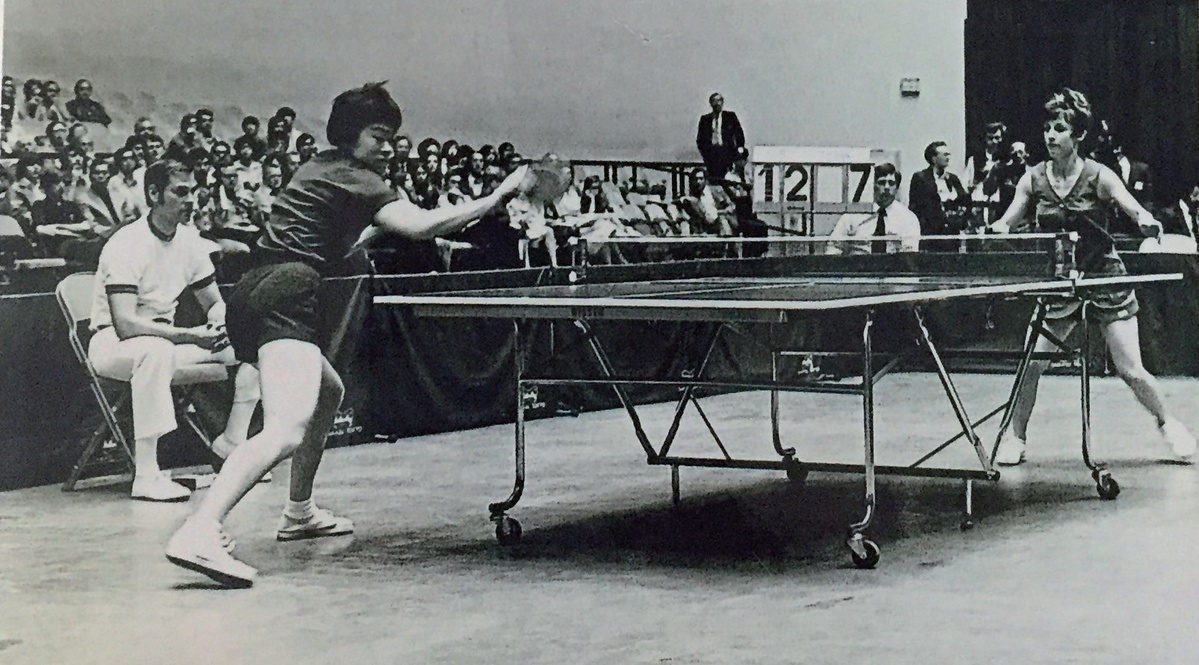 Editor's Note: "My China Album", a story-sharing project run by the Chinese embassy in Washington and China Daily, aims at highlighting the friendships between Chinese and American people, as expressed in photographs and accompanying captions. Those interested in participating in the program are invited to submit up to three photos with accompanying captions of 300 words or less, explaining the person-to-person exchange or relationship depicted in the photo. The deadline for submissions is April 19, 2019. For more details visit http://global.chinadaily.com.cn/mychinaalbum.
Connie Sweeris, part of the US women's table tennis team that traveled to China in 1971, recalls trip, historic bus ride that helped thaw relations
On April 7, 1971, the last day of competition at the 31st World Table Tennis Championships in Nagoya, Japan, Connie Sweeris, the reigning US champion, was called to a team meeting. "We were told that we had been invited to visit China," she said. "But no American had been allowed to go into China for 22 years."
Three days later, Sweeris was looking out the window of a train at an extended patchwork of rice paddies, dotted by men carrying buckets of water with poles across their shoulders.
The train was taking Sweeris and her teammates — 15 of them, including seven players — from Hong Kong to Guangzhou, where they would embark on a weeklong tour around China.
What the young woman wasn't fully aware of at the time was that history was unfolding, and she was part of it. US president Richard Nixon would visit China in February the next year, followed two months later by a Chinese table tennis team's reciprocal tour of the US in April 1972.
Today, that history is called "ping-pong diplomacy", so famous it was referenced in the hit 1994 Hollywood movie Forrest Gump, in which the lead character develops an aptitude for the sport and joins the US Army team before eventually competing against Chinese teams on a goodwill tour.
The catalyst for the historic events was a dramatic meeting between the flamboyant US player Glenn Cowan and the Chinese player and three-time world champion Zhuang Zedong.
One afternoon at Nagoya, Cowan had been practicing with a Chinese player before realizing that he was too late for his own team bus. He got on the Chinese bus instead. Zhuang came up from his rear seat to greet Cowan and presented him with a silkscreen portrait of China's idyllic Huangshan Mountain.
Later, when Cowan and Zhuang got off the bus, they caught the attention of the media. When asked by a journalist whether he wanted to go to China, Cowan said: "Of course!"
In a television interview in 2002, Zhuang recalled how he had hesitated before approaching Cowan on the bus, and how he had fumbled in his bag for the gift. Cowan did his own share of fumbling, but was only able to come up with a comb.
"I was on the US team when this happened," said Sweeris, now 72. "Glenn told us he was so excited to have met Zhuang, the world's greatest table tennis player, but felt bad for not having a decent gift. He went out the very next day and bought his new friend a T-shirt with the words 'Let There Be Peace'."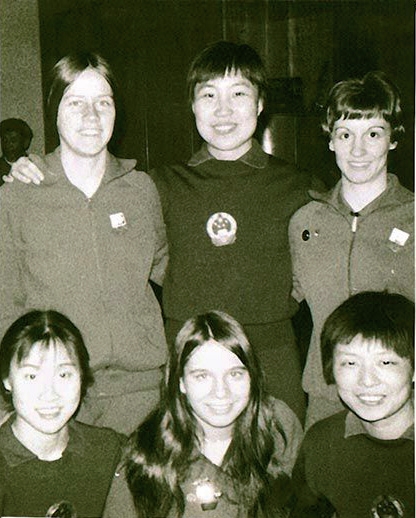 In 2004, the 52-year-old Cowan died of a heart attack while undergoing bypass surgery. Upon hearing the news, Zhuang called from Beijing to express sympathy. Three years later, Zhuang met Cowan's mother during this visit to the US, calling never being able to see Cowan again "the greatest regret of my life". Zhuang himself died in Beijing in 2013, at the age of 73.
Deliberations at the national level for the trip to China were unbeknownst to Sweeris and most people. What she recalls vividly instead was the hectic preparation before their trip.
"First, we had to get permission from the US government. Our passports, which had the phrase, 'You cannot enter Communist mainland China" written on it, were taken to the US embassy to have it struck out with a black permanent marker," she said. "Two of the women players were under 18 and had to get permission from their parents. We were all a little bit nervous."
Of the nine players on the US team, two decided not to go.
"One had to go on a planned trip to Hawaii, while another is from South Korea and did not feel comfortable making the trip," Sweeris said.
For more than three years between 1950 and 1953, the Korean War was fought between South and North Korea, with the US and China entering on opposite sides. The war effectively turned the US and China into enemies.
In 1971, the US team took a flight from Japan to Hong Kong before getting on a train to the border bridge between the island and the Chinese mainland.
"As we walked over the bridge, each of us was given an English copy of the little red book," said Sweeris, referring to the palm-size compilation of quotes from Mao Zedong, a must-read for all Chinese at the time.
It took another train ride — the one that gave Sweeris the paddy view — to go to the city of Guangzhou, where a propeller plane flew them to Beijing that night.
"When we walked on the Great Wall, it was much wider and steeper than I imagined. And inside the Summer Place, all the walls and ceilings were colorfully painted with stunning and unique designs," said Sweeris, who relished her time in Beijing.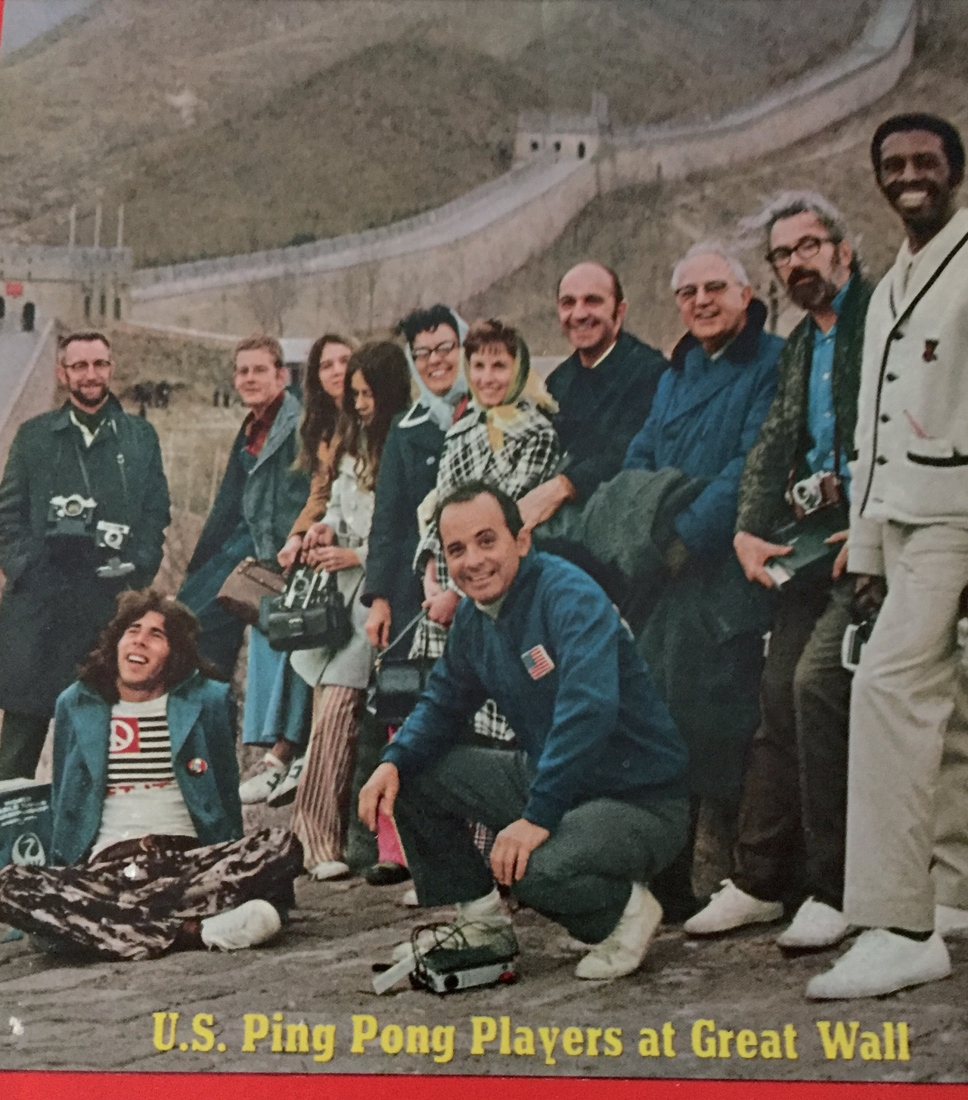 Some members had decided to venture out and discover the Chinese capital for themselves.
"Everyone was either walking or riding a bicycle, and before we knew it, we had a crowd following us," Sweeris said. "People were very friendly and always tried to talk to us."
Cowan, whom Sweeris described as "a free spirit and part of a hippie movement in California", had again become the focus of attention, thanks to his long hair.
Looking back, Sweeris thanked the bouncing ball for having led the way.
"I started playing table tennis when I was 9, coached by my brother in our basement at home," said Sweeris, who entered her first tournament at 11 and won an under-13 girls' competition. "That was when my brother decided that I might have some talent to play this sport competitively."
A year earlier, Connie Stace met Dell Sweeris, then age 12 and also a table tennis player, at their local club in Grand Rapids, Michigan. "We started dating in high school and our families would travel to table tennis tournaments together," she said.
The two first played mixed doubles in 1964 at the US Open Table Tennis Championship, where they finished second. The duo went on to win four national mixed doubles titles.
On March 25, 1967, they got married and spent their honeymoon playing mixed doubles at that year's world championship in Stockholm.
"Dell often said that we played so well that he needed to make our relationship permanent by marrying me," she said. "Our marriage is steeped in table tennis."
By 1971, Connie Sweeris was already the US women's singles national champion as well as women's doubles and mixed doubles champion. But before Nagoya, she hadn't seen Chinese table tennis players, considered some of the world's best, play in person.
"The World Championships were played every two years back in the 1960s. The Chinese team took part in 1965, but was absent from the scene in 1967 and 1969," Connie Sweeris said.
That absence was largely due to the "cultural revolution" (1966-76), an ideologically centered political movement in which many of the country's top athletes were barred from participating in international competitions.
"When they (the Chinese) made a comeback in Nagoya, Japan, everyone was aware of that," she said. China won four of the seven categories of competition.
In 1971, Sweeris and her teammates played two matches with China's dream team, made up almost entirely of world champions.
"In Beijing, we played in front of 18,000 people, a real thrill and something unimaginable in the US," said Sweeris, who played with Lin Huiqing, who won three golds at Nagoya, in the women's singles, doubles and mixed doubles categories.
"She was so friendly and always smiling," Sweeris said. "I told her that I liked the tea being served during the matches — in the states, we would be drinking water."
The two got a chance to relive that memory when the Chinese team visited in the spring of 1972.
"We played matches in Detroit, Washington, New York, Los Angeles, Memphis, Tennessee, and a number of other cities, to give our guests a flavor of the different states that make up our country," Sweeris said.
Dell Sweeris, part of the reception team and then the No 2-ranked player in the US, got a chance to play against his ping-pong hero Zhang Xielin, known as the "magic chopper" thanks to his much-feared combination of steady chops and unpredictable spins. At Nagoya, Zhang had teamed with Lin to win gold at the mixed doubles.
"Back in 1965, I was in the audience when the Chinese defeated the Japanese in the finals of the team competition at Ljubljana in the former Yugoslavia. Zhang was the famous weapon," Dell Sweeris recalled. "After 54 years, I can still mentally see his shots.
"In 1972, I was privileged to play a demonstration match with Zhang, which was aired on TV with more than 60 million people watching," he continued. "And in Williamsburg, Virginia, Connie and I were seated with Zhang at a dinner in the famous Raleigh Tavern, where decisions were made to gain America's freedom from England."
They would meet again in 2011, when the couple traveled to China to commemorate the 40th anniversary of the 1971 visit.
"In Shanghai, Zhang introduced us to his family. His grandson, who was at most 2, entertained us by demonstrating an imaginary serve of a table tennis ball."
However, the Sweerises were not unfamiliar with the "cute animation", as Dell Sweeris described it.
Their son, Todd Sweeris, while still a toddler, had similar talents.
"Todd had very good hand and eye coordination. He would watch us play table tennis and try to mimic how we hit the ball," said Connie Sweeris. "One Sunday dinner at our house, he started playing with his food by hitting peas with his chicken drumstick."
Later, as the boy grew up, Connie Sweeris would find a lot of ping-pong balls behind the refrigerator every time she cleaned the house.
"Todd used to hit the ball against the refrigerator door while I was cooking in the kitchen. And those were the ones that had gone over the top."
In 1988, table tennis became an Olympic sport. And Todd Sweeris, now 46, competed in the Games, representing the US in 1996 and 2000.
Back in 1971, the visiting US team met then-Chinese premier Zhou Enlai at Beijing's Great Hall of the People at Tian'anmen Square. "When I shook hands with the premier, he seemed very personable and gracious," Connie Sweeris said.
"The premier asked Graham Steenhoven, president of the USA Table Tennis Association, if he had any criticism of the trip. And he responded by saying, 'You feed us too much food!' Everyone laughed."
According to Connie Sweeris, she was made aware of the importance of her trip to China before it officially kicked off.
"We were briefed before leaving Japan that we were not to think of this trip as a political gesture but a friendly exchange between countries," she recalled. "But when we arrived at the train depot in Hong Kong waiting to go into the Chinese mainland, we were inundated by reporters from all over the world wanting our stories."
One thing Connie Sweeris remembers being asked by a reporter was what she would be wearing in China.
"Miniskirts?" the reporter suggested.
The media heat was palpably felt even by Dell Sweeris, who, during his wife's stay in China, traveled with a US junior team to the UK and then back.
"There's a reporter to meet me as I deplaned in Detroit. His first question was: What do you think about your wife's trip to China?" Dell Sweeris said.
On Feb 28, 1972, during Nixon and Henry Kissinger's visit to Shanghai, the Shanghai Communique was issued between the US and the People's Republic of China. The communique noted that both nations would work toward the normalization of relations, a proposal that became a reality on Jan 1, 1979.
Over the years, Connie Sweeris and her fellow American players who had gone to China in 1971 have reunited at various table tennis tournaments.
"The best part of our reminiscences is always that trip, which has bound us forever," she said.
In September 2000, the Sweerises were in Sydney as their son Todd had entered that year's Summer Olympics.
"While we were settling down to watch his first match, I got a tap on the shoulder," Dell Sweeris said. "I looked back, it was Zhang."
Contact the writers at zhaoxu@chinadailyusa.com