Dairy firms eye growing appetite for cheese
By Zhu Wenqian | China Daily | Updated: 2019-04-18 10:06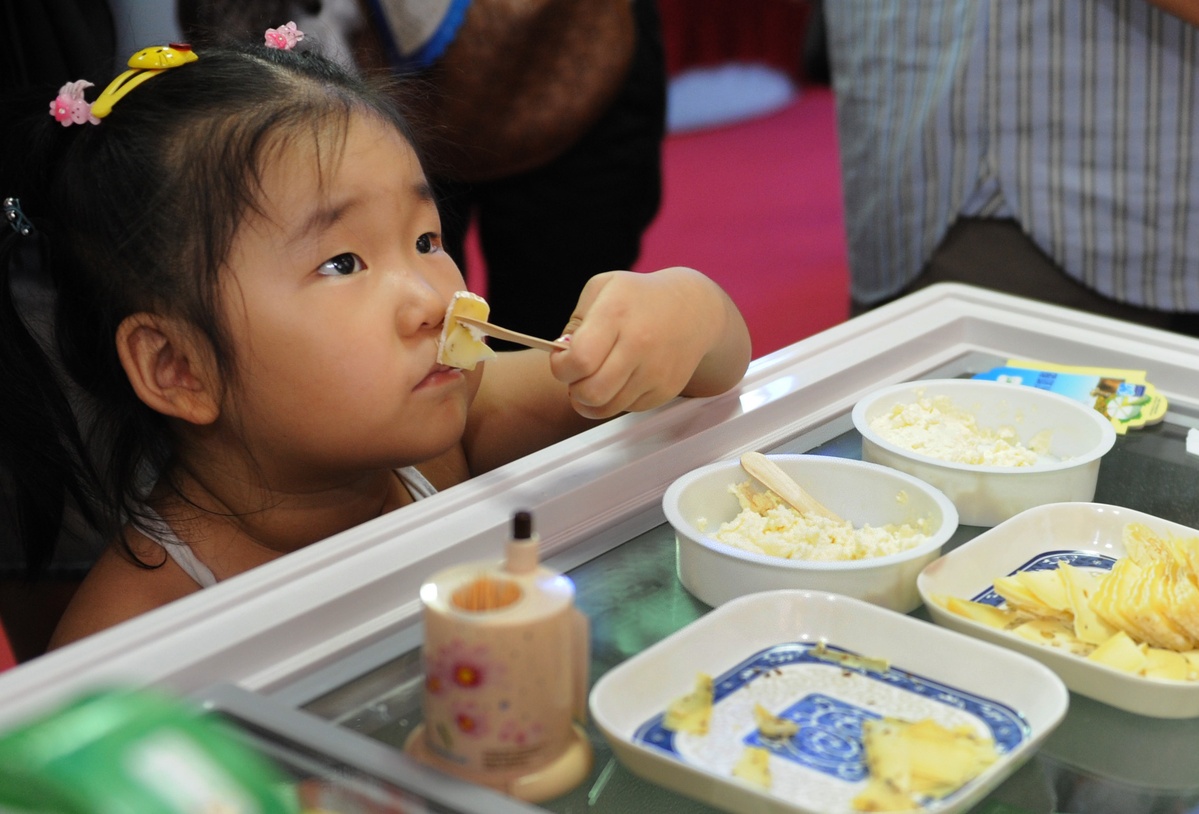 "Domestic producers should pay more attention to the development of cheese products. Cheese wrapped in small packages and snack foods like cheese sticks are favored by consumers and seen as a future trend," Song said.
"In fact, many Chinese foodstuff firms are starting to use cheese as an ingredient, such as vegetable buns with cheese, seafood cheese fried rice, and deep-fried purple potato balls in cheese. Besides, China has rich resources for special dairy products, and domestic producers can develop cheese based on goat, buffalo and yak milk," he said.
"We would also like to call for a faster revision of the comprehensive cheese production standards in China and the issuance of licensing for cutting imported cheese. This would help to enable imports of more high-quality cheese, and build platforms for the innovation of more cheese products by domestic companies," he said.
In addition, cheese has a high nutritional value and the protein from cheese can be fully digested, meaning that lactose-intolerant Chinese consumers don't need to worry about such problems, Song added.
Major domestic dairy companies have witnessed a faster rate of growth in sales of cheese products than the overall dairy market and that of liquid milk.
Last year, Inner Mongolia-based Yili Group, China's largest dairy producer, achieved sales revenue of 79.55 billion yuan ($11.85 billion), rising 16.89 percent year-on-year.
Its liquid milk sales reached 65.68 billion yuan, up 17.78 percent annually. Sales of dairy products such as cheese, butter and milk powder hit 8.05 billion yuan, an increase of 25.14 percent annually, according to Yili's latest earnings report.
By 2023, sales of cheese in China, including processed and unprocessed cheese, are expected to reach $1.44 billion, which will be 44.7 percent higher than this year's expected sales level, market researcher Euromonitor International said.
In terms of retail value, the US is the biggest cheese market, followed by France and Germany. Last year, sales of cheese in the US reached $23.41 billion, much higher than the $10.37 billion recorded in France, Euromonitor International found.
Song Liang, a senior dairy industry analyst, said in the next five years, young people born after 2000 will become the backbone consumer group of cheese, and he suggests that domestic dairy firms develop more cheese products, snack foods and fast food cheese products catering to younger appetites.
According to the Chinese Milk Quotient report released last year, currently the dairy consumption of nearly 80 percent of Chinese consumers does not meet national dietary recommendations - Chinese adults are advised to consume 300 grams of milk or the same quantity of dairy products every day, according to the Chinese Dietary Guidelines, but most people are not aware of the guidelines and do not consume enough. Besides, more than 70 percent of Chinese consumers only drink milk and yogurt, proteins from which are fairly simple in structure.
On the other hand, industry experts said China lacks advanced technologies to develop and produce high-quality cheese as well as more varieties.
"The production of cheese is the most difficult and complicated dairy process, and it is hard to make products of consistent quality. Major domestic dairy producers need to increase their investments in R&D and cooperate with more scientific research institutes in the development of cheese," said Liu Zhenmin, director of the Bright Dairy Research Institute.