Platform to ease woes of real estate agencies
By Wang Ying in Shanghai | China Daily | Updated: 2019-04-19 09:19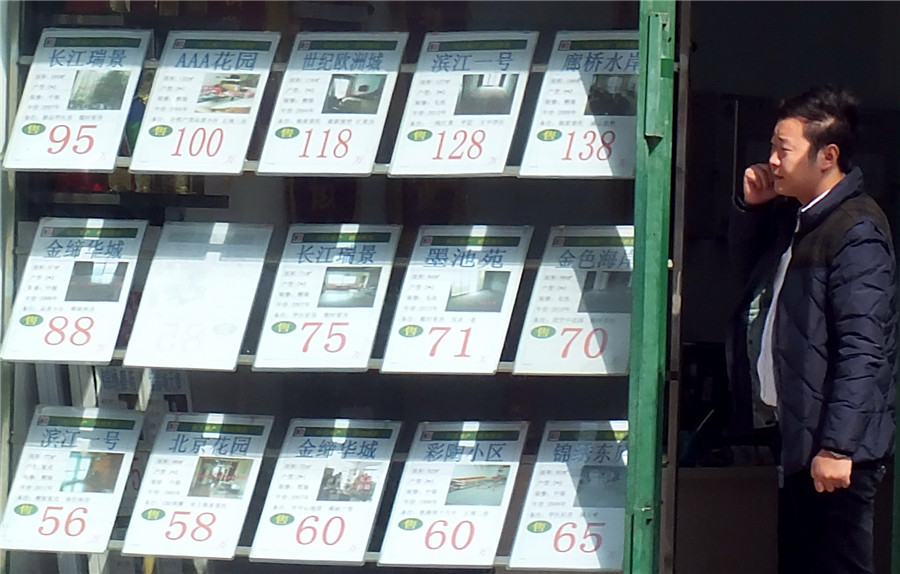 Smaller and medium-sized real estate agencies are continuously losing ground and are under pressure for survival as large agencies keep expanding, according to industry experts.
Amid the churn, there have also been some welcome instances of big companies lending a helping hand to the small and mediumsized firms. Hong Kong-based Centaline Group, a leading Chinese property agency, has set up Yuancui Information Technology, a platform that helps small and medium-sized property agencies to leverage on its extensive resources for further business development.
"Yuancui will provide medium- and small-sized agencies with a more flexible development mode wherein they can use our solutions to overcome the obstacles related to size and scale. Our range of flexible solutions enables companies to retain their unique market approach without any necessity to be part of the platform," said Shih Wing Ching, founder of Centaline Group.
According to Shih, small and medium-sized companies can use Centaline's extensive domain knowledge, technologies and resources to develop growth and customer retention strategies for various markets.
Shih's statements strike a chord as a recent report from Shenzhen-based Qianzhan Industry Research Institute, a consultancy firm, indicates that the overall market share of the nation's top 10 realty agencies is set to reach 17.53 percent in 2018 from 17.08 percent in 2017.
"In the real estate sector, small and medium-sized agencies are struggling for survival. Most of them are facing huge challenges such as limited resources, outdated management style and shortage of talents," said Zeng Xi, cofounder and president of Shenzhen Fangdd Network Technology Co Ltd, the nation's largest online property trading service platform founded in 2011.
Indications that small and medium-sized firms are facing pressure can be further gauged from the sharp reduction in the number of real estate intermediaries in China, particularly in cities like Shanghai. The city had about 3,050 real estate intermediaries in 2016, but the figure shrank to 2,500 in 2017 and nearly halved to 1,400 in 2018. Many agencies just closed down or operated under a new name. "Platforms like Yuancui are aiming to provide comprehensive services for small agencies which do not have the resources or wherewithal to compete with big companies," said Shih from Centaline, adding that a vibrant real estate market needs more diversified brands and business modes.
Yuancui is still in the early stages of development and will function largely as a technology company offering its software solutions to smaller firms. Later, all related services including authorization, trading and mortgage, business tools and systems, marketing and operation, risk control, recruitment and training, brand marketing, and consulting will be offered to the companies, said Shih.
"The Yuancui approach is more of sharing property information and integrated cooperation," said Zeng from Fangdd.
Zeng, however, feels that real estate service providers must pay more attention to aspects like branding, integration of technologies like digitalization and the internet, use of emerging technologies like artificial intelligence, as well as business diversification.
Zhu Pingping, marketing director of Taipei-based Sinyi Realty for the Chinese mainland, said: "Quality services, along with information transparency and reasonable transaction prices are the key to win and retain consumer trust."
From a business perspective, Yuancui marks Centaline's strategic shift to providing services to enterprises apart from its core consumer-centric operations, said Liu Tianyang, vice-president of Centaline for the Chinese mainland, as well as president of Yuancui Information Technology, which is a fully owned subsidiary of Centaline Group.
Liu believes that the variety of transaction methodologies and price standards, the amount that a property agency charges for services provided, of different companies will cater to the diversified consumer needs.
Home transaction value reached 15 trillion yuan ($2.24 trillion) in 2018, a 12.2 percent growth from a year earlier, according to data from the National Bureau of Statistics.
"There is no vitality in a market that is monopolistic as consumer satisfaction often gets short shrift," said Liu.
Founded in 1978, Centaline Group currently has businesses in more than 100 areas including the Chinese mainland, Hong Kong, Macao, Taipei, Singapore, the UK, South Korea, and Australia and more than 2,500 branches.