Winds of change sweep offshore power
By Zheng Xin | China Daily | Updated: 2019-04-22 09:05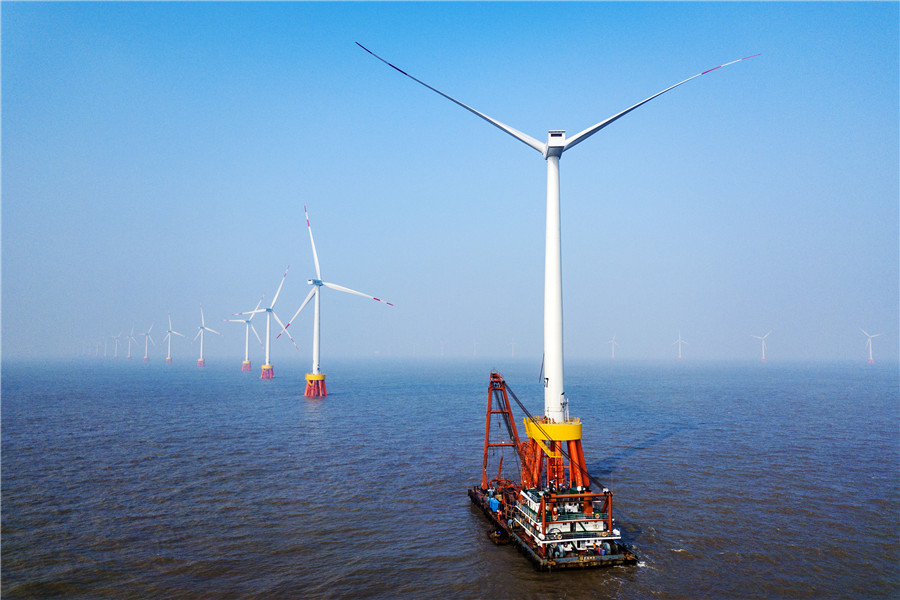 Seven mega plants charge China's plans to emerge as world's biggest sea-based energy market
China's offshore wind energy sector is expected to boom this year onward on the back of a maturing onshore segment, and the country's accent on growth via high-quality manufacturing and consumption upgrade.
The maturing of the onshore segment has driven down costs, making this type of clean energy viable, industry insiders said.
China boasts vast resources of onshore and offshore wind energy. It plans to install 30 gigawatt of offshore wind power capacity by 2020, from the 5 GW at the end of 2015, according to the National Energy Administration. It is also readying to build seven large-scale wind power generation plants in Gansu, Hebei, Jilin and Jiangsu provinces, and the Xinjiang Uygur and the Inner Mongolia autonomous regions in 2020.
Tom Harries, senior wind analyst at Bloomberg New Energy Finance, a provider of primary research on clean energy, said that last year saw record growth in China's offshore wind market, with commissioned capacity reaching 1.7 GW, or 39.5 percent of the global total of 4.3 GW.
China is one of the fastest expanding offshore wind markets. According to a November forecast from Fitch Solutions, the country is set to dominate the global market.
With the cost of offshore wind power gradually decreasing, analysts believe construction of new offshore wind farms will likely accelerate, more so because the manufacturing sector is expected to consume more power to make high-quality products for domestic consumers as well as for exporting.
"Despite the high cost of offshore wind farms in China, which is twice or three times that of a plant with the same capacity on land, we believe the cost would come down in the next few years, becoming comparable with solar and onshore wind facilities," said Joseph Jacobelli, an independent energy analyst and Asia-Pacific CEO of clean energy producer Joule Power.
"China's massive progress toward using more clean energy has been accelerating over the past few years, and this is expected to remain unchanged in the short-to-medium term."
Wind has become China's third-largest power resource after coal and hydro. The installed wind power capacity is expected to increase by 70 to 140 GW every year, according to the China Renewable Energy Outlook 2018, an industry report released by the China Renewable Energy Engineering Institute, a think tank linked to China's National Energy Administration.
Solar and wind-based power will account for the majority of clean power in China's energy mix by 2050, it said.
According to a report from Bloomberg New Energy Finance, China will be at the forefront of the increased generation of clean energy, taking the pole position in the wind power market shares by 2050. Its total installed capacity in wind power, covering both onshore and offshore segments, will reach 1,003 GW, accounting for 30 percent of the overall energy pie.
Local governments in the country have been expanding installed capacity of offshore wind power in recent years, as part of the country's efforts to tackle pollution and further boost the share of clean energy in the country's energy mix.
China's Jiangsu province has approved 24 offshore wind power projects with a total capacity of 6.7 GW in January, with total investment of 122.29 billion yuan ($18 billion).
These are part of Jiangsu's 10 GW-level offshore wind power plan known as "Three Gorges on Sea". The projects have received the green light and are expected to be completed before the end of 2020.
The southern Guangdong province, where wind power is abundant, also said it will begin construction of more than 10 offshore wind farms sometime this year. They will create 3.65 GW in installed capacity, as part of efforts to improve the province's energy mix for greener economic growth, particularly in the coastal regions.
Guangdong also plans to build offshore wind farms capable of generating a capacity of 12 GW by the end of 2020, according to a plan released by its development and reform commission.
China's offshore wind markets, the world's fastest-growing of their kind, have attracted many global players.
The United Kingdom has opened a new research center in Yantai, Shandong province, in March, to help British wind energy companies' exports to China.
The center will also provide commercial support to Chinese offshore wind developers, and test new technologies on a 300-megawatt wind farm in the Yellow Sea.