Chance to strengthen naval cooperation
China Daily | Updated: 2019-04-23 06:53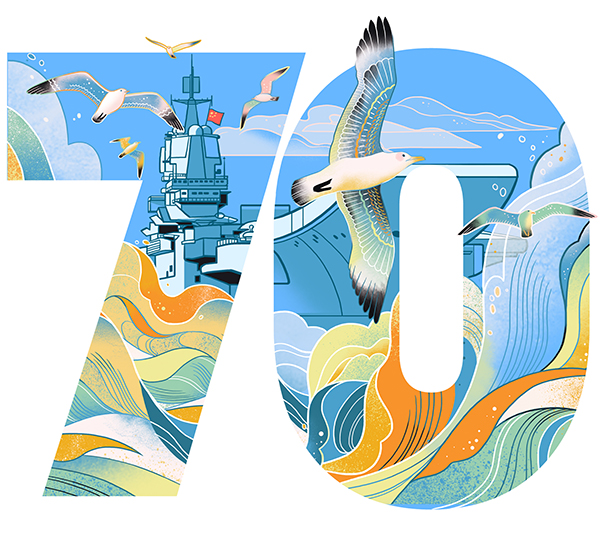 THE PEOPLE'S LIBERATION ARMY NAVY celebrates its 70th founding anniversary on Tuesday. Liu Qiang, a researcher in strategic studies with the National University of Defense Technology, comments:
A series of multinational naval activities in Qingdao and nearby waters are being held to celebrate the 70th birthday of the PLA Navy. These include a multinational sea parade, high-level symposiums, public tours of ships, military music performances and other cultural exchanges.
Naval delegations from more than 60 countries and ships from more than 10 foreign navies, including those of Russia, Japan and India will take part in the events.
The upcoming events are expected to be platforms for the navies of different countries to strengthen their communication and understanding, according to Qiu Yanpeng, deputy commander of the PLA Navy. "They create opportunities for navy leaders of different countries to discuss maritime security cooperation."
For historical and cultural reasons, China did not pay enough attention to its maritime interests in the past. But in the last few years the PLA Navy's development has helped make China increasingly aware of its maritime interests, and vice-versa.
A stronger navy can better protect Chinese citizens' overseas interests and make greater contributions to global peacekeeping and anti-terrorism efforts.
With ships with increasing tonnage, upgraded systems and more aircraft-carrying capacity, and vessels with greater surface and underwater combat capability, the PLA Navy has fortified its offshore defense, and boosted its deep-sea operational capabilities, which are historic achievements.
Of China's three aircraft carriers, only the first Liaoning is in service, although the other two-one of which has had five sea trials but has not yet been commissioned-signify the remarkable development of the Chinese navy in recent years.
But as well as its upgrading, the PLA Navy also needs to increase its actual combat capabilities for its further development. For this, it needs to upgrade its training programs to strengthen its comprehensive combat capabilities, including warfare strategy.