May poised to renew bid to build Brexit
By JULIAN SHEA | China Daily Global | Updated: 2019-04-23 09:37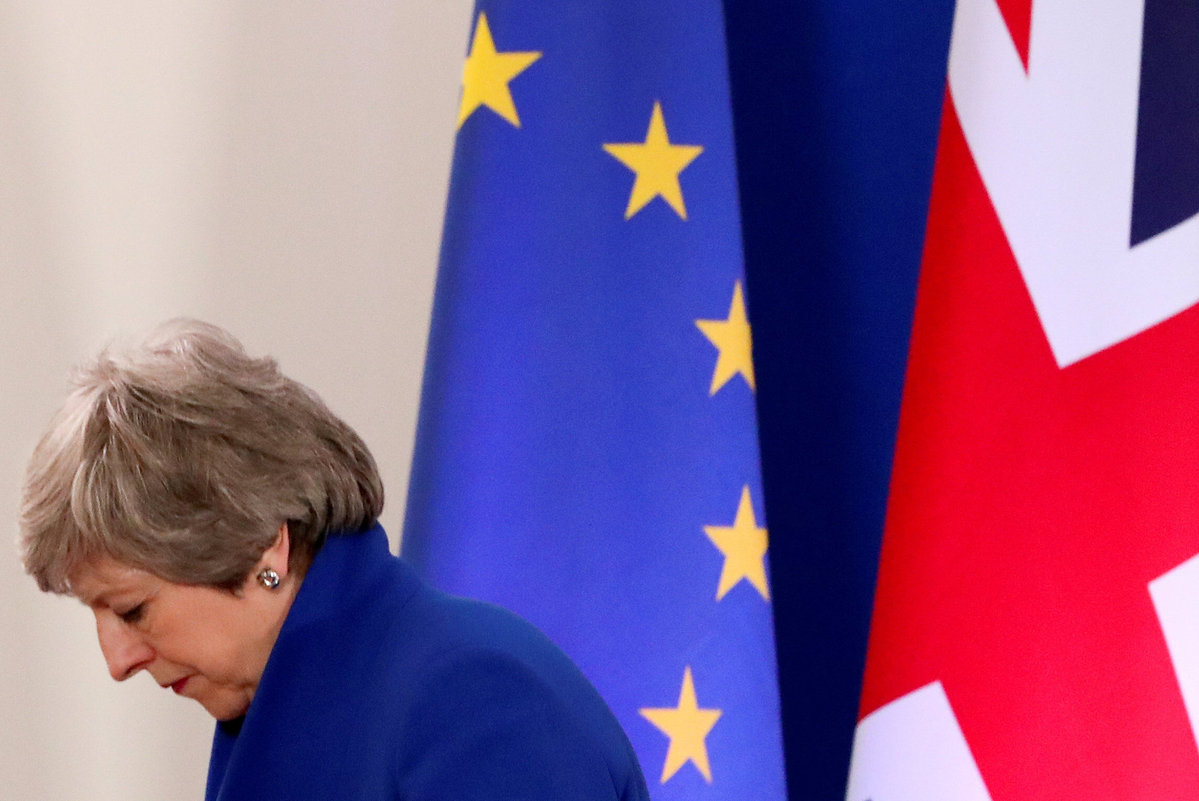 British Prime Minister Theresa May is reportedly ready to take personal charge of talks with the opposition Labour Party to try and reach a deal as soon as possible over Britain's exit from the European Union, to avoid the country taking part in next month's European Parliament elections, where her Conservative Party is predicted to face catastrophic results.
Britain's scheduled departure date from the 28-member EU, known as Brexit, has already been delayed from the end of March to mid-April, and then again to the end of October, as May tries to secure parliamentary backing for the exit terms she agreed with EU leaders. Three times she has taken them to Parliament-and three times they have been rejected.
In desperation, at the start of the month she began talks with Labour leader Jeremy Corbyn to find a consensus, but initial discussions were unproductive and there are elements on both sides who oppose any such negotiations.
After the Easter break, however, May seems keen to renew talks, to avoid humiliation at the polls next month, when Britain has local elections in addition to the scheduled European elections. Both are likely to be treated as an opinion poll on her leadership.
"Speed is of the essence here if we are to get something agreed and through both houses," a Downing Street official told the Financial Times."We want to avoid the European elections so we need a resolution as soon as possible."
In the talks, it is expected May will meet Corbyn, while chancellor Philip Hammond will speak to his Labour opposite number John McDonnell. The main obstacle continues to be membership of the customs union with the other 27 EU member states, something May fiercely opposes.
Foreign Secretary Jeremy Hunt told the BBC it "certainly looked like" the Conservatives were on course for a "disastrous" performance at the European elections, but said self-preservation was not the primary motive.
"The bigger principle for people in Britain is that we voted to leave the EU and they want the politicians to get on with it," he told the BBC Radio 4 Today program, adding that it would be"very, very challenging" for May to continue as leader if she failed to get her deal through. "That would be a very serious situation-I don't pretend otherwise-but we aren't at that point," he said.
May says she intends to step down if and when her Brexit deal is passed but if Britain is forced to take part in the European elections, the predicted outcome will further fuel existing internal opposition to her leadership. The fracturing of British party politics over Brexit has resulted in two other consequences which could further impact election results.
Nigel Farage, former leader of the right-wing anti-EU United Kingdom Independence Party, has formed a new party, the Brexit Party, which all polls show is gathering significant support as the Conservatives in particular lose it. At the same time, a strong British pro-EU movement has emerged, and how its supporters cast their votes could also be decisive.