UK's Hammond eager to seize Belt and Road opportunities
By Harvey Morris | China Daily Global | Updated: 2019-04-23 23:40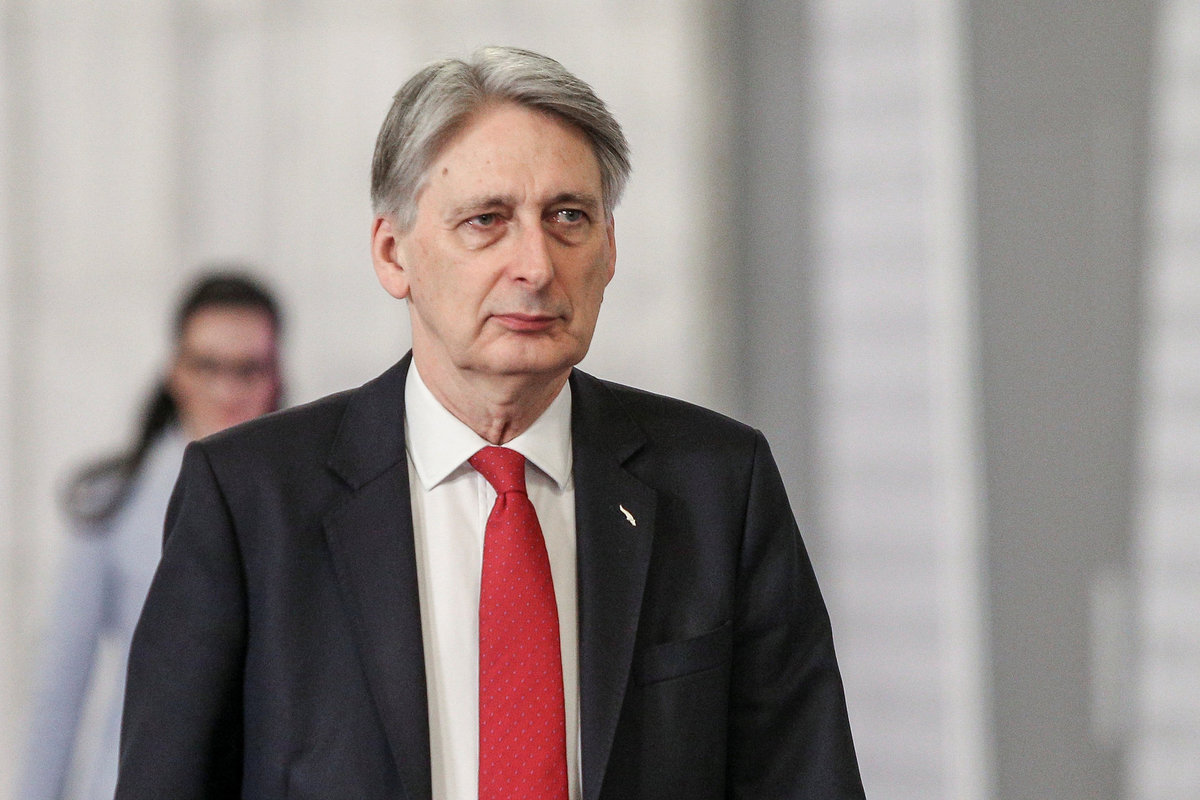 Britain is taking a particular interest in this week's Belt and Road Forum for International Cooperation in Beijing, even dispatching its finance minister, as the country tries to map a new course for itself if and when it finally leaves the European Union.
Ahead of what threatens to be a renewal of the parliamentary turmoil surrounding Brexit that was briefly suspended for the Easter break, finance minister, Philip Hammond, will be discussing British-China bilateral economic and financial cooperation, according to his office, as well as attending forum meetings.
Hammond's challenge is that, a month after the United Kingdom was due to have quit the European Union, he will not be able to tell his Chinese counterparts exactly what kind of Brexit will emerge from the current political chaos.
The country is still facing the choice of a so-called hard Brexit, which would see it crash out of Europe with no deal on future relations, or a soft Brexit, which might keep it inside a customs union with the EU and therefore unable to forge its own trade deals with other countries.
If supporters of remaining in the EU have their way, there might even be a further popular referendum in which voters might opt not to leave Europe after all.
Whatever the outcome, however, the future economic relationship with China will figure high on Hammond's list of priorities. He believes in deepening ties with China and taking advantage of the "wealth of opportunity" presented by the Belt and Road Initiative.
He has not always enjoyed the backing he might expect, however, from others in Prime Minister Theresa May's increasingly divided Cabinet.
A scheduled visit by Hammond to China in February was scuppered by the unilateral announcement of defense minister, Gavin Williamson, that he planned to dispatch a new aircraft carrier to China's territorial waters in the South China Sea.
A frustrated Hammond hit back by asserting that the UK's relationship with China "has not been made simpler" by Williamson's plan. Parliament's foreign affairs committee followed up on that criticism this month by saying the UK should not be using the issue of freedom of navigation merely to demonstrate military power.
The committee urged the government to adopt a clear strategy by 2020 to replace the current policy of "muddling through" when it comes to relations with Beijing.
"The UK needs a single, detailed document defining a national strategy towards China, endorsed at Cabinet level," the committee concluded. "This will be an essential guide to all government departments in shaping China policy, and will make sure that the government is speaking with one voice."
Like so many other challenges facing May's beleaguered government, such a strategy is probably one more thing that will have to await the outcome of the present Brexit mess that is dominating every other policy initiative.
Hammond and Williamson clashed again this month when the defense minister condemned the finance minister's suggestion that a second public vote might be required to get the country out of its current Brexit impasse.
Hammond's best hope for the timebeing is to try to build on the goodwill he has tried to establish with China as a partisan of the "golden era" concept of future bilateral relations. He has in the past highlighted Britain's potential role in the Belt and Road Initiative, via London's position as a global financial hub.
Liu Xiaoming, China's ambassador to the UK, took up that theme in a recent commentary in which he referred to the UK's unique strengths in professional services, project management, and financing.
Writing in the Evening Standard, which is edited by Hammond's ministerial predecessor, George Osborne, an architect of the "golden era" concept, the ambassador wrote that this week's Beijing Forum will offer a chance to deepen the UK's participation in the BRI.
"The first opportunity is rule-making," he wrote. "Britain has played a leading role in the establishment and management of Asian Infrastructure Investment Bank. In BRI development, Britain could have a big role to play in ensuring that the projects are of higher quality, at a higher standard, with higher return."
A belief in the potential of BRI cooperation is also shared in London's financial district. Catherine McGuinness, who heads the City of London's policy and resource committee, recently told China's Global Times that Brexit would make the UK even more enthusiastic about participating in international projects and initiatives.
"We will need to because we will be losing some of our business," she said, ahead of attending the BRI Forum. "The Belt and Road Initiative was always going to be a natural initiative for the City of London to get involved with because of the range of advisory and financing services that we have here."
It is a message that Hammond will reinforce in his meetings with Chinese officials.
However, pending a final resolution of the Brexit conundrum, the exact nature of the future relationship may have to stay on hold, or at least be subject to revision by whatever UK leadership emerges from the present political maelstrom.