Analysts warn of rise in extremism
By PRIME SARMIENTO | China Daily | Updated: 2019-04-24 09:35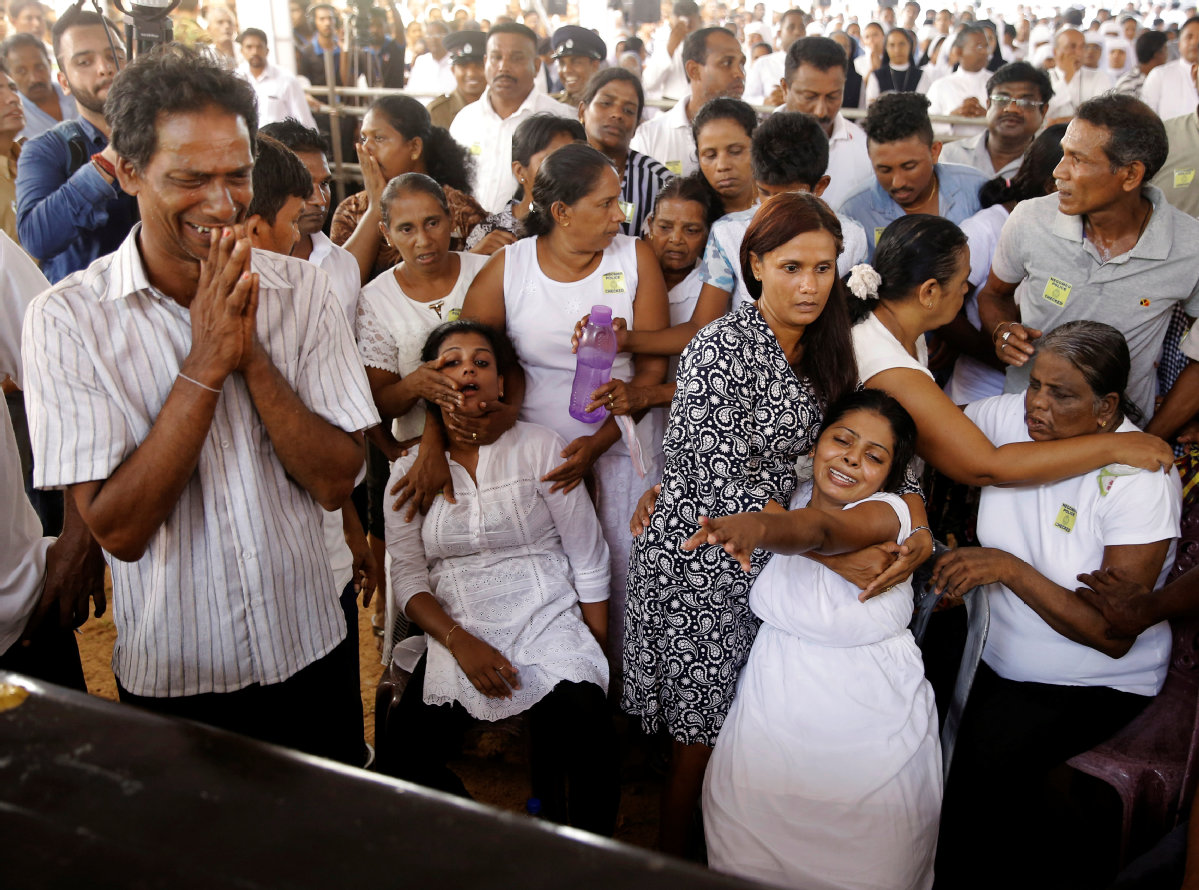 IS claims Sri Lanka Easter bombs that killed hundreds, but offers no evidence
For three minutes, the whole nation of Sri Lanka stopped everything to observe a nationwide silence on Tuesday to remember the more than 320 victims of the Easter Sunday blasts.
For a day, the 21 million Sri Lankans mourned the dead and held mass burials in several different locations.
The Islamic State group on Tuesday claimed responsibility for the attacks, but offered no evidence, The Associated Press reported.
The claim came shortly after a Sri Lanka's Cabinet spokesperson and Health Minister Rajitha Senaratne blamed the bombings on National Thowheeth Jamaath, or NTJ, an obscure radical organization.
It also came after Sri Lanka's government said initial investigations suggested the attack had been carried out as "retaliation" for shootings at two mosques in New Zealand last month that killed 50 people.
And for weeks or possibly months to come, Sri Lankans are yet to find out how to curb such terrorism.
Analysts saw the bombings on Easter Sunday as heralding the rise of extremist groups in Sri Lanka amid surging international racial discrimination and uncertainties.
The bombing of churches and hotels was the worst single-day attack that Sri Lanka has ever witnessed in decades, some say worse than civil war killings.
Analysts note that while Sri Lanka has little history of Islamic terrorism, extremist groups are slowly gaining ground in the island nation.
"Sri Lanka's Muslim community is a model community," said Rohan Gunaratna, head of the International Center for Political Violence and Terrorism Research at the Nanyang Technological University in Singapore.
Gunaratna told China Daily that the Muslim community has even supported the government in its efforts to crush the Tamil Tigers-the militant separatist group involved in the decades-long civil war.
"But, unfortunately, the security situation in the last years has deteriorated," he said, noting that this allowed terrorist groups to take root.
"The vast majority of Muslims in Sri Lanka are active law-abiding peaceful citizens living harmoniously with non-Muslims in a diverse society," said Mustafa Izzuddin, research fellow at the Institute of South Asian Studies, at National University of Singapore, or NUS.
He said extremism is "not an ubiquitous problem in Sri Lanka" and is part of the broader global problem of transnational terrorism.
A day after chairing an emergency meeting with the National Security Council, Sri Lankan President Maithripala Sirisena placed the country under state of emergency. Police spokesperson Ruwan Gunasekara said at least 26 people were arrested in connection with the bombings.
Sirisena said he will ask for foreign assistance as the country's intelligence agencies revealed that there are international terrorist organizations behind these incidents.
While a civil war once wrought havoc in Sri Lanka, the conflict was mainly due to ethnic and not religious divide.
About 70 percent of Sri Lanka's people are Buddhists, while the rest are Hindus, Muslims or Christians.
Chulanee Attanayake, a visiting research fellow at the Institute of South Asian Studies at the NUS, said ideas about radical Islamism came into the country around 2006-07 and mainly spread in the eastern provinces.
Attanayake once served as the director for research at the Institute of National Security Studies Sri Lanka. She said these ideas were spread by Muslim Sri Lankans who worked and studied in the Middle East.
"Islamic radicalization is a recent phenomenon in Sri Lanka," she said.
Over the long term, she suggested that the government needs to beef up its security and institute a more integrated sharing of intelligence among various agencies to counter terrorism.