Show marks six decades of passion
By Lin Qi | China Daily | Updated: 2019-04-25 07:10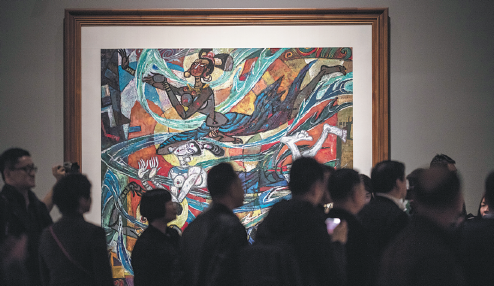 A retrospective of Liu Shaohui's work at Tsinghua University Art Museum highlights the modernist painter's vibrant pursuit of eternal beauty.
When Liu Shaohui enrolled at the Central Academy of Arts and Design, now the Academy of Arts and Design of Tsinghua University, in 1960, he was nurtured by a star-studded faculty of prominent figures known for bringing Chinese and Western arts closer together in terms of painting and teaching. As devoted educators, these artists, including Zhu Danian, Zhang Guangyu, Pang Xunqin and Zhang Ding, all implanted in Liu's mind a mantra that remained central to his creations over the next six decades: "Picasso mixed with Chenghuangmiao".
Liu, now 79, explains that "Picasso" is a metaphor for the styles of modern Western art, which influenced several of his teachers, when they studied art in Europe from the 1920s to the 1940s; while Chenghuangmiao is a historic Taoist temple in downtown Shanghai that boasts bustling commercial areas and crowds of visitors, making it a key attraction in the metropolis.
Liu says his predecessors put the two seemingly unrelated things together with a shared hope that modern Chinese artists would dare to usher their cultural traditions into a modern context, and produce works that still pleased the eyes of everyday audiences.