Landmark project's scope and importance emphasized by author
By Andrew Moody | China Daily | Updated: 2019-04-25 08:45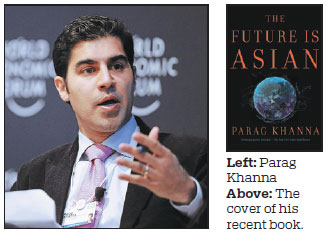 The Belt and Road Initiative is one of the most important projects in human history, according to Parag Khanna.
The well-known public intellectual and author of the recent book The Future is Asian: Global Order in the Twenty-first Century said it is difficult to play down the initiative's importance.
"It is the largest coordinated infrastructure investment program in human history," he said.
The 41-year-old Indian-American was speaking in Madrid, the Spanish capital, ahead of the Second Belt and Road Forum for International Cooperation, which begins in Beijing on Thursday.
Khanna said the initiative, announced by President Xi Jinping in 2013, was not just for China but for the whole world to embrace.
He said it is "moving on from a position where China is dominant to one where there is wide participation. Many countries are connecting to many other countries, and China may in some cases be part of the story, but not all," he said.
Khanna dismisses those who argue there is a danger of building too much infrastructure and creating "white elephants" as a result.
"Most economists take a view that infrastructure is entirely demand driven and that orthodoxy is a complete failure. China, the Gulf countries and others prove that a supply-driven infrastructure strategy works," he said.
There would be no need for the initiative now if the World Bank and other institutions had listened to the right people when it mattered, he said.
"Orthodox economists always underestimate infrastructure demand. If the World Bank hadn't listened to those economists and hadn't backed away from infrastructure finance in the 1960s, the Belt and Road wouldn't exist because there would be no need for it," he said.
Khanna is an international relations specialist and managing partner of Future Map, a strategic advisory company.
Some of his most important ideas on the importance of infrastructure feature in his 2016 book Connectography, Mapping the Future of Global Civilization.
"You have a few 'white elephants', but so be it, because the vast majority of infrastructure investment is mutually beneficial," he said.