Chinese prize for quantum research announced
By Zhu Lixin in Hefei | chinadaily.com.cn | Updated: 2019-04-28 17:05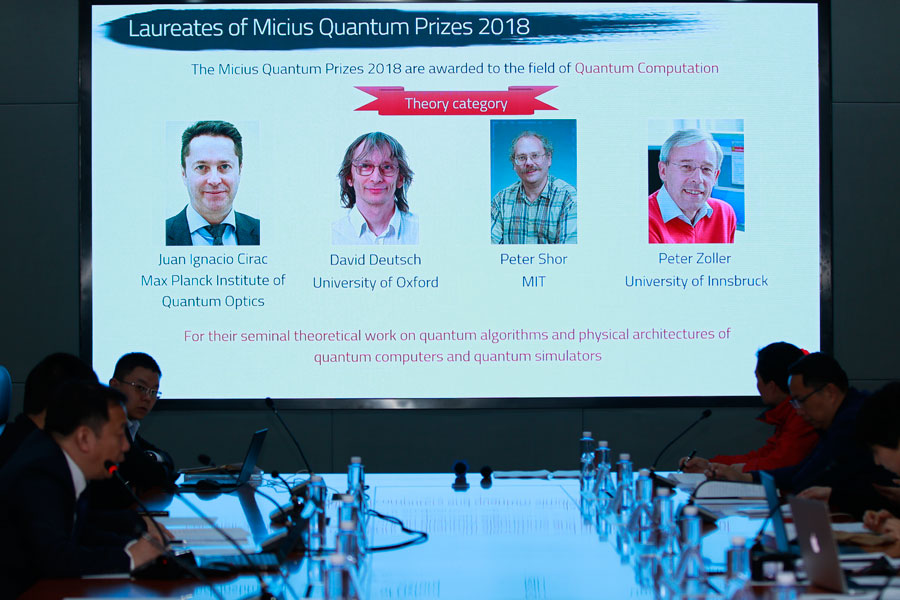 A total of 12 million yuan ($1.78 million) of cash will be granted to 12 international scientists for their groundbreaking academic contributions to the fields of quantum computation and quantum communications, according to a press release by the newly founded Micius Quantum Foundation on Friday.
With a combined donation of 100 million yuan from Chinese entrepreneurs, the foundation based in Hefei, East China's Anhui province, will give each of the six annual laureates one million yuan. The foundation, a non-profit organization, aims to promote development of quantum information science and technology.
The Micius Quantum Prize's 2018 and 2019 laureates were announced at the same time, as selection of first-year nominees took longer than expected, said Luo Yi, president of the foundation and a scientist from the University of Science and Technology of China, based in Hefei.
The prize includes two categories, theory and experimentation.
The 2018 laureates for theory are Juan Ignacio Cirac, David Deutsch, Peter Shor and Peter Zoller, for their seminal theoretical work on quantum algorithms and physical architectures of quantum computers and simulators, while the experimental category prizes went to Rainer Blatt and David Wineland for pioneering experiments that demonstrated fundamental elements of quantum computing with trapped ions.
The 2019 prizes were awarded to Charles Bennett, Gilles Brassard, Artur Ekert and Stephen Wiesner in the theory category for their work on quantum cryptography, and experimental prizes went to Pan Jianwei and Anton Zeilinger for their groundbreaking experiments that enabled practically secure and large-scale quantum communications.
The awards ceremony will be held on Sept 20, Luo said.
USTC has been leading the world's quantum information science and technology development in recent years, with Pan's team attracting enormous attention from home and abroad.
Detailed information on the foundation and the laureates is available on the foundation's official website, miciusprize.org.