Reynolds returns as Pokemon sleuth
By Xu Fan | China Daily | Updated: 2019-04-29 08:05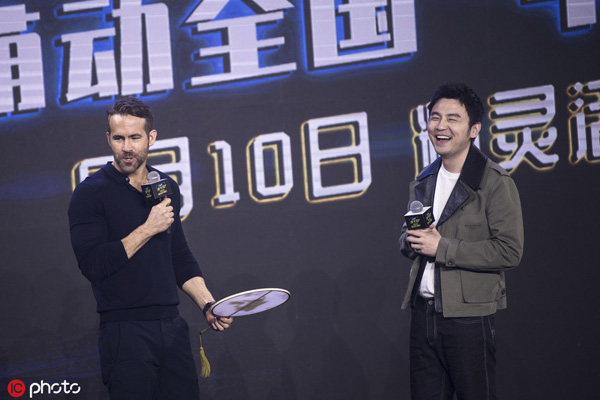 Just five months on and Ryan Reynolds is back in Beijing. This time, though, the humorous Hollywood heartthrob, perhaps best known for playing Marvel anti-hero Deadpool, was on his second visit to China to promote his latest film, the far more family-friendly Pokemon Detective Pikachu.
A globally popular icon-Pikachu, not Reynolds-is a yellow, cute and rodent-like creature that is one of over 800 breeds of Pokemon (which is an abbreviation of pocket monsters).
The fictional Pokemon species was first created in Japan in 1995 and has since developed into one of the world's highest-grossing media franchises, spawning cartoons, comics and computer games.
The upcoming film will simultaneously open in China and North America on May 10 and marks the first time that Pikachu has been rendered in CGI and appeared on screen alongside a live-action cast.
Reynolds not only provided the voice for Pikachu but also performed for the motion-capture as well. However, in the Mandarin version, tailored for Chinese market, it is actor Lei Jiayin, who shot to fame in Ning Hao's 2012 directorial comedy Guns and Roses, who lends his voice to the furry protagonist.
"I've never done motion capture like this before. So that was a whole new process for me," says Reynolds, revealing he spent just four days on the Detective Pikachu film set, with director Rob Letterman having to travel a lot to "seize" him for the voice-over job.
"I was shooting a couple of different movies, so we recorded in Abu Dhabi, Italy, New York, Los Angeles and London," the busy actor recalls.