Driving artificial intelligence deep into world
By Fan Feifei | China Daily | Updated: 2019-04-29 10:27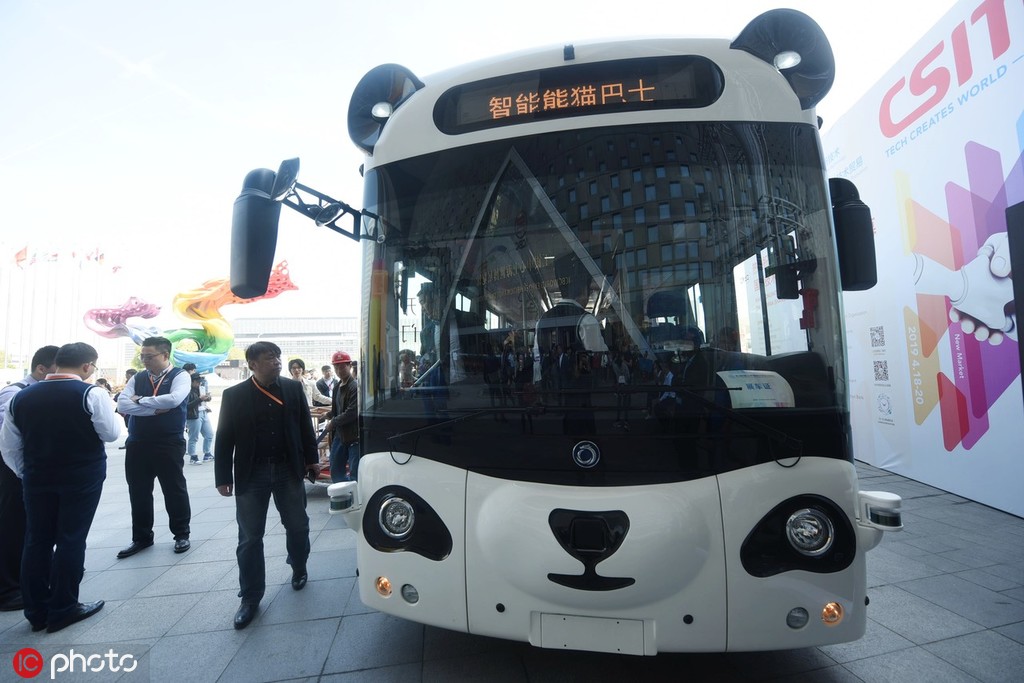 DeepBlue Technology speeds up application of cutting-edge tech across many industries
Chinese artificial intelligence company DeepBlue Technology (Shanghai) Co Ltd is expanding into overseas markets, especially those in Europe, the Middle East and Southeast Asia.
The moves are designed to boost the application of cutting-edge AI technology in different business scenarios around the world.
DeepBlue Tech inked an agreement with the Foundation Magna Grecia, an Italian financial institution, on March 21, to create a local subsidiary and help Italian cities to embrace the digital dimension using AI.
DeepBlue Italy will boost the country's AI push. It will supply products relating to big data, data analytics and AI that will become part of city infrastructure, besides tapping into industries like financial services, transportation, tourism, hospitality and medical in Italy.
DeepBlue Tech opened its European headquarters in Luxembourg last year, and established three joint laboratories with the National Laboratory of Luxembourg, covering self-driving, intelligent manufacturing, and data and financial security.
"We have signed cooperation agreements with the governments of Greece and Italy in the field of intelligent cities, and plan to introduce our palm vein recognition system in at least three European countries this year," said Chen Haibo, founder and CEO of DeepBlue Tech.
Chen explained palm vein recognition, which is expected to be applied in the customs and medical fields in Greece, is preferred over facial recognition system in light of the European privacy protection laws. Incidentally, the company exported smart vending machines to Europe last year.
Different from many AI firms that focus on conventional software, DeepBlue Tech's main output is intelligent software. It also designs and manufactures independent hardware for the AI industry chain.
The company has intellectual property rights over proprietary technologies like deep learning architecture, machine vision, and biological intelligent recognition. These find applications in fields like self-driving vehicles, intelligent robots, biological intelligence, smart retail, security, life sciences and AI chips.
The company remains cautious toward making inroads into the US market, although a lot of its R&D staff graduated from US universities.
"Our technology has an upper hand in Europe, Asia, Africa and the Middle East, and there are relatively few barriers for our products in these markets," Chen said.
The company's smart Panda Bus, powered with self-driving technology, palm vein recognition system, in-vehicle robot, voice interaction and other advanced AI technologies, will be launched in Bangkok, the capital of Thailand, by the middle of this year.
The 12-meter-long luxury bus uses high-grade self-driving technology based on AI, which provides passengers with more comfortable experiences.
A Panda Bus can take full control and operate in select parts of a preset journey in a certain geography when certain operating conditions are met. At other times, it is capable of completing an entire journey without driver intervention. One of its constraints is it will be confined to a certain geographical area.
The bus received enthusiastic support from users in certain markets. Countries such as Germany, Luxembourg, Italy and Greece have shown much interest in this product. It is expected that the smart Panda Bus will be available in Europe later this year, DeepBlue Tech executives said.
"The world is in the midst of a great transition. Countries are becoming more connected, yet more dependent. Openness and cooperation are the only paths to help us cope with the global trends to build a new world pattern for AI," Chen said.
He said he was looking forward to establishing more partnerships with other European countries in the near future, adding most of the company's revenue comes from the self-driving vehicle sector. He declined to disclose revenue details.
"The self-driving bus has entered six cities across China: Changzhou (Jiangsu province), Jinan (Shandong province), Quzhou (Zhejiang province), Deyang (Sichuan province), Chizhou (Anhui province) and Tianjin," Chen said.
So far, the overall R&D personnel account for 60 to 70 percent of the total employees.
Founded in 2014, the company has a factory in Changzhou in East China's Jiangsu province. Two other factories are being built, with the hope of covering the whole ecosystem of intelligent manufacturing, according to Chen.
In July 2017, the State Council issued a plan that set benchmarks for the nation's AI sector, with the value of core AI industries predicted to exceed 1 trillion yuan ($149 billion) by 2030.
In March, DeepBlue Tech unveiled a joint research center on machine vision with Tsinghua University's Department of Computer Science and Technology in Beijing.
The 15 million yuan facility will combine the university's strengths in academic research and development with DeepBlue's proven track record in commercializing AI products, in the hope of advancing the AI capabilities of Chinese enterprises in the near future.
It will accelerate the efforts of both Tsinghua researchers and DeepBlue product development teams to produce market-ready products.
"AI will be more and more widely used in the future, and more top talent from colleges and universities will be needed to continuously develop scientific and technological systems that can result in new products." Chen said.
Gui Weihua, an academic at the Chinese Academy of Engineering, spoke highly of DeepBlue Tech's efforts in AI. The company has become a new engine of contemporary economic change and a core driving force leading the current strategic technology and new round of industrial change.