Indians vote in fourth phase of general elections
Xinhua | Updated: 2019-04-29 15:07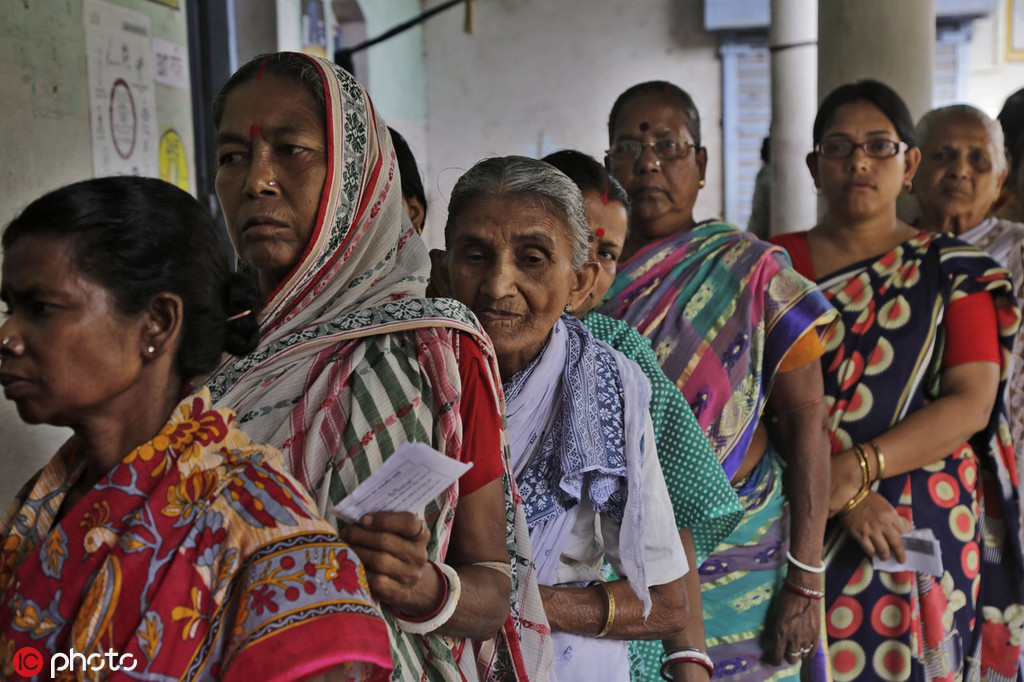 NEW DELHI - Voting for the fourth phase of India's general elections began on Monday amid tight security, officials said.
The highlights of this round is Mumbai, India's financial capital which is home to billionaires and celebrities, besides Rajasthan and Madhya Pradesh, the large swathe of Hindi-speaking India.
"Elections are underway and today nearly 70 percent of the country will finish voting by the 5:00 pm local time," a political analyst said. "Among the big states that are going for polls is Rajasthan and Madhya Pradesh, the basic and the very core Hindi heartland states. Both states have gone in the favor of Bhartiya Janta Party (BJP) in the last general elections but today the local governments there are headed by Congress party."
Monday marks the last round of voting in Maharashtra state.
Right from the morning top Bollywood actors were seen going to election booths to cast their votes and then pose for cameras showing the indelible marks on their fingers, a sign of casting the votes.
According to the election commission, polling is also underway in West Bengal, Odisha, Bihar and Jharkhand states.
Anantnag parliamentary constituency considered to be highly volatile is spread over four districts, Anantnag, Kulgam, Shopian and Pulwama.
"In the last phase district Anantnag went to polls and in today's phase voting is going on in district Kulgam," an election commission official said. "On May 6, the remaining parts, Pulwama and Shopian district is scheduled to go for polls."
A senior police official said thousands of police and paramilitary personnel were deployed across Kulgam district to maintain law and order.
"Adequate security measures are in place to ensure voting takes place peacefully in the district," the police official said. "The pace of voting is slow but we expect it to pick up later in the day."
According to election commission officials the polling began at 7:00 am local time and will end at 4:00 pm local time.
Reports from the district said most of the polling stations especially in townships wore a deserted look.
A government spokesman said they were trying to collect figures of the polling.
Meanwhile, clashes broke out early in West Bengal's Asansol. The car of junior federal minister Babul Supriyo, a BJP candidate, was vandalized outside a polling station after clashes erupted between BJP and Trinamool Congress workers.
In ongoing elections the ruling Hindu nationalist BJP is seeking to regain power under leadership of Prime Minister Narandra Modi. He is facing tough competition from Rahul Gandhi, the fourth generation scion of India's powerful Nehru-Gandhi clan and regional parties that have forged coalition in several states.
By Monday evening, four phases of the seven-phase polling will be completed and the final phase will conclude on May 19. Counting of votes is scheduled on May 23.