Set to make a splash
By Yang Feiyue | China Daily | Updated: 2019-05-01 11:38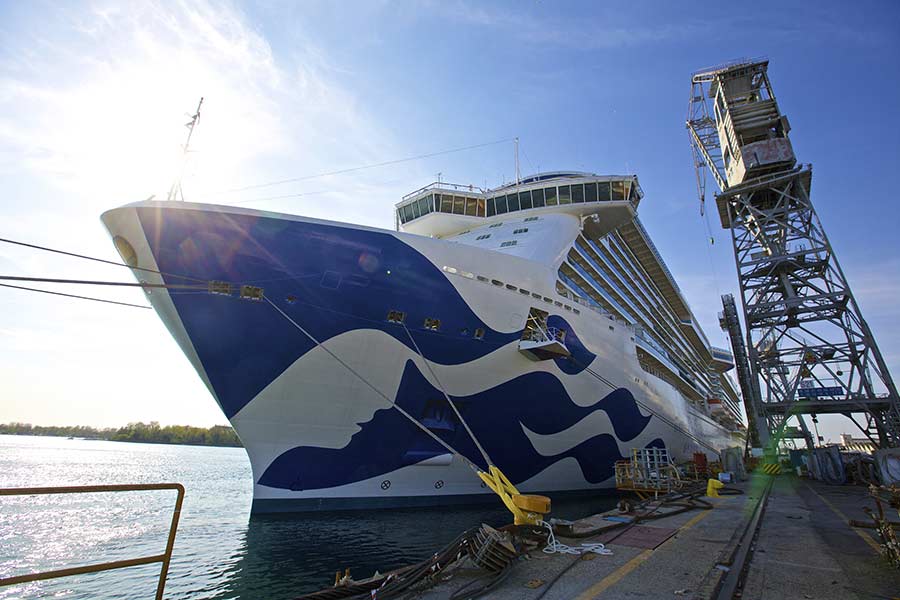 While still in its infancy, China's cruise market is set to swell over the next decade thanks to a surge in demand and a springboard of favorable policies, Yang Feiyue reports.
The potential for market growth and ongoing government support are putting a rosy complexion on the Chinese cruise market, as bookings with surge ahead of the May Day holiday.
The most popular trips last for five or six days and family bookings are a major market force, says Ctrip's Liu Xiaolyu, a senior executive for the online travel agency's cruise operations.
Trips from Tianjin to Japan's Okinawa and Miyako islands and those from Beijing to Vietnam and Singapore enjoyed brisk bookings before the holiday.
Young people in particular are buying into cruise travel. The number of cruise passengers aged between 18 and 30 for the May holiday has increased by 10 percent compared with the same period of last year, according to a Ctrip report.
Although the country's cruise industry saw a dip in liner and passenger numbers last year, April bookings show Chinese travelers still have an appetite for cruise holidays, Liu explains.
The country's economic and social development and rising living standards have made cruise travel the latest craze for leisure and vacations among Chinese travelers, says Wu Chungeng, a spokesperson for the Ministry of Transport.
The Xiamen International Cruise Terminal in southeastern Fujian province received 32 cruise liner visits over the first three months of this year, an increase of 433 percent compared with the same period last year, the Transport Ministry reports.
Cruise passengers paid 89,300 visits to the port from January to March, a rise of 283 percent.
Last year, China's cruise industry received 2.5 million passengers, a gain of 2.7 percent over the previous year, according to ministry data.
The development of the cruise industry is shifting away from high-speed toward high-quality, according to a report jointly conducted by the Shanghai International Cruise Business Institute.
Although the number of cruise liners berthing at the country's home ports has dipped in recent years, passenger numbers are still rising as larger vessels service the market, the report says.
Another factor buoying up the market are the raft of supporting policies for the cruise industry rolled out by a number of government departments in recent years.
Ten government authorities, including the National Development and Reform Commission and the Transport Ministry, launched a guide document aimed at boosting the country's cruise economy in September.
The favorable policies outlined in the document aim to nurture China's cruise tourism market, upgrade port services, promote cruise and auxiliary industry development and develop talent.
The authorities expect the country's cruise market to become one of the most dynamic in the world by 2035, transporting 14 million passengers annually.
The Shanghai government has plans in place to develop a cruise industry chain over the Yangtze River Delta region by 2022, while the Guangzhou government has earmarked 30 million yuan ($4.47 million) annually to support cruise development and a newly proposed global cruise liner distribution, shipbuilding and repair center.
Qingdao in East China's Shandong province has also launched a series of favorable policies to boost its cruise tourism sector.
The city has simplified the entry procedure for cruise passengers and offered monetary incentives ranging from 100,000 yuan to 3 million yuan to cruise operators, depending on the number of trips they arrange via the city, local authorities say.
Authorities are looking to improve the port's capacity for receiving vessels and plans to upgrade its infrastructure, such as by increasing the number of boarding bridges this year.
The idea is not just to enable tourists to take cruise trips from Qingdao, but also to encourage them to stay and travel in Qingdao.
The city's home port received 71 cruise visits in 2018 and took in 112,000 tourist visits, an increase of 3 percent over the previous year.
Xiamen, Guangzhou and Hainan province's Haikou have also offered support, including financial incentives, to local cruise operators.
This support has also encouraged industry players to make inroads into the cruise market.
A purpose-built cruise liner that was renovated for the luxury Asian and Chinese market was launched at the Shanghai Wusongkou International Cruise Terminal in mid-April.
Named Explorer Dream, the cruise liner belongs to Dream Cruises' fleet under Genting Cruise Lines, and is the first of its kind in eastern China.
The vessel offers 928 cabins and can host 1,856 passengers. Genting aims to tap into the eastern and northern Chinese market, which they estimate to be five times larger than the market in the south, according to Hui Lim, the deputy chief executive officer of Genting Hong Kong.
Sailing from its home port of Shanghai, the cruise liner will take guests to popular destinations in Japan, offering a range of three-to six-night itineraries, including three-night trips to Kyoto, Osaka and Kobe, and two-night round-trips to Okinawa.
Set to debut in 2021, Dream Cruises' first 200,000-ton Global Class ship will also be deployed in Shanghai as the largest cruise ship in the Asia-Pacific, the operator says.
In July 2017, Genting Cruise Lines launched their Golden Sea Route seven-night itinerary in Shanghai, ahead of signing a strategic memorandum of understanding in October 2018 with the government of Shanghai's Baoshan district to boost cooperation.
"The arrival of Explorer Dream will bring premium cruise travel products that will help propel the development of the cruise industry in China," says Su Ping, a senior district government official.
Genting is just one of several cruise operators who are looking to make a splash in the China market.
The US-based cruise company Royal Caribbean International will launch a new cruise ship with upgraded facilities in Shanghai in June 2019 along with new itineraries tailor-made for the Chinese market.
The company's cruise lines will this year stop at the Chinese ports of Shanghai, Tianjin, Hong Kong and Shenzhen in Guangdong province, according to Liu Zinan, president of the China and North Asia-Pacific region at Royal Caribbean International.
Genoa-headquartered Costa Cruises is due to put its Costa Venezia liner - which was designed and built especially for the Chinese market - into operation later this year, ahead of another new cruise liner scheduled to launch in 2020.
The Switzerland-based MSC Cruises will also roll out its latest flagship for China, the MSC Bellissima, next year.
"There's no doubt that China's cruise industry is still in infancy, and the whole industry, especially the numbers of cruise passengers, will continue to rise over the next five to 10 years," says Ye Xinliang, deputy director of the Shanghai International Cruise Business Institute.
"There appears to be huge potential when you examine the country's per capita disposable income and the current proportion of Chinese cruise passengers compared to other outbound travelers," Ye adds.
He proposed to improve market mechanisms among cruise companies, distributors and travel agencies to tap into the potential of the Chinese market.
He also urged market players to improve their understanding of the diverse consumption behaviors of Chinese travelers and develop more pertinent products accordingly.
Ye predicts that the numbers of Chinese cruise tourists will catch up with that of their counterparts in the US by 2035.