Ctrip sets tone for offline forays of China's online travel agencies
By Wang Ying in Shanghai | China Daily | Updated: 2019-05-02 07:47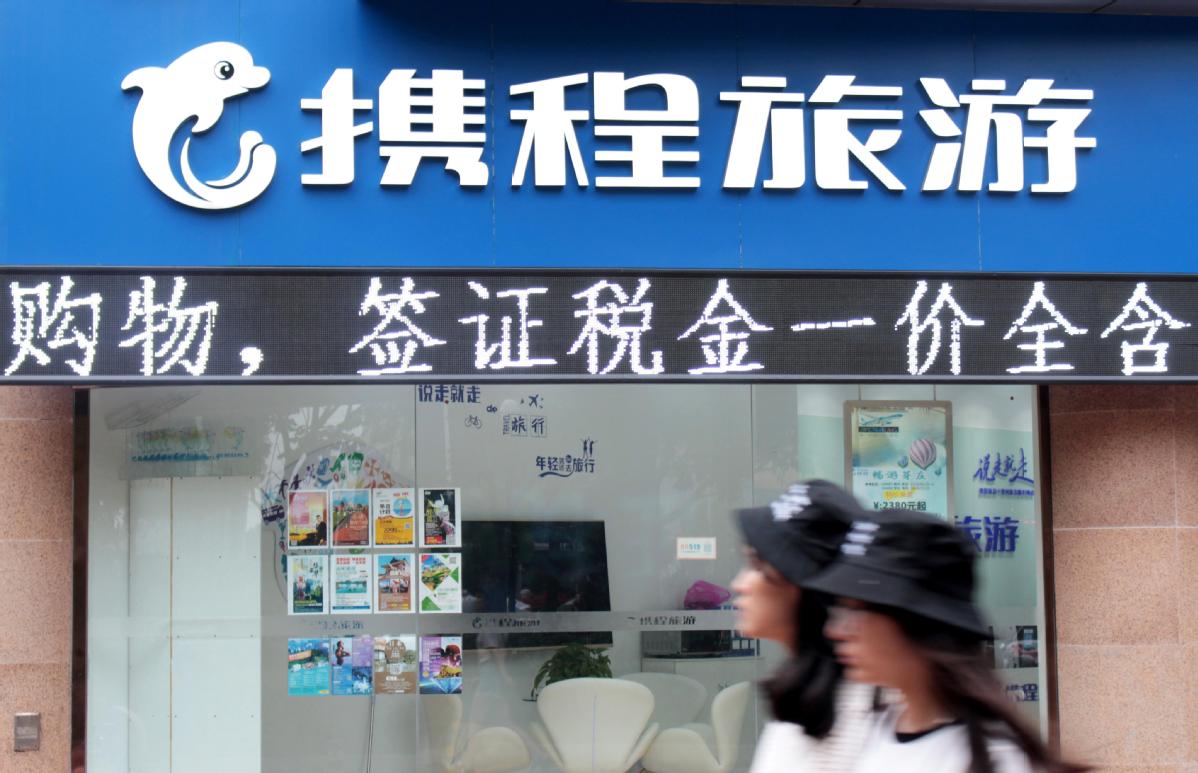 Even as physical-space retailers explore online channels, Ctrip, China's biggest online travel agency, is expanding its offline footprint.
A themed store featuring elements of New South Wales province of Australia opened doors in Shanghai's downtown near People's Square in March. It is a collaboration between Ctrip and Destination New South Wales, a local tourism organization, the Shanghai Observer reported.
The Ctrip store focuses on overseas destinations. It not only offers a variety of travel products but provides foreign currency exchange services online.
"The majority of travel and vacation products are still booked offline," said Zhang Li, general manager of Ctrip's vacation channel division.
According to him, about 40 percent of the consumers who walk into a glass-and-metal travel agency place an order, while the visit-to-sale conversion rate among website or app users is in single digits.
"Different age-groups can be seen online and offline. This makes offline stores a strong complement to online services," said Zhang.
"Ctrip launched its offline development strategy in 2017, and so far our offline business is well-received just as our online services," said Peng Liang, analyst at Ctrip's vacation business unit.
"The offline stores are expanding from first- and second-tier cities to third- and even county-level cities. They look to make up for what may have been missed by online services, including senior consumers and areas with a lower internet penetration," said Peng.
Ctrip aims to add more than 1,300 physical stores this year. That would swell the total number of its offline stores to more than 8,000. So, even in the offline space, Ctrip would emerge as one of the nation's largest travel operators.
Like Ctrip, its competitor Spring Group is expanding its offline and online travel services. The parent company of Shanghai-based budget airline Spring Airlines started its online business as early as 2004, and currently operates nearly 200 travel branches across the nation.
"We have noticed some online travel firms are starting offline channels because of the rising customer acquisition cost online and slowing online demand," said Zhou Weihong, deputy general manager of Spring Tour, the travel arm of Shanghai-based Spring Group.
"Spring Tour has noticed there is a big potential market in lower-tier cities that can be explored, and we are about to take action in that direction," said Zhou.
About 40 percent of Spring's travel business comes from online consumers, who are young and prefer self-guided tours, while offline consumers are relatively older people fond of group tours and customized trips.
"The majority of our customers are aged between 40 and 50 with an average budget of about 20,000($2,976) yuan per person," said Zhou Xiang, who works with Caissa, a high-end travel agency based at a shopping mall in Shanghai's Middle Huaihai Road. He said customized trips have become quite popular in the past two years.
Spring Tour said its tailored business saw an 80-percent year-on-year growth in 2018.
Inbound tourists and outbound tourists made 140 million passenger trips and 150 million passenger trips respectively in 2018, which means the Chinese tourism sector is entering a new phase for better quality, said Dai Bin, head of the China Tourism Academy, in an interview with the Xinhua News Agency.
Investors keen to invest in tourism ventures need to be patient because it is a long-gestation industry where profits take time to materialize, said Dai.
He Jianmin, a professor specializing in cultural and tourism research at the Shanghai University of Finance and Economics, said the go-offline trend of online travel agencies reflects opportunities for offline players as well.
"All the trips booked online are for offline action, which means services like reception, accommodation, dining, transportation, shopping, and sight-seeing are impossible to provide without offline offerings," said He.
"While online players are going offline, I would also say that travel agencies should connect online with each other."
Agreed Zhou. "The highly competitive tourism industry is morphing into a completely new industry chain, and the conventional travel agency is being replaced by more collaborations across the sector, online and offline. Every player can focus on its strengths, be it a hotel management firm, a scenic spot operator, or a financier."
Tang Xiaofan in Shanghai contributed to this story.