France, Italy mark 500th anniversary of Renaissance genius Da Vinci's death
China Daily | Updated: 2019-05-04 07:07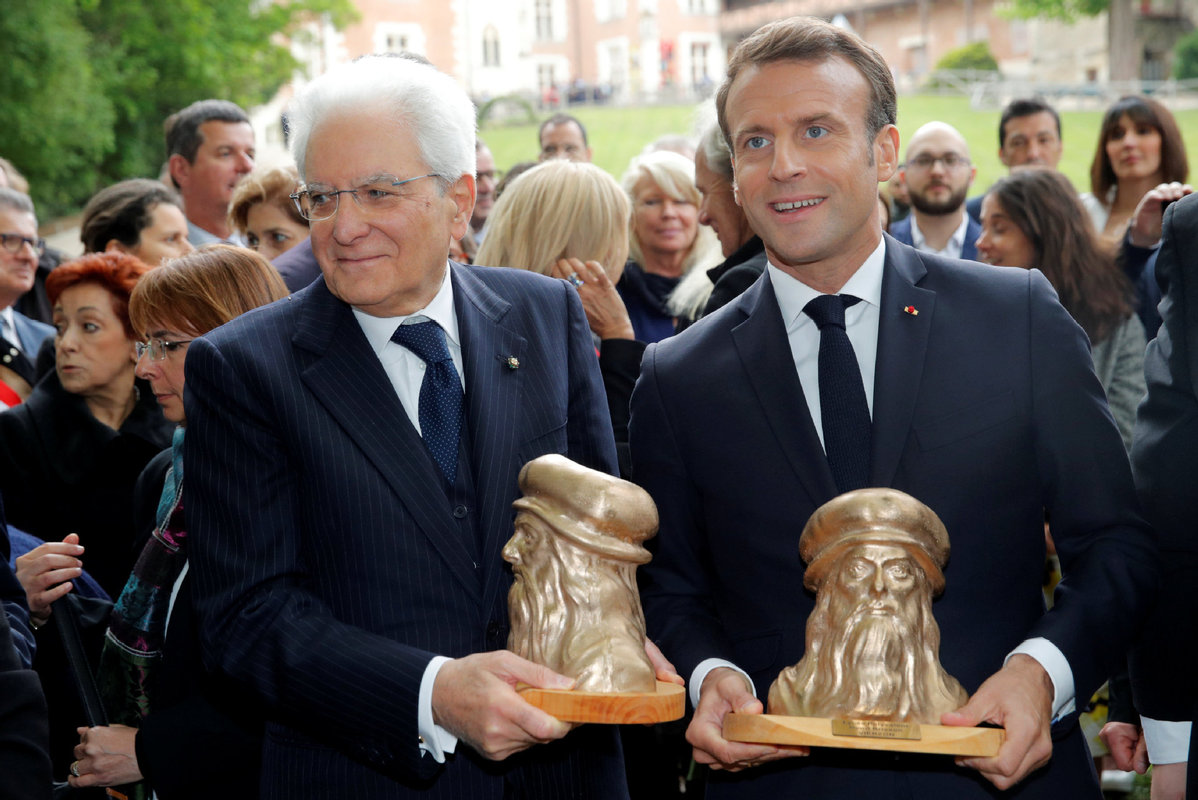 French President Emmanuel Macron and his Italian counterpart Sergio Mattarella on Thursday kicked off commemorations to mark 500 years since Leonardo da Vinci died in the French town of Amboise, paying their respects to the Renaissance genius, Agence France-Presse reported.
"The bond between our countries and our citizens is indestructible," Macron said after the two men lunched at the Clos Luce, the sumptuous manor house where Da Vinci spent the last three years of his life.
Mattarella and Macron, who was accompanied by his wife Brigitte, began their visit at the royal chateau in Amboise, where the heads of state laid wreaths at Da Vinci's grave.
The Italian leader had started his day with a visit to the fire-ravaged Notre Dame cathedral in Paris.
The joint celebrations came after months of mounting diplomatic tensions between Paris and Rome over the hard-line policies of Italy's government and its support for France's anti-government "yellow vest" protesters.
In the worst diplomatic crisis between the two countries since World War II, Paris briefly recalled its ambassador from Rome.
Mattarella, staunchly pro-EU like Macron, played an "essential role" in lowering tensions, Macron's office said.
Amboise, a town along the Loire River where Da Vinci died in 1519 aged 67, was in virtual lockdown because of fears of protests by France's "yellow vest" movement.
Da Vinci spent his last years at the Chateau du Clos Luce, a small castle near Amboise in the Loire Valley, under the patronage of King Francis I of France.
Francis I, known as the "Sun King of the 16th century", is widely credited with bringing the Renaissance to France, even if his predecessor Louis XII had begun the process by bringing in architects and artisans from Florence, Milan and Rome.
At the time, Francis I was barely 23, and his ambitious mother Louise of Savoy "knew that Leonardo would be the man who would allow her son to flourish", Catherine Simon Marion, managing director of the Clos Luce, told AFP.
Leonardo brought with him three of his favorite paintings: the Mona Lisa, the Virgin and Child with Saint Anne, and Saint John the Baptist-all of which today hang in the Louvre museum in Paris.
With fewer than 20 Da Vinci paintings still in existence, many Italians are resentful that the Louvre possesses five of them, as well as 22 drawings.
Born in 1452 near the Tuscan village of Vinci (hence his designation as "Da Vinci", which means "from Vinci"), Leonardo went on to become a prolific painter, anatomist, architect, scientist, engineer, set designer, and inventor, embodying the quintessential Renaissance man with his interdisciplinary approach to art and science.
Agencies and Xinhua