Gold consumption rises in first three months
By Zheng Xin | China Daily | Updated: 2019-05-08 09:26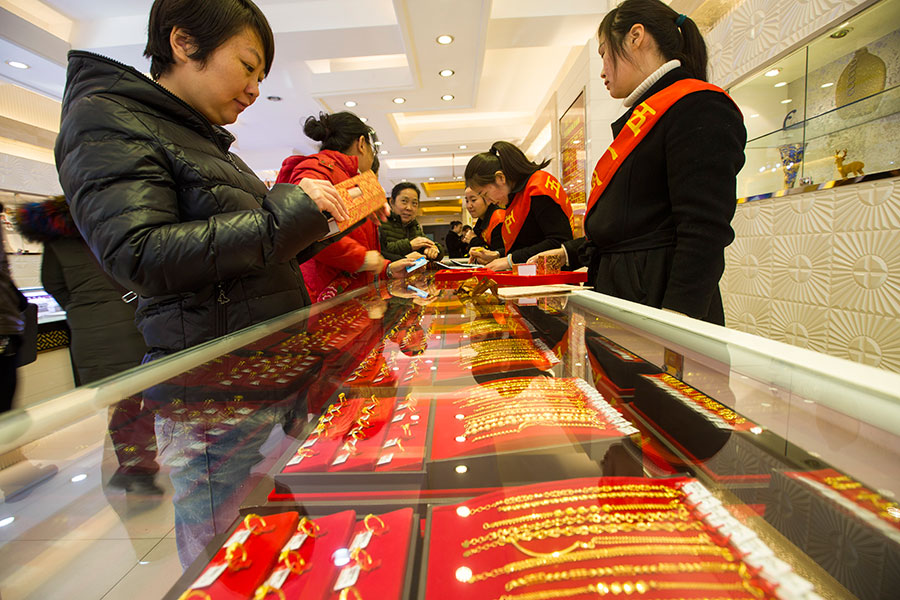 Gold consumption in China reached 286.93 metric tons during the first quarter, up 0.69 percent year-on-year, against the backdrop of cuts in gold production by China planned for the first six months of this year, according to the China Gold Association.
Better designs and varieties, together with the higher added value, boosted consumption of the yellow metal jewelry, with consumption via the jewelry sector increasing steadily to reach 188.05 tons in the first quarter, up around 4.18 percent year-on-year, it said.
However, consumption in the form of gold bars fell 4.42 percent year-on-year to 70.04 tons, while consumption in the gold coins segment dropped 62.96 percent year-on-year to 1 ton; and use of gold for industrial purposes fell 2.28 percent year-on-year to 27.84 tons, it said.
Demand for domestic gold jewelry has been driving the global gold industry for a long time. An analyst said gold consumption is expected to continue its uptrend on the back of strong domestic demand and growth in high-end sectors.
"Consumption of gold jewelry may continue to grow in the second quarter, after the 4.18 percent year-on-year growth in the first three months," said Zhu Yi, senior analyst of metals and mining at Bloomberg Intelligence.
"Gold jewelry demand will benefit from bargain hunting on a stronger dollar and improving global economic growth. In the meantime, gold's safe-haven status will be enhanced amid global geopolitical uncertainties.
"Investment in gold bars and coins may become a refuge for investors."
According to the association, China's gold output dropped by 5.54 percent year-on-year in the first quarter, reaching 92.78 tons, as a result of miners' production cuts, suspension of production due to environmental and technical issues, and upgrade of production lines in regions including Henan, Gansu and Inner Mongolia.
Zhu said China's gold industry is switching from high output growth rate to seeking growth via advanced technology and environmental-compliance production process.
"Amid the production drop domestically, Chinese gold producers are accelerating the overseas expansion," she said.
"Gold output from overseas by major Chinese producers reached 23.4 tons in 2018, accounting for 6 percent of China's total domestic output."
China saw its gold reserves up for a fourth straight month in March, with gold reserves increasing to 60.62 million ounces by the end of March, a slight rise from February, according to the People's Bank of China.
The gold reserves were equivalent to around $78.5 billion, down from $79.5 billion in the previous month, it said.
Gold is expected to become more attractive as a safe-haven hedge this year, thanks to greater market uncertainties and the expansion of protectionist economic policies, according to a forecast from the World Gold Council.