Alabama Senate passes strict bill against abortion
By KONG WENZHENG and HENG WEILI in New York | China Daily Global | Updated: 2019-05-16 09:15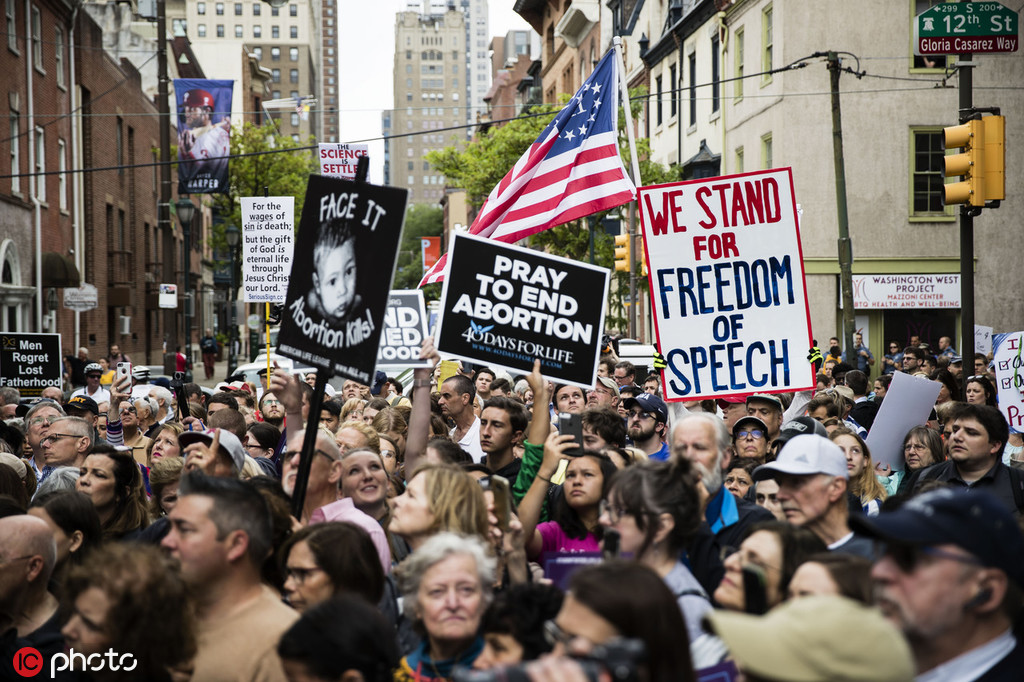 The Alabama state Senate late Tuesday passed what is considered the strictest anti-abortion bill in the United States.
The Republican-controlled Senate voted 25-6 to pass the measure, which would make it a felony to perform an abortion in the state with one exception.
The bill will be sent to Republican Governor Kay Ivey for a signature. Ivey has said she would make a decision after she sees the final version. A similar measure already has passed the Republican-controlled Alabama House. The law would take effect six months after being signed by the governor.
The bill (HB-314) would ban doctors from performing all abortions except when the procedure prevents a serious health risk to the mother. Violators would be subject to a Class A felony and face up to 99 years in prison.
Women who get an abortion are not criminally liable under the new bill.
Earlier Tuesday evening, lawmakers voted 21-11 against an amendment that would allow exceptions for pregnancies resulting from rape and incest. The amendment was introduced last week by Senator Bobby Singleton, a Democrat, and led to a delay in the vote.
Singleton was filibustering on the bill as of 9:20 pm ET time on Tuesday, but at 9:33 pm, the Senate voted to close debate on the bill, according to AL.com, the state's major news website.
The American Civil Liberties Union (ACLU) of Alabama said in a statement that the bill without the amendment "punishes victims of rape and incest by further taking away control over their own bodies and forcing them to give birth".
"The Alabama law didn't allow women to be punished for having abortions — it punishes doctors. But obviously that means women couldn't get abortions," said Mary Ziegler, a professor at Florida State University College of Law.
The bill also might make women subject to additional investigations and examinations when they are not seeking abortions but are having a miscarriage or still birth because "if it's a criminal thing to have an abortion, they may need to figure out that it was a miscarriage or it wasn't abortion", she said.
A major motivation of lawmakers supporting the bill has been to have it taken up by the US Supreme Court.
"The entire bill was designed to overturn [Roe v. Wade] and allow states to decide what is best for them," said Representative Terri Collins, a Republican who sponsored the bill, in an interview with The Washington Post.
Alabama's bill is one of several attempts made by state legislators to challenge the 1973 landmark Roe v. Wade case, in which the Supreme Court ruled that women have a right to an abortion.
Georgia, Mississippi, Kentucky and Ohio have outlawed abortion after a doctor can detect a fetal heartbeat, but similar laws passed by Iowa and Kentucky have been blocked by courts.
"2019 has become the year where anti-abortion activists and politicians stopped pretending that their agenda is about anything other than banning abortion outright," Elizabeth Nash, senior states issues manager of research group Guttmacher Institute, told China Daily.
Contact the writers at nancykong@chinadailyusa.com