Alabama puts abortion issue to fore again
By WILLIAM HENNELLY in New York | China Daily Global | Updated: 2019-05-16 22:55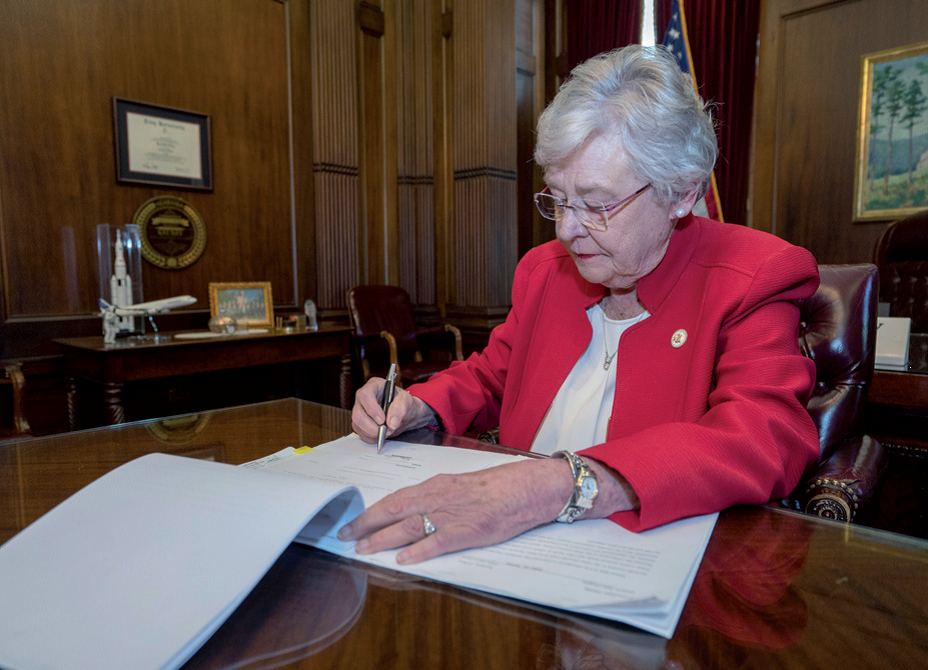 The issue of abortion, long considered settled in American politics, has been thrust back into the national arena, most recently with a new law in Alabama basically outlawing the procedure.
The state's Republican governor, Kay Ivey, signed a bill on Wednesday that bans abortion even in cases of rape and incest.
"Today, I signed into law the Alabama Human Life Protection Act, a bill that was approved by overwhelming majorities in both chambers of the Legislature," Ivey said in a statement. "To the bill's many supporters, this legislation stands as a powerful testament to Alabamians' deeply held belief that every life is precious and that every life is a sacred gift from God."
The law in Alabama, where Republicans control the Senate and House, goes further. It bans abortions at any time, unless the mother's health is in danger. Those performing abortions would be committing a felony, punishable by 10 to 99 years in prison. A woman who receives an abortion would not be held criminally liable.
Leana Wen, president of the Planned Parenthood Federation of America, said her group would challenge the measure in court.
"We have no choice. For us, this is about our patients' lives," Wen said on a conference call. "We have to file lawsuits. We are talking about the rights for generations to come."
Wen, who was born in Shanghai and went on to become a Rhodes scholar and physician, is the first Asian-American president of Planned Parenthood.
Pat Robertson, a conservative former minister, believes the Alabama law has gone too far.
"It's an extreme law, and they want to challenge Roe versus Wade, but my humble view is that this is not the case we want to bring to the Supreme Court because I think this one will lose," he said.
The high court, with a majority of conservatives after Republican President Donald Trump appointed two, could possibly overturn Roe v. Wade, the 1973 landmark decision that established a woman's right to an abortion, by considering privacy rights under the Due Process Clause of the 14th Amendment to the US Constitution.
Legislation to restrict abortion rights has been introduced this year in 16 states, four of whose governors have signed bills banning abortion if an embryonic heartbeat can be detected.
Planned Parenthood joined the American Civil Liberties Union on Wednesday in filing a legal challenge to Ohio's recent ban on abortions after six weeks.
Candidates for the 2020 Democratic presidential nomination resoundingly opposed the Alabama measure.
"Roe v. Wade is settled law and should not be overturned. This choice should remain between a woman and her doctor," said former vice-president Joe Biden, the Democratic front-runner.
"Republican men are on the march to overturn Roe v. Wade ... and with Donald Trump stacking the courts with judges who oppose abortion, that could be a real possibility," Senator Elizabeth Warren of Massachusetts said in a video that she posted to Twitter.
"The idea that supposed leaders have passed a law that would criminalize a physician for assisting a woman on something that she, in consult with her physician, with her God, with her faith leader, has made the decision to do, that is her body that you would criminalize," US Senator Kamala Harris of California said at a town hall in Nashua, New Hampshire.
"Men, it's on us to speak out too," Senator Cory Booker of New Jersey tweeted. "It's on us to take action. Not because women are our mothers, wives, daughters. Because women are people. And all people deserve to control their own bodies."
"The Alabama law banning and criminalizing abortion even in cases of rape or incest is a dramatic step in the wrong direction," tweeted candidate Andrew Yang.
Courts this year have blocked a Kentucky abortion law and another in Iowa passed last year.
But supporters of the Alabama ban said the right to life of the fetus transcends other rights, a concept they would like to see tested in the Supreme Court.
"Human life has rights, and when someone takes those rights, that's when we as government have to step in," said Alabama Senate Republican Clyde Chambliss, a bill sponsor.
"Our bill says that baby in the womb is a person," said Republican House Representative Terri Collins, another sponsor of the bill.
"The entire bill was designed to overturn [Roe v. Wade] and allow states to decide what is best for them," Collins said in an interview with The Washington Post.
Georgia, Kentucky, Mississippi and Ohio have outlawed abortion after a doctor can detect a heartbeat.
Opponents call the "heartbeat" legislation a virtual ban because embryonic cardiac activity can be detected as early as six weeks, before a woman may be aware she is pregnant.
Alabama state Senator Vivian Davis Figures, a Democrat, questioned why the exception for rape and incest was rejected, NPR.com reported.
Figures said it was wrong "to take that choice away from that person who had such a traumatic act committed against them, to be left with the residue of that person if you will, to have to bring that child into this world and be reminded of it every single day".
"2019 has become the year where anti-abortion activists and politicians stopped pretending that their agenda is about anything other than banning abortion outright," Elizabeth Nash, senior states issues manager of research group Guttmacher Institute, told China Daily.
According to the Centers of Disease Control and Prevention, there were 638,169 abortions performed in the US in 2015, the latest year statistics are available. That was a drop of about 14,000 in 2014.
After the Roe v. Wade decision in 1973, abortions gradually increased in the US, hitting a peak of 1,429, 247 in 1990. The number has declined each year since 2007.
Kong Wenzheng in New York, Reuters and The Associated Press contributed to this story.