Guiyang grows its global influence via big data
By Yuan Shenggao | China Daily | Updated: 2019-05-24 10:19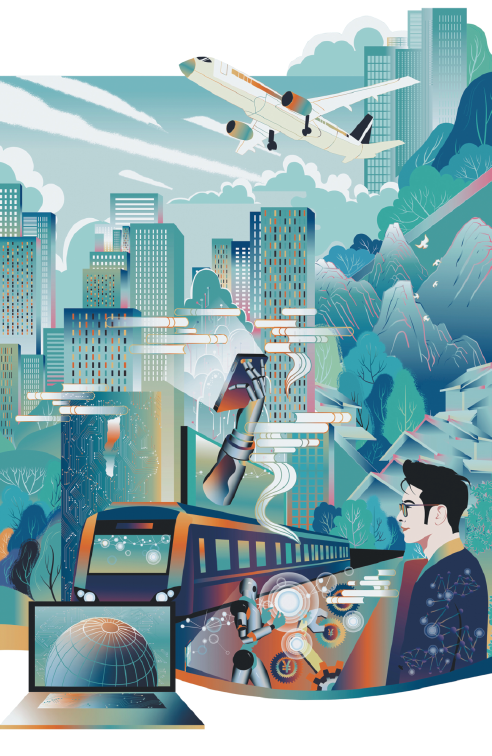 Provincial capital becomes ideal technology investment destination
Guiyang, capital of Southwest China's Guizhou province, reaped good results in high-quality development with its focus on the big data industry. Its advantages in geography, climate and operational cost have attracted numerous internet giants to develop some of the most cutting-edge technologies in the world.
With hundreds of billions of yuan flowing into the city, its GDP saw significant growth and has improved the livelihoods of local people. Its brand as the "Chinese data valley" has helped influence investors.
CNN published a story about Guizhou last year on its website. It said Guizhou, which reminds people of Kweichow Moutai, ethnic groups and seems to have no business with high technology, has seen a dramatic transformation since 2014.
That year, it began to develop big data and has made rapid progress in new technology.
Later, it was named the first national big data comprehensive experimental zone and has pioneered many innovations in big data.
Apple, Intel, SAP, Alibaba, Tencent, Huawei and other leading companies operate there.
According to CNN's report, the cool weather in Guiyang can prevent servers overheating and save energy. The rich power and water supply can provide reliable and cheap clean energy for big data centers.
Also, the geological environment in the city is stable, safeguarding the safety of data.
Indian media TNN mentioned in a report in November 2018 that Guiyang had constructed a big data center. The local government had offered many incentives, such as rental-free offices. The Indian government also expects to enhance IT cooperation with Guiyang.
Franklin Urteaga, former innovation adviser to the White House, said the big data development in Guiyang has had a gradual influence on the world.
Resources from around the world gather in Guiyang and return after "fermentation" there, which has a significant influence on global economic and social development, he said.
He added big data is the basis for the digital economy. The growth of Silicon Valley also has a history of gathering high-tech resources. Guiyang might be the next Silicon Valley.
Now, Guiyang has 10 big data industrial parks and 1,632 big data companies. The revenue of big data has reached 100 billion yuan ($14.46 billion), data from the local government showed.
By the end of 2018, the index evaluating how big data merged with the real economy of the city reached 45.3, the highest in the province.
Its GDP grew 9.9 percent to surpass 379.8 billion yuan last year. Its economic growth topped all capital cities nationwide for six years.
Chen Yan, mayor of Guiyang, said during this year's two sessions, the annual meetings of the top legislative body and political advisory body, that the application of big data in various industries has created a new engine for industrial transformation, brought new life for the people and ushered in a new era for the city.
For example, local industries have become more intelligent and digital. Guiyang's online service system allows traditional industries to improve quality and efficiency, backed up by big data and intelligent manufacturing technology.
Also, the city attaches importance to data safety. It has built a big data and internet safety system to practice defense against attacks. Its experience can be shared among other regions.